Weekend What's What: 4/13-4/16
by Anthony Iverson
EDITOR: ANTHONY IVERSON / CONTRIBUTORS: TODD O'DOWD, ANTHONY ENRIGHT, JON HUNT, BETH HAMMARLUND, ALLISON SHILINSKI, T. A. WARDROPE
This weekend is an expansive celebration of film, theater, live music and craft beer, among many other things. Thursday marks the kick-off of the ever-growing International Film Festival, while the rest of the weekend will feature an eclectic lineup of visual arts, the Minneapolis return of Wicked, a touring production at the Guthrie by one of the most revered theatre-makers of the 20th Century, Modist Brewing's one-year anniversary, and so much more!
xo-l'étoile
THURSDAY, APRIL 13 – SATURDAY, APRIL 29
Minneapolis St Paul International Film Festival
@ St Anthony Main Theatre and Various Additional Locations
115 SE Main St
Minneapolis
Full Schedule / Ticket Information
Tonight kicks off the Minneapolis St Paul International Film Festival at the St Anthony Main Theatre. This year, the fest kicks off with The Lost City of Z, the buzzy adventure film about British explorer Perry Fawcett and starring Beth Hammarlund's boyfriend, Charlie Hunnam. ("Hi, babe!") This year's festival lineup represents over 70 countries around the world, but some entries, such as the documentary Beyond Standing Rock, will likely strike a strong regional chord with audiences. The screenings and associated festivities will span over the next two and a half weeks, so you'll have plenty of events to choose from. -Beth Hammarlund
Click HERE for the Minneapolis St Paul International Film Festival site
THURSDAY, APRIL 13
McKnight Media Artist Retrospective
@ Walker Art Center
725 Vineland Place
Minneapolis
5:30-8:30 pm / Free
This event, hosted by the Independent Filmmaker Project of Minnesota Come invites film lovers to spend an evening with the 2016/17 McKnight Media Artist Fellows Nicole Brending, Michael Forstein, Isaac Gale, and Dan Schneidkraut along with IFP Minnesota executive director Andrew Peterson. All four artists will present their work and discuss their process while they review the activities of the year spent as recipients of this coveted fellowship. Also screening are short artist profile films made by students at IFP MN. The audience will be able to dig further into the minds of the artists with a Q&A and mingle with the artists and other special guests in the lobby with a 5:30pm reception prior to the show. – Anthony Enright
Click HERE for the Facebook invite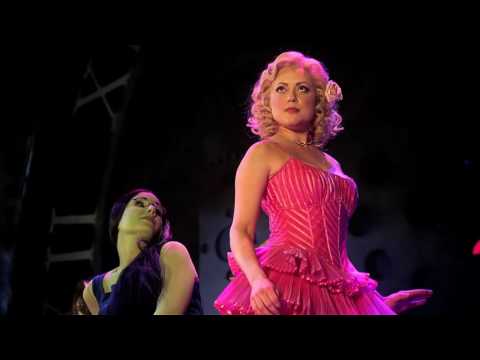 THURSDAY, APRIL 13 – SUNDAY, APRIL 16
(Additional Performances through May 14)
Hennepin Theatre Trust presents Wicked
@ Orpheum Theatre
910 Hennepin Ave S
Minneapolis
Tuesdays – Thursdays at 7:30 pm, Fridays at 8 pm, Saturdays at 2 pm & 8 pm, Sundays at 1 pm & 6:30 pm / $53-199
What else is there to say about Wicked? Stephen Schwartz and Winnie Holzman's adaptation of Gregory Maguire's prequel about the witches of Oz has become an international sensation. True that may be to the spectacle on stage that sends monkeys, witches, and even houses flying across the stage in some of the most dazzling stagecraft ever seen. But there's more to it than that. In adapting Maguire's novel Schwartz's songs and in particular Holzman's libretto add a lot of heart and heft to Elphaba and Glinda's parallel struggles in their conflicting ways of trying to find agency in the Emerald City; and it's that sense of parallel struggles that have kept Wicked relevant all of these years. -Todd O'Dowd
Click HERE for Tickets and More Information
THURSDAY, APRIL 13 – SUNDAY, APRIL 16
(Additional Performances through April 27)
Battlefield
@ Guthrie Theater – McGuire Proscenium Stage
818 2nd St S
Minneapolis
Wednesday – Saturday at 7:30 pm, Sunday at 7 pm, Select Matinees at 1 pm / $25-40
There are few stage directors who have had as insane of a run as Peter Brook. To list the iconic British director's stage achievements would be impossible (the American premiere of The Visit with Alfred Lunt and Lynn Fontanne, the world premiere of Marat/Sade, his landmark 1970 production of A Midsummer Night's Dream with basically every young turk at the Royal Shakespeare Company, his numerous operatic works, etc.), but among all of his works his 1985 production of Le Mahabharata might have been his most ambitious. Working with playwright Jean-Claude Carrière to adapt the iconic Sanskrit text into a sprawling nine hour masterwork of love, loss, and the weight of our decisions against the march of history, Brook created one of the most stunning achievements in world theatre in the 1980s – an achievement that still holds to this day. Which is why everyone went nuts when Battlefield debuted at the Young Vic in London last year. Working with Carrière and co-director Marie-Hélène Estienne, Brook took a specific portion of the story of The Mahabharata and turned it into a lean, taut, intimately epic examination of the perils of war and the search for inner peace amidst conflict without and within performed by four actors and one musician. The Guthrie will be hosting the Young Vic's touring production featuring the original cast of Carole Karemera, Jared McNeill, Ery Nzaramba, Sean O'Callaghan, and musician Toshi Tsuchitori. This is a rare chance to see a work created by one of the most influential theatre-makers of the 20th Century. Do not miss this! (Note: Peter Brook himself will be appearing at the Guthrie on Sunday, April 16 for a post-show discussion.) – Todd O'Dowd
Click HERE For Tickets and More Information
FRIDAY, APRIL 14
Art Is Why I Wake Up in the Morning: New Work by Sherry Muyaan He Opening Reception
@ SooVAC
2909 Bryant Ave S, Ste 101
Minneapolis
6-9 pm / All Ages / Free
In her first solo show outside of school, MCAD artist Sherry Muyaan He is making a stunning debut this Friday night at SooVAC. On a recent trip to Tokyo, He learned origami and began to make her own paper and stencils. These skills are the basis for the artist's new collection of work. However, He is also interested in collaboration, connection and communication, so she will also be teaching workshops featuring four different bookbinding techniques, wherein guests will be able to design and assemble their own breakfast books. This interactive art experience isn't your typical art opening, and should definitely be worked into your Friday night social schedule. -Beth Hammarlund
Click HERE for the SooVAC site
FRIDAY, APRIL 14 – SUNDAY, APRIL 16
(Additional Performances through May 14)
One Man, Two Guvnors
@ Yellow Tree Theatre
320 5th Ave SE
Osseo
Wednesday – Saturday at 7:30 pm, Sunday at 2 pm / $21-25
Yes, Osseo might be a hike for some of our readership, but the fact remains that some of the most exciting theatre in the Twin Cities is happening out there. Thanks to a staggering combination of surprisingly challenging material performed by some of the best theatre-makers in the Twin Cities, Yellow Tree Theatre has risen quickly to "must-see" status in town; and their final show for this season is no exception as they scored the rights to the area premiere of One Man, Two Guvnors. Based on the classic 16th Century Italian physical comedy The Servant of Two Masters, British playwright Richard Bean resets the action in the heart of England in the Swinging '60s with the lovable Francis having been fired from his band and working as a gopher for both an upper class twit and a gangster with a hidden secret. Filled with mistaken identities, outrageous face, loads of physical comedy, and more, this show is a dazzling piece of comedy (and was a triumph for James Corden, winning both the Tony and the Olivier Awards for his performance as Francis in the original production). For their final production of the season, Yellow Tree has pulled out all the stops, with director Anne Byrd assembling an all-star cast led by Jason Ballweber of Four Humors Theater as Francis and featuring such heavy-hitters as Elise Langer, Warren C. Bowles, Elena Glass, Marika Proctor, Neal Skoy, Peter Simmons, Ryan Lear, Sam Landman, Tristan Tifft, and Brant Miller. -Todd O'Dowd
Click HERE for Tickets and More Information
FRIDAY, APRIL 14
Duluth Homegrown Music Festival Invasion
@ Turf Club
1601 University Ave
St. Paul
7:30 pm / 21+ / $10
Let's start this off with a quote: "(Duluth Homegrown Music Festival) began as a simple birthday party with a handful of bands and a bunch of beer. Now it's a complete bureaucracy, run by a volunteer steering committee and a board of directors, featuring over 180 musical acts, along with a few filmmakers and other artists." This well-oiled machine will be invading St. Paul and bringing along a few luminaries from the foggy northern shores including the winner of "The Coolest Name in Local Indie Rock" Alan Sparhawk. Styles present will include R&B/Rock, Folk, and country. -T.A. Wardrope
Click HERE for more information.
SATURDAY, APRIL 15
Mark Schoening Artist Reception
@ Forage Modern Workshop
4023 E Lake St
Minneapolis
4-6 pm / All Ages / Free
This exhibit might as well be an exhibit of coolness. The very cool Forage Modern Workshop is hosting the very cool work of the very cool Mark Schoening. The painter/printmaker/3-D designer will be showing 17 pieces at Forage through May, but you'll want to swing by for the opening reception this Saturday evening. There will be cool people there. -Beth Hammarlund
Click HERE for the Forage Modern Workshop site
SATURDAY, APRIL 15 – SUNDAY, APRIL 16
Easter at the Castle
@ American Swedish Institute
2600 American Swedish Institute
Minneapolis
9-10:30 am / $13 (Free for kids under 2)
Nobody does holidays like the Swedes, and we can't think of a more opulent or detailed place for an Easter Egg hunt than ASI's Turnblad mansion. This weekend kids will be scouring all of the mansion's many rooms for colorful eggs hidden throughout in every corner of the "castle." After the hunt, the whole family can enjoy exotic Swedish traditions like storytime with the Easter Witch, adorning the Easter tree with feathers, making paper hens, and creating Easter eggs and Swedish-style Easter greeting cards. – Anthony Enright
Click HERE for the Facebook invite.
SATURDAY, APRIL 15
Modist Is 1: An Anniversary Bash feat. The 4onthefloor, Greg Grease, Sarah White, Nato Coles, etc.
@ Modist Brewing Co
505 N 3rd St
Minneapolis
11 am / 21+ / Free
Modist Brewery, in the ever-hot North Loop neighborhood, make some damn interesting beers. Check out their 1-year anniversary brew, Turbulent Juice, which they describe as a "kettle soured fruited milkshake IPA." Like I want one of those RIGHT NOW. There's also a super-diverse, super-interesting bunch of bands at their 1-year anniversary festival, too, from the eclectic music of Sarah White to the crazy future-thinking hip-hop of Greg Grease to the super awesome 4onthefloor, who I seriously think are a damn national treasure and I'll take you on one-on-one or in groups if you wanna fight about it. Free admission, beer, great bands, North Loop, what's not to love? -Jon Hunt
Visit the Facebook invite for more information
SATURDAY, APRIL 15
Babel Library
@ Form and Content Gallery
210 2nd St. North
Minneapolis
6-8 pm / Free
This collection of new work by artist Vesna Kittelson represents her fourth exhibition at Form and Content Gallery. The show features three designed metal book stacks which have been filled with foreign language dictionaries and then altered and covered with other materials using a variety of techniques and skills. Kittleson sees this work as a response to ongoing conflicts between human groups and international conflicts between states. Obviously influenced by the ancient myth of the Tower of Babel, the work speaks to the complications of communication and the extent to which language can sometimes become a barrier rather than a vehicle for making ourselves understood. – Anthony Enright
Click HERE for more information.
SATURDAY, APRIL 15
The Endowment: Tish Jones Birthday & Truartspeaks Fundraiser
@ Icehouse
528 Nicollet Ave S
Minneapolis
10:30 pm / 21+ / $10 advance, $15 door
"The Endowment is a celebration of Hip Hop culture and the spirit of resistance that drives it," so sayeth the poster for this intergenerational showcase of high-power talent. Featuring artists such as I Self Divine, den atlas, BDotCroc, Guante, Crescent Moon w/Andrew Broder, K. Raydie, MN Real and Deadpool. The event is hosted by Danez Smith and DJ Kool Akiem will be providing sounds all throughout this supercharged night. The price of admission makes this a hell of a deal, but considering it is also a benefit for TruArtSpeaks, that's better than free. – T.A. Wardrope
Click HERE for more information.
SATURDAY, APRIL 15
Adam DeGross' PBR Party w/ Astronautilis, Mean Jeans, Butcher's Union, Supportive Parents
@ Triple Rock Social Club
2528 Nicollet Ave. S.
Minneapolis
8 pm / 21+ / $10
Adam DeGross has pretty much defined scene photography in the Twin Cities for many years now, and Pabst Blue Ribbon has caught on to that. So, they have licensed some of his photos for use as can art and it's pretty much nothing but pure and total genius. DeGross is doing the right thing and throwing a release party to mark this epic occasion and selected a few fine acts to join in the fun. Bands are Astronautalis (Sideone Dummy Records), Mean Jeans (Fat Wreck Records), Butcher's Union (feat. members of D4 and Pink Mink) and Supportive Parents. PBR may never taste as good as it will on this auspicious occasion. – T.A. Wardrope
Click HERE for more information.
SATURDAY, APRIL 15
Transmission Presents Disco 2017: A Night of 90s Britpop
@ Brit's Pub
1110 Nicollet Mall
Minneapolis
9 pm / 21+ / Free
Damn right I'm feeling nostalgic for 90s Britpop. It was literally the LAST TIME a larger-scale musical movement catered directly to me, the fan of 60s British pop music, the fan of 90s shoegaze music, the fan of 80s pop, the fan of 60s and 70s soul. Britpop took those genres — especially a healthy helpin' of swingin' London-era Kinks and Stones — and wove them into a smart, melodic, mod-as-hell genre that now sounds very much like it's own thing. So many great albums from Oasis, Pulp, Suede (my personal faves), Blur, early Radiohead (sure they count), Elastica, Ocean Colour Scene, Shed Seven and a billion others. And you betcha Jake Rudh knows his Britpop — he cut his teeth DJing during this era and if he can claim an era as his own even more than the 80s, it is most certainly this one. Get your pudding bowl haircuts ready to roll. -Jon Hunt