The Idiot Box – "Feud" Season 1, Episode 1
by Todd O'Dowd
UPDATE: Thursday, March 9 – You guys! Our favorites Tom and Lorenzo are once again doing the lord's work by not only recapping the show, but doing a style breakdown of each episode!
*****
I hate – HATE – to say this, but Ryan Murphy has been on a roll lately.
If you know me I've had issues with most of Murphy's television output. Glee went on too long and became too messy by half. American Horror Story has gone up and down in quality from season to season.
But as I said, he has been on a roll. As many issues as I had with it, his film version of The Normal Heart was better than I thought it was going to be. Season 6 of American Horror Story was a beautiful, meta-minded look at reality television and how it can twist and turn the narrative into sometimes ugly ways. And Season One of American Crime Story was absolutely brilliant. (All of this goes back to a theory I have about Mr. Murphy; that he is better as a producer and director than he is as a writer. In all three instances, he had minimal impact on the scripts that he was shooting.)
And now, we've come to the first season of Feud, Murphy's newest anthology series for FX centering around famous feuds throughout history; with this first season devoted to the feud between Bette Davis and Joan Crawford, which reached its zenith during and after the filming of their only film together; 1962s Whatever Happened to Baby Jane?.
Led by Jessica Lange and Susan Sarandon as Crawford and Davis respectively and surrounded by a top flight cast that includes Alfred Molina, Judy Davis, Jackie Hoffman, Allison Williams, Stanley Tucci, Kiernan Shipka, Kathy Bates, and Catherine Zeta-Jones, Murphy's gorgeous new series is so far fantastic. If it can maintain the quality it has set in its first episode, and if Murphy can lock down his bad impulses, he might have a huge hit on his hands.
What makes this first season of Feud so fascinating is that by accident or design, everyone involved with this story has an axe to grind with someone else in this story, or has been tied up in a famous feud in Hollywood history. So, rather than break down and do a full review, I'm going to use this edition of the column to help explain some of the many references and callbacks that are fired off throughout the first episode. Think of this as a reference guide to add context to what's going on. As for a review, I'll keep it brief: Watch it. Right now. I'll expand in later episodes my thoughts but it's bitchy, funny, and perfectly acted by the actors I've listed.
But this is I feel more important, as the context of what is happening here is going to be vital as the story goes along. And so, here we go…
The Title Sequence: Feud's title sequence is a gorgeous animated piece that is less an homage to Baby Jane (even though it does manage to neatly serve as a summary of what happens in that film). More to the point, it's a direct homage to the opening credits of many Hitchcock films, from the swooning music of Bernard Herrmann to the geometric cutout style that was the signature of graphic designer Saul Bass. Notice how both women are fighting at all times. Notice how there's also a man pulling their strings. This is Murphy and co-creators Jaffe Cohen and Michael Zam's thesis on the story; that it's a tale of outside forces putting two successful women through the wringer of ageism, sexism, and internal and external demons that pitted them against each other and themselves.
1978: This would be a key year in Joan Crawford's life and legacy. It would be one year after her death from liver cancer, and it would be the year that her estranged adopted daughter Christina would publish her memoir Mommie Dearest, which would reveal the dark side of Crawford and would, in three years time, be made into a film starring Faye Dunaway.
Olivia de Havilland: Iconic British-American actress of the Golden Age of Hollywood, who at the tender age of 100 is still alive and well and living in France. A two-time Oscar winner (for To Each His Own and The Heiress), she is perhaps best known for her performance as Melanie in Gone With the Wind.
"Many think of her as the greatest star of all time.": This is true. Given the longevity of her career which started at the tail end of the silent film era, Crawford's four-plus decade career in Hollywood would see her go from silent film ingenue, to glamorous leading lady of the 1930s, to trailblazing middle-age actress in the 1940s and 1950s. In fact, Crawford's career longevity would open the door for those who immediately followed her, including her good friend Barbara Stanwyck, and – of course – Bette Davis.
"She, quite frankly, was the greatest actress Hollywood had ever known.": Unlike Crawford, Bette Davis would make her bones by playing women who were combative to a fault, but through her own talents and magnetism, she made audiences root for her, even though she didn't have the sheer physical beauty that Crawford had. Crawford kept the camera's eye by her natural gorgeousness and natural instincts in front of the camera. Davis kept the camera's eye by force of will, daring the audience to try and look away from her. It would be the running meme of both of their careers: Crawford was a great movie star, while Davis was a great actress.
Sidebar: It's an old meme by now, and she has been styled like her before, but it must be said that Susan Sarandon's resemblance to Bette Davis is startling to see in motion, as in that brief clip of her recreating the scene from All About Eve.
"Feuds are never about hate. Feuds are about pain. They're about pain.": If the rumor is true that the second season of Feud is about the tumultuous marriage of Charles, Prince of Wales and Lady Diana Spencer, then I would beg Murphy to stop what he's doing, dump a truckload of money at Catherine Zeta-Jones' doorstep and have her come back and focus Season Two on de Havilland, arguably the queen of the Hollywood feud; from her tumultuous pairing with Errol Flynn, to her contentious relationship with Warner Bros. (more on that in a minute), to – most poignantly – her long-running feud with her younger sister (and fellow Best Actress Oscar winning actress) Joan Fontaine. Three years prior to the filming of this sequence, de Havilland and Fontaine had a huge falling out over their mother's passing. Zeta-Jones brilliantly fills this line with the genuine pain that a statement like that could have in the saga of Livvie and Joanie.
On an important side note, and without going into spoiler territory: Keep your eye on Olivia de Havilland. She'll be important later in the story…
The 1961 Golden Globes: Here's where the facts are slightly blurred. Then, as now, the Golden Globes are the drunkest party in Hollywood; and the 1961 edition was one of the most notoriously drunken ones. Marilyn Monroe did and didn't win an award that year. She had won the Best Actress Golden Globe in 1960 for her iconic performance in Some Like It Hot, but in 1961 she won the Henrietta Award, for the world's famous film star. That said, Crawford's cattiness towards Monroe started around 1953, when Monroe was having a banner year with Gentlemen Prefer Blondes, Niagara, and How To Marry a Millionaire, and Crawford was on the awards circuit for her work in Sudden Fear.
Hedda Hopper: The gorgon of gossip, Hedda Hopper got her start as an actress, but would eventually become a gossip columnist for the Los Angeles Times and the thorn in many stars' and studios' sides (even as she would be fed items by them for various purposes). And like every other person in this god damned story, she had a huge feud with fellow gossip columnist Louella Parsons (and she would eventually return to her acting roots with a few fun cameos in The Women and Sunset Boulevard). Right-wing to the extreme, and always seen in her characteristic hats, Hopper's power would start to wain in the 1960s, and like Crawford and Davis, she's trying to hang on as best as she can.
Pepsi-Cola: Crawford's fourth husband Alfred Steele was the president of Pepsi Cola and Crawford would become a brand ambassador, even after Steele's death.
"Word is, since Al died, the board isn't paying your bills anymore and you're having to sell your custom Billy Haines furniture piece by piece just to keep the lights on.": This is a low blow, even for Hedda. Steele supposedly funneled a lot of Pepsi money into living the highlife with Joan, but upon his death they were hungry for payback. Even though she was kept on as a brand ambassador, Joan was in real financial straits. The mention of Billy Haines is an even bigger sting. William Haines had been one of the biggest male stars of the silent era at M-G-M and would be one of Crawford's closest friends. He would mentor her in her early phase of her career, and she paid him back by championing him after he had been dropped by M-G-M for being gay and unwilling to sham marry and reinventing himself as a pioneering interior designer among the Hollywood set.
"There just aren't roles out there.": In the first of many meta moments, Crawford's agent Marty basically is saying the problem that actresses in Hollywood – particularly those of a certain age, such as most of the leading women in this cast – continue to have.
Robert Aldrich, Autumn Leaves, and "Autumn Leaves": Aldrich would become one of the most influential directors of later Hollywood history, particularly with Kiss Me Deadly and The Big Knife, but at this point in the story he was on a downward slump with his film Sodom and Gomorrah. Aldrich had directed Crawford in Autumn Leaves (so named after the song and which featured Nat King Cole's version of it), and while it was a combative set, they both were impressed with the final film and it is now considered one of his best films. And while history is right in that Crawford brought Baby Jane to Aldrich, it's unclear whether he or she would be the one to suggest Crawford's co-star. The point is, they were both agreed on who that co-star should be.
The Night of the Iguana: By this point in her career, Davis was back on Broadway in the original production of the Tennessee Williams play, having created the role of the wise-cracking hotel proprietress Maxine. Crawford actually did go backstage one night to offer her the role of Baby Jane.
Sidebar 1: Props again to the production designers on the series for accuracy in terms of nailing the exact look of the set and costumes of The Night of the Iguana:
Sidebar 2: When John Huston made his film version of the play in 1964, Davis had hoped to recreate her performance as Maxine, but instead the role went to Ava Gardner. Davis, of course, was not amused.
Sidebar 3: Contrary to popular belief, Bette Davis did not get the role of Baby Jane because of her famous ad that she placed in Variety.
This ad, oddly enough, would run nine days after production had wrapped on the film, but again it speaks to the situation both actresses found themselves in at the time with little to no opportunities.
Callback Alert: Knowing Murphy, the scene in the dressing room is a direct callback to the scenes in the dressing room in All About Eve.
"Did you fuck Joan Crawford?": There have been persistent rumors that Aldrich and Crawford had an affair on the set of Autumn Leaves, but what Davis is referring to is Crawford's reputation for having a voracious sexual appetite in her earlier days. Of course Aldrich comes back with "William Wyler," who not only was Davis' director in the film Jezebel (and they most certainly did have an affair), but could arguably be the great love of Davis' life.
Jack Warner: And here he is, ladies and gentlemen; the real villain of this story. If Crawford and Davis would have one common enemy, it would be Jack Warner. There is so much to unpack with that scene (brought to glorious life by Stanley Tucci's scene stealing performance), that I have to do bullet points within bullet points. So, here we go:
* The lawsuit that he mentioned in 1935 did indeed happen. Tired of the sub-par material she was being offered, "the fifth Warner Brother" (due to how much money she made the studio) fled to England to make a movie and sued her studio. She lost, had to come back and made a shitty film. Her next film would be the aforementioned Jezebel, which would be one of the best films she ever made. But they were always butting heads in terms of material. In fact, one of the perks of signing Crawford to his studio after she left MGM in the 1940s was as a way to antagonize his unruly queen bee.
* Contrary to his view, Davis' suit did not bring down the studio system. There were a lot of other things that did it. First up was the landmark case of United States v. Paramount Pictures, Inc. in 1948, best known as The Divorcement Decrees, which stated that film production companies can not own the theaters their films are shown in as it's a violation of antitrust laws. Then there was the rise of television, particularly in post-WWII American culture which caused movie attendance to drop dramatically. And then there was the De Havilland Law where Olivia de Havilland (remember her?) basically broke the major studios' contract system when Warner Bros. tried to penalize her and she sued them and won. But make no mistake, Warner hated Davis with every fiber of his being as much as he needed her and all the money she brought in.
*"Seven Arts" – Seven Arts Productions was an independent production company co-founded by Ray Stark and Eliot Hyman. In addition to producing the Broadway play The Owl and The Pussycat and the musical Funny Girl (Stark was the son-in-law of that show's subject, vaudeville comedienne Fanny Brice), they produced the films The Misfits, West Side Story, The Roman Spring of Mrs. Stone, Two for the Seesaw, and the Stanley Kubrick version of Lolita. In 1967, Seven Arts would buy Jack Warner's controlling interest in the studio and it would become Warner Bros.-Seven Arts until 1970 when it was sold again to Kinney National Service and renamed back to Warner Bros.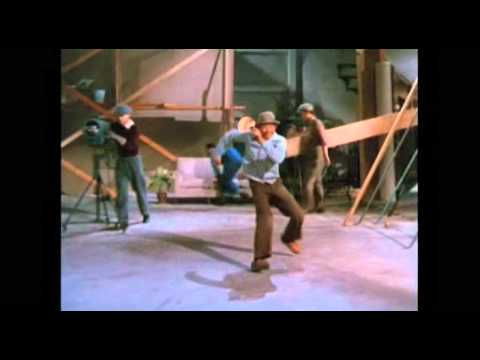 "Is it like That's Entertainment!?": Released in 1974 by MGM, That's Entertainment! was a celebration of the golden age of the MGM on the 50th Anniversary of the studio's founding. What's sad about That's Entertainment! is seeing some of the greatest stars of that studio (in particular its starts from its legendary musicals) wandering around the deteriorating backlot sadly looking at their former home in such disrepair. If you haven't seen it, do watch it as it's a great introduction to MGM's iconic musicals.
Joan Blondell: Actress and comedienne under contract at Warner Bros. (like Davis, de Havilland, and eventually Crawford) who broke out in the early 1930s for her racy pre-Production Code comedies. After a good long time away where she went back to Broadway, she came back as a beloved character actress in both films and television; in fact she would pioneer the migration of older actresses to the smaller screen. By 1978 she would have been wrapping up her cameo in Grease and would pass away a year later.
Gary Merrill: Actor, best known for playing Davis' romantic lead in All About Eve. Shortly after the film was made, he became the fourth and final husband of Bette Davis. He would eventually find a second career in television with numerous guest appearances. The only wrong note of their scene in Feud is that they divorced in 1960, two years before the start of the events of the series.
"You went to bed with Margo Channing and you woke up with me.": This is actually a twist on the famous quote by Rita Hayworth about her most famous role, "Every man I knew went to bed with Gilda… and woke up with me."
"…and this, after she tried to screw my boyfriend.": Well, actually, the correct term Ms. Crawford is fiancé. No conversation about Joan Crawford and Bette Davis is complete without talking about Franchot Tone. A founding member of the Group Theatre, Tone would come to Hollywood in 1932 under contract to MGM. The next year, he made Today We Live which he starred with Crawford for the first time, and it was love at first sight. He was naturally taken by her beauty and star power, and she was taken by his aristocratic air and his undeniable talent. 1935 though would be his best year as he would be engaged to Crawford, be nominated for a Best Actor Oscar for Mutiny on the Bounty, and would be loaned out to Warner Bros. for Dangerous, which would get Davis her first Best Actress Oscar. It was on the set of that film that Davis made a play for Tone, but he refused her. Tone and Crawford would divorce in 1939 after a result of extra-marital affairs on both sides (*cough* Clark Gable *cough*) and several miscarriages.
Sidebar: One of Davis' oft-repeated jabs at Crawford was "Miss Crawford is a movie star, and I am an actress." Crawford's neat retort would be her talking about Tone and Davis, saying "He only saw her as an actress. He never saw her as a woman."
Callback Alert: Did you all catch the bit where Crawford would use a mix of ice cubes and witch hazel to tone her face? That is probably one of the most direct callbacks to the film version of Mommie Dearest.
All Those Gifts: Whether or not she actually gave gifts to her crews is a matter of debate but what is public knowledge is that Crawford always went out of her way to be nice to the crewmen and women working on her sets, and they in turn worked hard for her. That was one of the many reasons people in Hollywood loved and respected her, even in her decline.
Callback Alert: "Okay, Mamacita. Let's go to work." Of course the first thing Crawford would do in a dirty dressing room is scrub it clean. Or, to misquote a famous film, she's not mad at the dressing room, she's mad at the dirt. In looking at Crawford with modern eyes, she strikes me as slightly OCD.
Daughter Dearest: Since Crawford's children were away at school (the twins Cathy and Cindy), in military school and estranged (Christopher), or fully estranged (Christina), it makes sense that we would see instead B.D. Merrill, Davis' daughter she had with her third husband William Grant Sherry but was adopted by Gary Merrill. It also makes sense because she will have a small, but important, role to play in the film. And while she grew up stealing scenes from her co-stars on Mad Men, I'm dying to see what Kiernan Shipka can do up against such heavy hitters as Lange, Sarandon, et al.
"Still, it's a pretty good picture.": One of the great things that Crawford brought to the screen, that sometimes Davis failed to do, was nuance. Of course, for this scene Aldrich showed footage of Crawford's film Sadie McKee, which was her third picture she shot with Tone. This is one of the many points in Baby Jane where what was real and what was made up blurred.
That Entrance: Whether or not she actually used an old Crawford wig, and whether or not she would have just sashayed in like that without a wardrobe test (which I highly doubt!), you have to admit it's a brilliant moment that everyone plays brilliantly.
"Welcome to the house that fear built.": What an appropriate zinger for Hedda Hopper (which is how she often referred to her house), gloriously fired off by Judy Davis. In fact, I would love to see a Hopper / Parsons season of Feud for more of Davis' savvy as hell performance as the savvier of the two columnists.
"It's an ambush.": Hopper's tete-a-trois is one of the best scenes in the episode, and it shows another of Murphy's thesis; if they weren't played against each other, think of what they could have accomplished together. That scene showed that when Crawford and Davis put their minds to it, they could have been brilliant together after the film. But as we'll see that was not meant to be…