Suzie's New Album Blends Pop Music of the Past and Present
by Anthony Iverson
Mark Ritsema, mastermind behind local bubblegum shoegaze project Suzie, is developing a reputation around Minneapolis as a natural musician with a compulsive knack for writing and recording. Following one album and a handful of EPs, Suzie has just released Chardonnay, an album in which Ritsema further stretches the boundaries of pop music beyond even what he's done on previous releases.
Suzie has always been a project grounded in a chaotic blend of synths and guitars, and Chardonnay furthers the relationship between those two instruments in a way that branches out and touches a variety of styles. Song by song Chardonnay plays more like a mixtape, Ritsema explains — a reflection of the musical anxiety he experiences when writing and recording.
"I get really bored when records come out where every song has the same drum, guitar and vocal tone. That's really boring to me," he says. "Each song is its own entity, so why approach each one the same way? I like surprising people."
In a day and age where pop music comes sugar-coated with a side of sweetener, Chardonnay offers a take on pop that has a bit of an edge to it. The production is fuzzy, providing a somewhat jagged finish over the top of the gleaming pop foundation. It's not unlike the style that catapulted Prince to great heights — blending shimmering synths, a delicate falsetto and an incendiary guitar riff all in a few bar's time.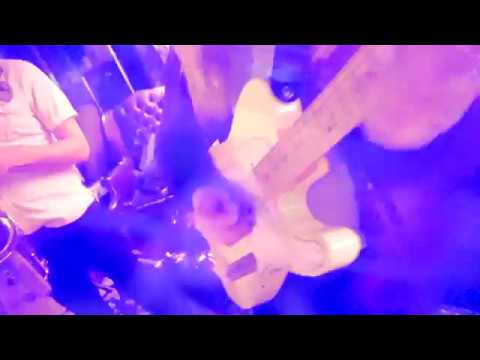 To be clear, it's evident Ritsema's pop sensibilities run the gamut, but it's releases like Chardonnay that show Suzie is intended to push the boundaries of pop music even further to achieve something new yet somehow nostalgic.
This goes back to the concept behind Suzie as a project, Ritsema explains.
"The goal of this band was to explore music that is very youthful and nostalgic sounding," he says. "Suzie [the name] represents that to me because it's a shortened version of Suzanne, and one typically used only in youth. So in that sense it reflects the coming-of-age, finding yourself, nostalgic vision I have for the band."
And like with most musicians, there are ways Ritsema goes about sparking his creativity for the music he creates.
"I usually start with a guitar or keyboard progression and loop it till I find something," he says. "I've found certain formulas that help me write better songs. Like zero sleep, increased anxiety and watching some sort of ultra dramatic movie with the subtitles."
Movies are just one example of something that can elicit strong emotions for Ritsema, which he then draws from to create on his own. "Coffin in Houston," for example, one of the hits from his previous album, Born Single, was written after a late-night viewing of the movie "Gravity."
Similarly, Ritsema draws inspiration from people who he can tell put a great amount of effort into what they do — and not necessarily just other musicians. He lists Elizabeth Warren and Aaron Sorkin as sources of inspiration, two examples of people who put so much into their craft that he can't help but do the same.
"I used to watch James Harden highlights while recording and be like, 'I want my music to sound like his Euro-step or his step-back jumper.' It makes you go 'daaaaaamn.'
Thematically, Chardonnay is similar to Born Single, with songs about breakups, relationships and everything in between; sonically, he uses more guitar distortion and power drums. Ritsema explains that "Backseat," the lead single that warps Chardonnay's opening melody into a hazy wall of sound, was loosely inspired by a Chuck Klosterman chapter from "Sex, Drugs, and Cocoa Puffs" about the power structure in romantic relationships when one person is more invested than the other.
Prior to working on Chardonnay, however, Ritsema was working on a separate album called Pressure, which conceptualizes the idea of using anxiety and pressure as a source of motivation — something he has learned to use in his favor over the years.
"Pressure and anxiety are things that can be turned into inspiration and drive," he says. "I almost like feeling anxiety now, it's like a reminder that people are watching, and to not give up."
While working on Pressure, it became something that consumed him and drew all of his attention, at which point he took a break, stepped away and started working on Chardonnay.
"I became obsessed with it and lost all perspective on what I was doing."
Pressure is still scheduled for 2017, he says, but in the meantime, Chardonnay will be the proper follow-up to 2014's Born Single.
With so much music in store — and so much of it already released — it should come as no surprise that songwriting comes naturally as a form of catharsis for Ritsema. His compulsiveness when it comes to songwriting and recording can be seen in the detailed reworks of tracks like "Sweet Surprise" and "Whirlwind," two songs that have previously appeared elsewhere but are completely reworked on Chardonnay, making for interesting new takes on tracks that long-time Suzie fans will surely be familiar with.
"I do it because it is so rewarding emotionally," he says. "I still have some improvements to make with production quality and mixing ability, but I'm excited to learn more and see how far I can take it."
Songwriting is a skill that Ritsema honed long before his days as Suzie. Most fans likely recognize him as the former guitarist/keyboardist from local group Night Moves, which he left in order to focus on his own path forward.
"John [Pelant] and Micky [Alfano] are super old friends, all the way back to high school. They are killing it right now and make great music, so I'm stoked for them," he says. "That's what I've always wanted, which is funny — to tour, be in a successful band. I think I had to leave because when you're attached to the past it's harder to change."
At this point, there's no question Suzie is making waves throughout Minneapolis-St. Paul. After playing First Avenue's Best New Bands showcase a few years back, Ritsema has consistently appeared at venues of all shapes and sizes, likely due in part to his fun live presence and to the fact that his stage setup changes from gig to gig — another example of his creative conscience at work.
In terms of the album release show this Saturday at Icehouse, he says that fans can expect a cool stage design and a good set from opener Lovelines.
And from the sound of it, fans can expect much more from Suzie in the years to come.