Weekend What's What: 12/22-12/25
by Anthony Iverson
EDITOR: ANTHONY IVERSON / CONTRIBUTORS: TODD O'DOWD, JAHNA PÉLOQUIN, ANTHONY ENRIGHT, JON HUNT, BETH HAMMARLUND, ALLISON SHILINSKI, T. A. WARDROPE, RENE MEYER-GRIMBERG, GIGI BERRY, JAKEY EMMERT / HEADER IMAGE: CAROLINE ROYCE
Holiday weekends like this one often quietly showcase some of the most exciting events of the entire year. While some people are scrambling to get things done ahead of the holidays, some venues around town are offering events that have gradually turned into annual traditions, like Staraoke or Trailer Trash's Little Xmas. In any case, if you're itching to avoid your in-laws at any point this weekend, a quick skim through this week's guide will have you on your way out the door.
xo-l'étoile
THURSDAY, DECEMBER 22 – TUESDAY, FEBRUARY 28
Wells Fargo Winter Skate
@ Landmark Center
75 5th St. East
St. Paul
All Day / Free
As if Downtown St. Paul wasn't already picturesque enough, Winter brings a new level of Instagram worthy sights particularly in Rice Park which sports the twinkling holiday decorations that accompany the St. Paul Winter Carnival. This season the area adjacent to the park in front of the Landmark Center will also be home to an epic skating rink open to the public. Bring your friends and family out for some icy fun, and don't worry if you don't have skates, you can rent them there for only $4 or borrow for free if you bank at Wells Fargo. It's not like we have a paucity of outdoor activities available to us during the Minnesota Winter, but think of this as a great excuse to explore Downtown St. Paul this season. -Anthony Enright
Click HERE for more information.
THURSDAY, DECEMBER 22 – SUNDAY JANUARY 29
Betty Danger's Rooftop Winter Wonderland Display
@ Betty Danger's Country Club
2501 Marshall St. NE
Minneapolis
5-9 pm / $8
The ferris wheel at Betty Danger's Country Club is always a good place to take in the view, but this Winter there's a little something extra waiting for riders with a glimpse at venue's roof transformed into a Winter Wonderland. Riders can keep warm sipping on hot chocolate and cider (spiked for a couple of bucks more) while they peep both the vintage Christmas decorations on the roof, and the rest of the city from a perch that rivals Santa's sleigh. -Anthony Enright
Click HERE for more information.
CONTINUING THROUGH SATURDAY, DECEMBER 24
(Final Weekend!)
Macy's SantaLand
@ Macy's Downtown Minneapolis
700 Nicollet Mall
Minneapolis
Daily during store hours / Free
Take a child (or your inner one) to the event that truly marks the launch of the Christmas season: Santaland's opening at Macy's Downtown Minneapolis. The 8th Floor Auditorium hosts the big jolly and his elves for the time-honored "photo opp" tradition, the annual "A Day in the Life of an Elf" auditorium display. As you wait your turn, be sure to do some planning. You can bet you'll be confronted with the question: "What's on your wish list this year?" -Staff
Click HERE for more information
THURSDAY, DECEMBER 22
(Closing Weekend!)
La Natividad
Starting @ In The Heart of the Beast Puppet Theatre
1500 E Lake St
Minneapolis
6:30pm Each Night /$17-23
Leave it to In The Heart Of The Beast Puppet Theater to create one of the most compelling holiday shows in town as they remount their stunning production of La Natividad. Taking the tradition of the posada (a traditional Latin holiday walking play where Mary and Joseph go door to door seeking shelter on Christmas day) and resetting it in the modern day, HOTB's holiday pageant uses actors, puppets, musicians, and more as immigrants Maria and José are trying to find shelter up and down 15th Ave S, in a painfully and joyfully local retelling. Complete with an ending fiesta at St. Paul's Lutheran Church, this very local tradition is one of the the hottest tickets in town. Note: As this is a walking play, please dress for the elements. -Staff
Click HERE for Tickets and More Information
THURSDAY, DECEMBER 22 – FRIDAY, DECEMBER 23
(Closing Weekend!)
Black Nativity
@ Penumbra Theatre
270 N Kent St
St Paul
Wednesdays – Sundays at 7:30 pm, Saturday Matinees at 2 pm, Sunday Matinees at 4 pm / $15-40
Of all of the shows its produced over its 40 years, Black Nativity has always been the calling card of Penumbra Theatre. While Langston Hughes' moving story has always been a touchstone, the real reason to go is to watch director Lou Bellamy asseble a host of the most accomplised African American artists and musicans in the Twin Cities and let them have free reign. Along with Mr. Bellamy, said artists include music director Sanford Moore, choreographer Uri Sands, the incredible Fellowship Missionary Baptist Church Choir and its director Yolande Bruce, actors Dennis Spears and Greta Oglesby (and at certain performances, PaviElle French filling in for Ms. Oglesby) and more. Tickets historically sell out for this soul-raisinig show, so move fast and celebrate one of the true miracles of the Twin Cities performance season! -Todd O'Dowd
Click HERE for Tickets and More Information
THURSDAY, DECEMBER 22 – FRIDAY, DECEMBER 23
(Additional Performances through January 1)
Visions of Sugarplums: A Burlesque Nutcracker
@ The Lab Theater
345 13th Ave NE
Minneapolis
Weeknights at 7 pm, Sundays at 2 pm & 6 pm (No Performance December 25) / $35
Two Christmastimes ago, Twin Cities burlesque icon Nadine DuBois and Seattle-based performer and choreographer Lily Verlaine collaborated on a sharp, knowing take on The Nutcracker that combined the story of the ballet with modern dance and heaps of burlesque to create a production that served a lot of heart along with the sizzle. Unsurprisingly, it was a massive hit thanks to the performances of Ms. DuBois and a who's who of top-flight dancers (including Ballet of the Dolls alumna Zhauna Franks serving as Finishing Director for this year's production, and iconic Twin Cities dance mainstay Stephanie Fellner making her debut in the production) and burlesque performers in town in the cast (including Redbone, Vica, Queenie Von Curves, and so many more). Thankfully, the beloved production is back again – this time at The Lab Theater – for one of the most glamorous new holiday traditions in town! Tchaikovsky may not approve of this titilating treatment of his great work, but we certainly do! -Todd O'Dowd
Click HERE for Tickets and More Information
THURSDAY, DECEMBER 22 – MONDAY, DECEMBER 26
(Additional Performances through December 30 – No Performances on December 25)
A Christmas Carol
@ The Guthrie Theater – Wurtele Thrust Stage
818 S 2nd St
Minneapolis
Varying times (Click HERE for Full Performance Schedule) / $34-137
This marks the 42nd year that Minnesotans will gather for the holiday tradition that is Charles Dickens' A Christmas Carol at the Guthrie. The annual favorite and tradition for many starts this weekend, which can really only mean one thing: winter has arrived. Currently showing the 2010 adaptation by Crispin Whittell, the play tells the familiar story of the miserable Ebenezer Scrooge, his "bah humbugs," and the Ghosts of Christmas Past, Christmas Present and Christmas Future. This years edition sees revered local actor J.C. Cutler returning to the role of Scrooge, leading an all-star local cast including Jay Albright, Robert O. Berdahl, Katie Bradley, Ryan Colbert, Nathaniel Fuller, Summer Hagen, Meghan Kreidler, Joel Liestman, Tracey Maloney, Ryan Dean Maltz, Tyler Michaels, Kris L. Nelson, Eric Sharp, Suzanne Warmanen, Regina Marie Williams, and Tatiana Williams. While most of you probably already know the end to this story, the play is an institution and you may as well kick off your holiday season with a tried and true favorite. -Staff
Click HERE for Tickets and More Information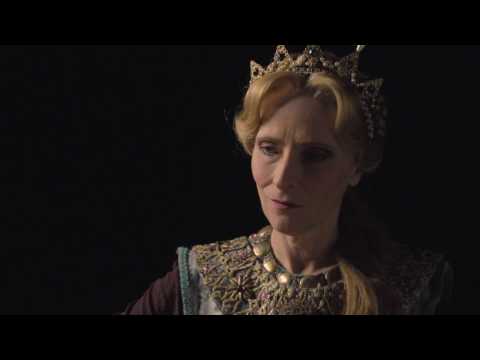 THURSDAY, DECEMBER 22 – MONDAY, DECEMBER 26
(Additional Performances through December 31 – No Performances December 24 & 25)
The Lion In Winter
@ Guthrie Theater – McGuire Proscenium Stage
818 2nd St S
Minneapolis
Wednesdays – Saturdays at 7:30 pm, Sundays at 7 pm / $49-54
One of the great traditions of late at the Guthrie is that is that it conveniently uses its proscenium stage as an antidote to that holiday show on the other side of the building. And as far as holiday antidotes are concerned there are none better than James Goldman's The Lion In Winter. Though it's better known for its film adaptation (with Peter O'Toole and Katharine Hepburn as the warring royals), Goldman's examination the love/hate relationship of King Henry II of England, his imprisoned wife Eleanor of Aquitaine, and their three scheming sons over the Christmas holiday is a beloved chamber play on the headaches caused by power, family, and love. It also happens to be one of the wittiest plays ever written (in fact, this productions promo line "Well – what shall we hang? The holly or each other?" is one of Henry's best lines). For the Guthrie's production, director Kevin Moriarty has assembled a great cast with Kevyn Morrow and Laila Robins as Henry and Eleanor, and featuring Michael Hanna, Torsten Johnson, Riley O'Toole, David Pegram, Thallis Santesteban. Never have the holidays been so gloriously – and savagely – messed up. -Todd O'Dowd
Click HERE for Tickets and More Information
THURSDAY, DECEMBER 22 – SATURDAY, DECEMBER 24
(Additional Performances through December 31 – No Performance December 25)
Irving Berlin's White Christmas: The Musical
@ Ordway Center for the Performing Arts
345 Washington St
St. Paul
Tuesdays – Sundays at 7:30 pm, Saturday & Sunday Matinees at 2 pm / $34-154
There are few movie musicals as beloved as White Christmas. Perhaps its the simple tale of two former G.I.'s falling in love with a sister act working to save their former commanding officer's farm / resort (and if this sounds like a riff on the plot to Holiday Inn, that's deliberate; White Christmas was conceived as a sequel to Holiday Inn). Or perhaps its because the score is filled to overflowing with some of the best songs Irving Berlin ever wrote (and that includes the title song). Whatever the reason, it would make sense that it would eventually become a stage musical, which the Ordway is producing this season with some of the brightest talent in the Twin Cities. Led by director and choreographer James A. Rocco and music director Jeff Rizzo, the cast is headlined by Dieter Bierbrauer, Brian Sostek, Ann Michels, and Jenny Piersol and features James Detmar, Natalie Tran, Valerie Wick, Richard Ooms, and Thomasina Petrus. As they've stated when they announced it, White Christmas is one of the most requested shows in the Ordway's history, but thanks to this cast and crew, it could be one of their absolute best. -Todd O'Dowd
Click HERE for Tickets and More Information
THURSDAY, DECEMBER 22 – FRIDAY, DECEMBER 23
The Bad Plus
@ Dakota Jazz Club & Restaurant
1010 Nicollet Ave
Minneapolis
7 pm / 21+ / $45
I don't mind admitting I have some ish with the Bad Plus. Their latest album It's Hard turns their deal into schtick — they do "jazz-adjacent" versions of pop songs; whoopee-damn-deal, them and about two dozen other popular jazz acts. Drummer Dave King plays jazz like a guy trained in metal, which he is, and while I love when they take themselves seriously or semi-seriously (Their album with Joshua Redman was terrific, and The Rite of Spring was also awesome) more often, they're content to live in perma-winky-winky land, like "the joke's on YOU, buddy," the musical equivalent of punching down, hard. Of course, in Minnesota, the Three White Guys Play Jazz gets more attention than bands like Moors Blackmon who probably deserve it more, and that galls a little bit too. But listen, I get it: if you're not a huge jazz fan but you like highbrow experimental music, maybe this is your bag. God knows they're all terrific players and their instrumental interplay is worth writing home about. Give 'em a shot and report back, schtick or important? -Jon Hunt
Click HERE for tickets and more information

THURSDAY, DECEMBER 22
The Soulstice feat. Solid Gold, Su Na, Kwey and Blanda
@ Aria
105 N 1st St
Minneapolis
8 pm-2 am / $20
Back for its third year, The Soulstice is one part dead of winter, one part soul vibes, and one part good ass music.  The past two years, Soulstice kept it real at different venues like Solar Arts by Chowgirls.  They're sticking with the intimate upscale locale as they move to Aria this year, but they promise it will be groovier than ever with a local line-up to include Solid Gold, Blanda, Kwey, and Su Na.  Hundreds have braved the cold to make it to The Soulstice the last two years, so don't be a fairweather fan and get there this Thursday. -Allison Shilinski
Click HERE for the Facebook event page
FRIDAY, DECEMBER 23
Trailer Trash Presents the Trashy Little X-Mas Show
@ Turf Club
1601 University Ave
St. Paul
7:30 pm / 21 + / $20 advance, $25 door
Prior to the change of ownership, Trailer Trash was essentially the house band at Lee's Liquor Lounge. Since then, they've been venturing out into the local scene and this year they are setting up their retro country X-Mas party at the Turf Club. So, if you are into classic country and honky tonk, but aren't so keen on venturing out into Trumpistan, this might be a great way to get some live classic country music without fearing for your life. Plus, nursing the hangover might give ample distraction from some of those less "woke" relatives at X-Mas. -T.A. Wardrope
Click HERE for more information.
FRIDAY, DECEMBER 23
Benefit for Standing Rock w/ deM atlaS, Kill the Vultures, Kristoff Krane, and Los Nativos
@ Parkway Theater
4814 Chicago Ave
Minneapolis
8 pm / 21+ / $15 advance, $20 door
Despite a recent victory, the fight to protect the water at Standing Rock is far from over. As a pro-pipeline president and cabinet approach office, the temperatures will continue to drop throughout the winter, leaving our water protectors under assault on multiple fronts. Contribute to the cause this Friday at the Parkway Theater, where Maria Isa and Lady Xok will host a benefit with musical performances from deM atlaS, Kill the Vultures, Kristoff Krane, and Los Nativos, as well as short films by Tomorrow's Ancestors Speak. 100% of the proceeds will be donated to the Sacred Stone Sicangu camp, and will help water protectors and their families stay warm over the winter months. -Beth Hammarlund
Click HERE for the Facebook event
FRIDAY, DECEMBER 23
Dosh w/ Timbre Ghost (Double EP Release Show)
@ Day Block Brewing Co.
1032 3rd Ave NE
Minneapolis
9 pm / 21+ / $10
Timbre Ghost's opening track on "The Ledger" will make you wonder if he's a bigger fan of Neil Young or Slayer. Both or neither, it doesn't matter has he brings volumes of resignation and darker tones that are much larger than a single studio musician might suggest. Live, he plays alongside folks like Adam Patterson and Dylan Ritchie, who are more than capable of bringing his reflections to life. Dosh will lend his own eclectic styles to the gig, all of which should delight local music aficionados and those looking for something to mull over during the Christmas holiday. – T. A. Wardrope
Click HERE for more information.
FRIDAY, DECEMBER 23
Chance York and Big Cats! Record Release Party w/ Greg Grease and DJ Just Nine of ZuluZuluu
@ Icehouse MPLS
2528 Nicollet Ave
Minneapolis
10 pm / 21+ / $8
Ah man, just skimming this record, and it's damn great — musically taking cues from late 70s smooth R&B with jittery 808 beats creating tension and weird-ass sound loops for maximum freakiness; lyrically smart as hell, witty as hell and smooth-ass flow. It's gorgeously experimental but also super banging — too often really smart DJs rely on slow/moody jams to get the message across, but this record is full of heavy-ass beats and throbbing 808 basslines. The single "God Body" is straight-up great, smooth as hell but really really heavy at the same time. "Come to more concerts" indeed — here's a good start. Obviously the openers are an enticement as well; Greg Grease and DJ Just Nine are about as hot as they come a the moment. -Jon Hunt
Visit the Facebook event page for more information
FRIDAY, DECEMBER 23
Flip Phone presents Bey Ball: A Semi-Formal Evening Dedicated to Beyoncé
@ First Avenue
701 N 1st Ave
Minneapolis
9 pm / 18+ / $12 advance, $14 door
It wouldn't be the holiday season without a Christmas tree-centric Beyoncé social media post, and a Bey Ball, at which we celebrate the season and give thanks for another year of magic and brilliance from Queen Bey. This has been a particularly rough year, and it's time to dance it off in your best Tina Knowles-inspired look. So grab your best girl gang, coordinate outfits accordingly, and march yourself to First Avenue this Friday night to give 2016 an artfully choreographed kiss-off. -Beth Hammarlund
Click HERE for the First Avenue site
SATURDAY, DECEMBER 24
JEWBILEE 2016 feat. Holy Moly, Planet Plookey, The Lone Jew And the Party Crashers, and Dan Israel
@ 7th Street Entry
701 First Ave N
Minneapolis
7 pm / 18+ / $3 advance, $5 door
I fucking love this. Because of course an awesome night of Jewish musicians on Christmas Eve, why not? There's plenty of non-Jewish non-Christmas non-celebrators who'd like this too (before we had a kid, we were perennial "Chinese restaurant goers" and I'm sure we'd be in attendance). Fascinated to hear Holy Moly, which is a band made up of Adam, Joey and Sam Rivkin — you may recognize that last name from their dad Bobby Rivkin, aka Bobby Z from Prince and the God-Damn Revolution. And Dan Israel is one of my favorite human beings in town, a smart, sharp songwriter who's finally getting some serious attention for being smart and sharp and always, always politically outspoken and hilariously funny. Don't know Planet Plookey but I love the name. C'mon, you know you don't wanna stay at the folks' house all night, get out among the Chosen and listen to some killer-ass music. -Jon Hunt
Visit the First Avenue website for more information

SUNDAY, DECEMBER 25
Staraoke
@ Triple Rock Social Club
629 Cedar Ave S
Minneapolis
9 pm / 21+
So Christmas Eve ruined your Saturday and you just spent a headache of a day with your family?  There's only one thing left to do… Staraoke at Triple Rock Social Scene is the perfect earsplitting end to an earsplitting day.  The punk venue offers a home away from home like no other and the anonymity of people that are not embarrassingly related to you.  At Staraoke, hosted by Azru, you can forget about your family while drinking cheap or quality beer and singing your heart out.  Hey, bring your grown up kid sibling, too, provided that they're now 21. -Allison Shilinski