Weekend What's What: 12/15-12/18
by Anthony Iverson
EDITOR: ANTHONY IVERSON / CONTRIBUTORS: TODD O'DOWD, JAHNA PÉLOQUIN, ANTHONY ENRIGHT, JON HUNT, BETH HAMMARLUND, ALLISON SHILINSKI, T. A. WARDROPE, RENE MEYER-GRIMBERG, GIGI BERRY, JAKEY EMMERT / HEADER IMAGE: CAROLINE ROYCE
This weekend offers plenty of opportunities for you to delay that holiday shopping you've been putting off for the past couple weeks, including a meet-and-greet for Daniel Corrigan and Danny Sigelman's book on the history of music in Minneapolis, the return of a few longtime local music favorites, the continuation of holiday theater season and much more.
xo-l'étoile
CONTINUING THROUGH DECEMBER 24
Macy's SantaLand
@ Macy's Downtown Minneapolis
700 Nicollet Mall
Minneapolis
Daily during store hours / Free
Take a child (or your inner one) to the event that truly marks the launch of the Christmas season: Santaland's opening at Macy's Downtown Minneapolis. The 8th Floor Auditorium hosts the big jolly and his elves for the time-honored "photo opp" tradition, the annual "A Day in the Life of an Elf" auditorium display. As you wait your turn, be sure to do some planning. You can bet you'll be confronted with the question: "What's on your wish list this year?" -Staff
Click HERE for more information
THURSDAY, DECEMBER 16 – SUNDAY, DECEMBER 18
(Additional Performances through December 22)
La Natividad
Starting @ In The Heart of the Beast Puppet Theatre
1500 E Lake St
Minneapolis
6:30pm Each Night /$17-23
Leave it to In The Heart Of The Beast Puppet Theater to create one of the most compelling holiday shows in town as they remount their stunning production of La Natividad. Taking the tradition of the posada (a traditional Latin holiday walking play where Mary and Joseph go door to door seeking shelter on Christmas day) and resetting it in the modern day, HOTB's holiday pageant uses actors, puppets, musicians, and more as immigrants Maria and José are trying to find shelter up and down 15th Ave S, in a painfully and joyfully local retelling. Complete with an ending fiesta at St. Paul's Lutheran Church, this very local tradition is one of the the hottest tickets in town. Note: As this is a walking play, please dress for the elements. -Staff
Click HERE for Tickets and More Information
THURSDAY, DECEMBER 15 – SATURDAY, DECEMBER 17
(Closing Weekend!)
Interact Theater presents What Fools These Mortals Be
@ The Lab Theater
700 1st St N
Minneapolis
Wednesdays – Fridays at 7 pm, Saturdays at 3 pm & 7 pm / $22
For the past two decades, some of the best theatre in the Twin Cities has been taking place courtesy of one of the best secrets in town; the Interact Center. The internationally-recognized arts center has spent the past twenty years developing a host of visual and performance artists that continually shatters the preconceptions of what people with disabilities can do. For their big anniversary show, the two-time IVEY-winning theater program at Interact has teamed up with two fabulous artists (writer and actor Kevin Kling and IVEY-winning composer and director Aaron Gabriel) to create What Fools These Mortals Be. Using both the 400th birthday of William Shakespeare and the notion of the role of the court fools and jesters (many of whom, as history has revealed, were themselves afflicted and alienated by differences and disabilities) and their peculiar relationships to the monarchy as starting points, this new piece sees a troupe of disgraced fools on the run from Queen Elizabeth I and exiled in the New World; with their only hope for salvation resting in a command performance for the Queen by a new playwright named William Shakespeare. Mashing up Shakespeare, comedy, music, and more, this promises to be one of the most dazzling events of the season. -Todd O'Dowd
Click HERE for Tickets and More Information
THURSDAY, DECEMBER 15 – SUNDAY, DECEMBER 18
(Closing Weekend!)
The Oldest Boy
@ The Jungle Theater
2951 Lyndale Ave S
Minneapolis
Tuesdays – Thursdays at 7:30 pm, Fridays – Saturdays at 8 pm, Sundays at 2 pm & 7:30 pm / $35-48
Consider this a tale of two Sarah R.'s. The first one is Sarah Ruhl; MacArthur Genius Grant winning playwright and two-time Pulitzer finalist. The other one is Sarah Rasmussen; admitted Sarah Ruhl junkie, artistic director of The Jungle Theater, and director of their IVEY-winning production of Ruhl's play In the Next Room (or The Vibrator Play). Given all of this, it would make sense that Ms. Rasmussen is directing the area premiere of Ms. Ruhl's latest play. In The Oldest Boy, Ruhl takes the premise of her play (about an American mother and her Tibetan husband and the struggle they face when Tibetan monks arrive claiming their son should go with them to India for spiritual training, as he is believed to be the reincarnation of a high Buddhist Lama) and turns it into a lyrical fable on love, faith, and cultural collision. Even better, Ms. Rasmussen has assembled a top-tier ensemble (including Christina Baldwin, Tsering Dorjee Bawa, Eric "Pogi" Sumangil, Randy Reyes,Yeshi Samdup, and revered local puppeteer Masanari Kawahara in the title role) in a production that promises to be a theatrical high-point of the season, and a thrilling fan letter from one Sarah R. to another. -Todd O'Dowd
Click HERE For Tickets and More Information
THURSDAY, DECEMBER 15 – SUNDAY, DECEMBER 18
(Additional Performances through December 30)
A Christmas Carol
@ The Guthrie Theater – Wurtele Thrust Stage
818 S 2nd St
Minneapolis
Varying times (Click HERE for Full Performance Schedule) / $34-137
This marks the 42nd year that Minnesotans will gather for the holiday tradition that is Charles Dickens' A Christmas Carol at the Guthrie. The annual favorite and tradition for many starts this weekend, which can really only mean one thing: winter has arrived. Currently showing the 2010 adaptation by Crispin Whittell, the play tells the familiar story of the miserable Ebenezer Scrooge, his "bah humbugs," and the Ghosts of Christmas Past, Christmas Present and Christmas Future. This years edition sees revered local actor J.C. Cutler returning to the role of Scrooge, leading an all-star local cast including Jay Albright, Robert O. Berdahl, Katie Bradley, Ryan Colbert, Nathaniel Fuller, Summer Hagen, Meghan Kreidler, Joel Liestman, Tracey Maloney, Ryan Dean Maltz, Tyler Michaels, Kris L. Nelson, Eric Sharp, Suzanne Warmanen, Regina Marie Williams, and Tatiana Williams. While most of you probably already know the end to this story, the play is an institution and you may as well kick off your holiday season with a tried and true favorite. -Staff
Click HERE for Tickets and More Information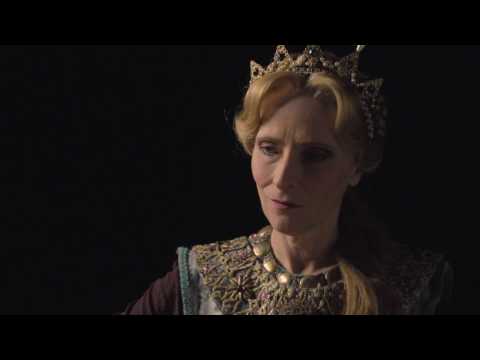 THURSDAY, DECEMBER 15 – SUNDAY, DECEMBER 18
(Additional Performances through December 31)
The Lion In Winter
@ Guthrie Theater – McGuire Proscenium Stage
818 2nd St S
Minneapolis
Fridays & Saturdays at 7:30 pm, Sundays at 7 pm / $9
One of the great traditions of late at the Guthrie is that is that it conveniently uses its proscenium stage as an antidote to that holiday show on the other side of the building. And as far as holiday antidotes are concerned there are none better than James Goldman's The Lion In Winter. Though it's better known for its film adaptation (with Peter O'Toole and Katharine Hepburn as the warring royals), Goldman's examination the love/hate relationship of King Henry II of England, his imprisoned wife Eleanor of Aquitaine, and their three scheming sons over the Christmas holiday is a beloved chamber play on the headaches caused by power, family, and love. It also happens to be one of the wittiest plays ever written (in fact, this productions promo line "Well – what shall we hang? The holly or each other?" is one of Henry's best lines). For the Guthrie's production, director Kevin Moriarty has assembled a great cast with Kevyn Morrow and Laila Robins as Henry and Eleanor, and featuring Michael Hanna, Torsten Johnson, Riley O'Toole, David Pegram, Thallis Santesteban. Never have the holidays been so gloriously – and savagely – messed up. -Todd O'Dowd
Click HERE for Tickets and More Information
THURSDAY, DECEMBER 15 – SUNDAY, DECEMBER 18
(Additional Performances through December 31)
Irving Berlin's White Christmas: The Musical
@ Ordway Center for the Performing Arts
345 Washington St
St. Paul
Tuesdays – Sundays at 7:30 pm, Saturday & Sunday Matinees at 2 pm / $34-154
There are few movie musicals as beloved as White Christmas. Perhaps its the simple tale of two former G.I.'s falling in love with a sister act working to save their former commanding officer's farm / resort (and if this sounds like a riff on the plot to Holiday Inn, that's deliberate; White Christmas was conceived as a sequel to Holiday Inn). Or perhaps its because the score is filled to overflowing with some of the best songs Irving Berlin ever wrote (and that includes the title song). Whatever the reason, it would make sense that it would eventually become a stage musical, which the Ordway is producing this season with some of the brightest talent in the Twin Cities. Led by director and choreographer James A. Rocco and music director Jeff Rizzo, the cast is headlined by Dieter Bierbrauer, Brian Sostek, Ann Michels, and Jenny Piersol and features James Detmar, Natalie Tran, Valerie Wick, Richard Ooms, and Thomasina Petrus. As they've stated when they announced it, White Christmas is one of the most requested shows in the Ordway's history, but thanks to this cast and crew, it could be one of their absolute best. -Todd O'Dowd
Click HERE for Tickets and More Information
THURSDAY, DECEMBER 15 – SUNDAY, DECEMBER 18
(Additional performances through December 23)
Black Nativity
@ Penumbra Theatre
270 N Kent St
St Paul
Wednesdays – Sundays at 7:30 pm, Saturday Matinees at 2 pm, Sunday Matinees at 4 pm / $15-40
Of all of the shows its produced over its 40 years, Black Nativity has always been the calling card of Penumbra Theatre. While Langston Hughes' moving story has always been a touchstone, the real reason to go is to watch director Lou Bellamy asseble a host of the most accomplised African American artists and musicans in the Twin Cities and let them have free reign. Along with Mr. Bellamy, said artists include music director Sanford Moore, choreographer Uri Sands, the incredible Fellowship Missionary Baptist Church Choir and its director Yolande Bruce, actors Dennis Spears and Greta Oglesby (and at certain performances, PaviElle French filling in for Ms. Oglesby) and more. Tickets historically sell out for this soul-raisinig show, so move fast and celebrate one of the true miracles of the Twin Cities performance season! -Todd O'Dowd
Click HERE for Tickets and More Information
THURSDAY, DECEMBER 15 – SUNDAY, DECEMBER 18
(Closing weekend)
James Sewell Ballet presents Nutcracker (Not So) Suite
@ The Cowles Center for Dance and the Performing Arts
528 Hennepin Ave S
Minneapolis
Thursdays – Saturdays at 7:30pm, Sundays at 2 pm / $25-50
Last year, James Sewell and his eponymous company scored one of the biggest hits of their history (and one of the biggest box office bonanzas in the Cowles' history) by mounting iconic director / choreographer / impresario Myron Johnson (founder of the late, lamented Ballet of the Dolls) signature take on The Nutcracker. Deconstructing the classic ballet down to its roots, and throwing heaps of pop culture and style into the mix (while pulling heavily from E.T.A. Hoffman's originally darker tale), Nutcracker (Not So) Suite finds young Marie in 1960s Manhattan living with her glamorous mother Flo and her beloved Barbie doll. Her world changes when her uncle gives her a Ken doll for Christmas, which leads her to the Lower East Side for an unforgettable adventure that has to be seen to be believed. Featuring a soundtrack that goes from Tchaikovsky to Sinatra to Grace Jones, Johnson's signature blend of ballet with jazz, tap, and pop idioms, Sewell's acclaimed company of dancers (including Deanna Gooding as Marie), and legendary Dolls company member Kevin McCormick returning to the role of Marie's socialite mother Flo, this is one of the most eagerly awaited events of the year! Do not miss this! -Todd O'Dowd
Click HERE for Tickets and More Information
THURSDAY, DECEMBER 15 – SATURDAY, DECEMBER 17
(Closing weekend)
A Very Die Hard Christmas
@ Bryant-Lake Bowl
810 W Lake St
Minneapolis
Thursdays – Saturdays at 10 pm / $13 advance, $15 door
Have you ever been watching Die Hard, aka The Best Christmas Movie Ever, and thought, you know, this could really benefit from a couple of upbeat musical numbers? Believe it or not, you're not alone. Far from it! Apparently, the whole world is asking: What goes better with terrorists, machine guns, and a shoe-less cowboy heartthrob than jazz hands and spirit fingers? A Very Die Hard Christmas promises "singing, dancing, and bloodshed," the three key ingredients of any successful holiday special. Get ready to sing along! "Now I have a machine gun. Ho ho ho." -Beth Hammarlund
Click HERE for Tickets and More Information
THURSDAY, DECEMBER 15
The Cloak Ox w/All Tomorrow's Petty
@ Icehouse MPLS
2528 Nicollet Ave S
Minneapolis
9:30 pm / 21+ / $10
There is, or will probably be, a pretty big crossover between these two bands. The Cloak Ox is a supergroup of Minneapolis who's who-type musicians — Jeremy Ylvisaker, Martin Dosh, Mark Erickson and Andrew Broder, all of whom you know from a million other bands, playing some pretty excellent and quite early-Max's-Kansas-City-type rock and roll that if you're into New York early punk you're gonna dig a whole lot. And All Tomorrow's Petty is what it sounds like — it's another supergroup of amazing Minneapolis folks (JT Bates, James Diers, Jacob Hanson, Rob Skoro, at least frequently) playing Tom Petty with a whole passel of guest stars who (I'm guessing) include members of the Cloak Ox. S'all great stuff, their take on Petty's material is smart and sharp and respectful as hell. Basically think late-70s pure-ass rock and roll music tonight. -Jon Hunt
Visit the Icehouse website for more information.
FRIDAY, DECEMBER 16
Leonard Cohen Tribute w/Mean Larry
@ Clown Lounge (Turf Club Basement)
1601 University Ave
St. Paul
7 pm / 21+ / Free
Mean Larry has been doing Leonard Cohen tributes for quite a damn long time — the Duluth-born singer-songwriter is known for 'em, perhaps moreso than even for his solo material. He knows the stuff: he won a Minneapolis Music Award nom for "best cover band" which is, you know, a heck of a thing for a basically solo guy to win. He sure captures the dark, soul-worn haunted vibe of Cohen's music — that's the roughest thing to get at, and now that we don't have the man himself on the earth anymore it's even more important that we keep his songs alive. -Jon Hunt
Click HERE for more information.
FRIDAY, DECEMBER 16
Trina w/ Princess Nokia, Lexii Alijai, YesJulz, DJ Keezy
@ Cabooze
913 Cedar Ave S
Minneapolis
8 pm / 18+ / $3 w/ RSVP
Presented by Red Bull Sound Select and Greenroom magazine, this is the latest touring showcase whose stated goals are to bring regional artists to a national audience. Of course, you may say "What is regional?" in this age of the interwebs, Trina isn't new, but she's is distinctly Southern. Princess Nokia is so really up-and-coming but she is probably from space, the future, or both (Why does nobody ever come from the past and space? There has to be some aliens from the 50's who were like "Let's see how this turns out!"). Local all-star DJ Keezy welcomes them all to the frozen northern wastes we call home. -T.A. Wardrope
Click HERE for the Facebook invite.
FRIDAY, DECEMBER 16
Beatsploitation Re-Launch Party
@ Domo Gastro
1032 3rd Ave NE
Minneapolis
10 pm / 21+ / Free
DJ Teace and DJ Greenery are re-launching their Beatsploitation night at the new Domo Gastro in NE Minneapolis. This all vinyl night covers funk, electro, 90's hip-hop, Italo, new wave, dancehall, techno and all tracks in between. There's no cover and there is also free parking in the lot in back so it may be a good spot for those budget-conscious. Plus, Lush is right across the street so there's ample opportunity for bar-hopping if things get too hot and sweaty in Domo Gastro. Also, a really dedicated smoker could probably burn one down in the time it takes to cross the ice and snow-covered street. -T.A. Wardrope
Click HERE for more information.

SATURDAY, DECEMBER 17
Ladies Brunch: A Celebration of Women
@ Greenhouse
2524 Nicollet Ave
Minneapolis
11:30 am-2 pm / $20
Greenroom Magazine hosts a Ladies inspired event at the Greenhouse this Saturday.  Contrary to your usual scuzzy ladies' nights, at this brunch you can look forward to zero overly-strong and possibly roofied well cocktail drink specials and a total lack of cheesy men.  Also look forward to winter self-care tips at this brunch for badass broads.  $20 gets you a ticket to participate in interactive zine making, join in on a panel discussion featuring Princess Nokia and Coco & Breezy, and enjoy sweet and savory snacks and A-OK refreshments.  Winter is hard.  Band together with some tough ladies!  Eat brunch!  Cheers! -Allison Shilinski
Click HERE for Tickets and More Information

SATURDAY, DECEMBER 17
Bestow: A Last-Minute Holiday Gift Market
@ Public Functionary
1400 12th Ave NE
Minneapolis
12-6 pm / Free
While we oppose the idea of "last minute holiday shopping" taking place before December 24th at approximately 3 pm, we wholeheartedly support Public Functionary's holiday gift market this Saturday.  Shop art, crafts, fashion, home goods, jewelry, and unexpected handmade wonders at this one.  We especially look forward to seeing new wearable and non-wearable wares from the designer divas at Kindred Folk, illustrious illustrator Jared Tuttle, and Public Functionary's own Kate Iverson.  Shop 'til you drop as you groove to local DJ sets, holiday refreshments, and a backdrop that only the best artistic eyes in the city can provide.  See you Saturday! -Allison Shilinski
Click HERE for the Facebook event page
SATURDAY, DECEMBER 17
Heyday: 35 Years of Music in Minneapolis Meet and Greet
@ Magers & Quinn
3038 Hennepin Ave.
Minneapolis
4-6 pm / Free
Heyday: 35 Years of Music in Minneapolis is a visual chronicle of over 30 years of the Minneapolis music scene through nearly 500 evocative black-and-white and color photos by Daniel Corrigan. As both a freelancer and the official house photographer for First Avenue, Corrigan captured thousands of live concerts, band promo photos, and iconic album covers by local artists. The best and most dynamic examples of Corrigan's work is collected here with context provided through essays by music journalist and DJ Danny Sigelman. With photos of some of the best know local artists at the peak of their careers along with National and International stars as they visited the Twin Cities, this book is a must for the music lover in your life. Corrigan and Sigleman will be on hand at Magers and Quinn this Saturday for a meet and greet and to sign copies of their book. -Anthony Enright
Click HERE for the Facebook invite.
SATURDAY, DECEMBER 17
Minneapolis Sound 2.0: A Benefit for Hopewell Music Cooperative
@ The Hook and Ladder Theater and Lounge
3010 Minnehaha Ave
Minneapolis
8 pm / 21+ / $12 advance, $15 door
Minneapolis performance artist Bobby Kahn is hosting a fundraiser for the Hopewell Music Cooperative-North in an effort to spark a resurgence of the Minneapolis Sound. One of the most distinctive elements of our little corner of the North, the Minneapolis Sound is funkdafied positivity, and we could certainly use a little more of that in our current political climate. Kahn's variety show will feature music, dance and performance art, and will raise funds for North Minneapolis' only music school. So spitshine your dancing shoes and polish your wallet, this Saturday night is the perfect opportunity to dance and donate in the name of the Minneapolis Sound and the future musicians who will keep it alive. -Beth Hammarlund
Click HERE for the Facebook event
SATURDAY, DECEMBER 17
Astronautalis w/ Finding Novyon
@ Triple Rock Social Club
629 Cedar Ave S.
Minneapolis
8 pm / 18+ / $15
If you don't know who Astronautalis is, a quick viewing of his Kurt Cobain music video will give you a solid primer. It's a four-minute onslaught of the myriad workings of his mind and music. Katrina, drug smugglers, samurai swords and burrito eating are all covered in one way or another. Plus, there's some really cool shots of racing through the Everglades on a skiff. He's got a all-consuming sound, so the big noise and comfortable room of Triple Rock should provide a rib-rattling tour of some deeply tangled psychic swamps. Local powerhouse Finding Novyon offers a send-off before departure. -T.A. Wardrope
Click HERE for more information.
ALLISON ***Dec 17: Solid Gold: Bands That Brew Release Show at Day Block Brewing: https://www.facebook.com/events/1862877640624637/
SATURDAY, DECEMBER 17
Mark Mallman: "Peace on Earth Show"
@ Icehouse
2828 Nicolett Ave.
Minneapolis
10:30 pm-2 am / $10
As with anything consummate local showman Mark Mallman does, get ready for a holiday themed show that's certain to be anything but cookie-cutter. This special event celebrates peace on earth for the holidays with performances by Mallman alongside a series of surprise guests who together will transform the Icehouse stage into an instrument of pure musical joy. Already announced guests include Maggie Morrison and Venus DeMars with Porcupine (Featuring Greg Norton of Husker Du) opening the show. -Anthony Enright
Click HERE for the Facebook invite.
SATURDAY, DECEMBER 17
Low and Friends Christmas and Holiday Bazaar
@ First Avenue
701 1st Ave N
Minneapolis
7 pm / 18+ / $20 advance, $25 door
There are so many Low-related Christmas puns I could make, starting with "The cattle are LOW-ing" but you know what? I'll spare you. Of course, there's really no better band for the haunted, hushed vibe of Christmas than Low, who've recorded their share of Christmas tunes over the years (including a full-on EP in 1999). Add in Hippo Campus, Gaelynn Lea, Erik Berry and Ambassadors (featuring Martin Dosh, who is busy this week, and one of my fave humans Al Church) all doing Christmas and Christmas-related things, and you're halfway there. Now add in a cool Christmas bazaar — like remember those from school back in the day? Did yours have those? Mine did! — featuring vendors like Milkweed Books and K'ul Chocolate, and everything to benefit Second Harvest Heartland and you've got a heck of a snow-covered spooky hushed event. Hopefully the lights will be turned way down LOW, and let it snow, etc. God, I'm sorry. -Jon Hunt
Visit the First Ave website for more information.
SUNDAY, DECEMBER 18
Nightchain w/ Fort Wilson Riot, Eros and the Eschaton
@ Icehouse MPLS
2528 Nicollet Ave. S.
Minneapolis
9 pm / 21+ / $5
DJs Ken Hannigan, Keith Millions and Garrison Grouse re-incarnated Nightchain last year as a way to keep voyaging further into the frontiers of dance, hip-hop and the many star clusters therein. For this special night, they will be joined by live acts Fort Wilson Riot, a local experimental synth institution, and Eros and the Eschaton. Eros and the Eschaton are a slippery bit of shoe gaze pop that have also done a significant of bit soundtrack work for television and web. Service industry folks get a %15 discount on all drinks, too. All in all, a great opportunity to slip the surly bounds of time and get the weekend to last a little longer. Or begin. -T.A. Wardrope