Weekend What's What: 11/23-11/27
by Anthony Iverson
EDITOR: ANTHONY IVERSON / CONTRIBUTORS: TODD O'DOWD, JAHNA PÉLOQUIN, ANTHONY ENRIGHT, JON HUNT, BETH HAMMARLUND, ALLISON SHILINSKI, T. A. WARDROPE, RENE MEYER-GRIMBERG, GIGI BERRY, JAKEY EMMERT / HEADER IMAGE: CAROLINE ROYCE
Thanksgiving weekend in the Twin Cities is always packed with parties, shows and drinks, and this year is certainly no different. Whether you're looking to get some fun in before dinner on Thursday or you're looking for an escape from the in-laws this weekend, Minneapolis-St. Paul has you covered all the way down the line.
xo-l'étoile
WEDNESDAY, NOVEMBER 23 – SUNDAY, NOVEMBER 27
(Additional Performances through December 18)
The Oldest Boy
@ The Jungle Theater
2951 Lyndale Ave S
Minneapolis
Tuesdays – Thursdays at 7:30 pm, Fridays – Saturdays at 8 pm, Sundays at 2 pm & 7:30 pm / $35-48
Consider this a tale of two Sarah R.'s. The first one is Sarah Ruhl; MacArthur Genius Grant winning playwright and two-time Pulitzer finalist. The other one is Sarah Rasmussen; admitted Sarah Ruhl junkie, artistic director of The Jungle Theater, and director of their IVEY-winning production of Ruhl's play In the Next Room (or The Vibrator Play). Given all of this, it would make sense that Ms. Rasmussen is directing the area premiere of Ms. Ruhl's latest play. In The Oldest Boy, Ruhl takes the premise of her play (about an American mother and her Tibetan husband and the struggle they face when Tibetan monks arrive claiming their son should go with them to India for spiritual training, as he is believed to be the reincarnation of a high Buddhist Lama) and turns it into a lyrical fable on love, faith, and cultural collision. Even better, Ms. Rasmussen has assembled a top-tier ensemble (including Christina Baldwin, Tsering Dorjee Bawa, Eric "Pogi" Sumangil, Randy Reyes,Yeshi Samdup, and revered local puppeteer Masanari Kawahara in the title role) in a production that promises to be a theatrical high-point of the season, and a thrilling fan letter from one Sarah R. to another. -Todd O'Dowd
Click HERE For Tickets and More Information
WEDNESDAY, NOVEMBER 23 – SUNDAY, NOVEMBER 27
(Additional Performances through December 30 – No Performance on November 24)
A Christmas Carol
@ The Guthrie Theater – Wurtele Thrust Stage
818 S 2nd St
Minneapolis
Varying times (Click HERE for Full Performance Schedule) / $34-137
This marks the 42nd year that Minnesotans will gather for the holiday tradition that is Charles Dickens' A Christmas Carol at the Guthrie. The annual favorite and tradition for many starts this weekend, which can really only mean one thing: winter has arrived. Currently showing the 2010 adaptation by Crispin Whittell, the play tells the familiar story of the miserable Ebenezer Scrooge, his "bah humbugs," and the Ghosts of Christmas Past, Christmas Present and Christmas Future. This years edition sees revered local actor J.C. Cutler returning to the role of Scrooge, leading an all-star local cast including Jay Albright, Robert O. Berdahl, Katie Bradley, Ryan Colbert, Nathaniel Fuller, Summer Hagen, Meghan Kreidler, Joel Liestman, Tracey Maloney, Ryan Dean Maltz, Tyler Michaels, Kris L. Nelson, Eric Sharp, Suzanne Warmanen, Regina Marie Williams, and Tatiana Williams. While most of you probably already know the end to this story, the play is an institution and you may as well kick off your holiday season with a tried and true favorite. -Staff
Click HERE for Tickets and More Information
WEDNESDAY, NOVEMBER 23 – SUNDAY, NOVEMBER 27
(Additional Performances through December 4 – No Performance on November 24)
7th House Theater presents The Passage or What Comes of Searching in the Dark
@ Guthrie Theater – Dowling Studio
818 2nd St S – 9th Floor
Minneapolis
Wednesdays – Saturdays at 7:30 pm, Sundays at 1 pm / $9
Considering that it's made up of some of the best singing actors in town (which in this case we're specifically referring to Cat Brindisi, David Darrow, AJ Longabaugh, Derek Prestly, and Grant Sorenson), 7th House Theater's annual productions have quickly become a must-see event; especially since they cemented their partnership with the Guthrie's Dowling Studio. For their third show there, the company is presenting the world premiere of The Passage or What Comes of Searching in the Dark. Written and composed by Mr. Darrow, and based on his own childhood, The Passage… tells the story of young Albert Grissom, his new friend Cassie, and the two big problems in his life; the fact that his father has been missing for three weeks, and the fact that there's a monster living in his basement. Combining the surreal with the tragic, The Passage… takes Albert on a strange journey through loss and growth. Heady stuff to be sure, but with a cast that features Alejandro Vega (who dazzled audiences in Minnesota Opera's The Shining) as Albert as well as Mary Bair, Bob Beverage, Cat Brindisi, Derek Prestly, Grant Sorenson, Kendall Anne Thompson, and Lara Trujillo this is one thrilling trip into the unknown that we can't miss. -Todd O'Dowd
Click HERE for Tickets and More Information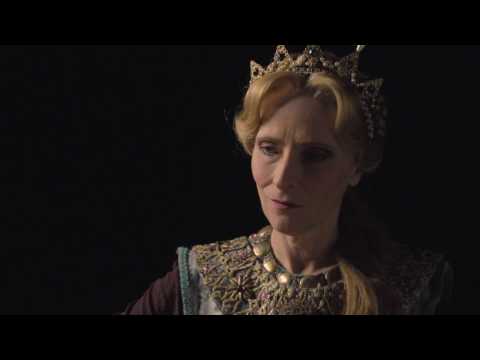 WEDNESDAY, NOVEMBER 23 – SUNDAY, NOVEMBER 27
(Additional Performances through December 30 – No Performance on November 24)
The Lion In Winter
@ Guthrie Theater – McGuire Proscenium Stage
818 2nd St S
Minneapolis
Fridays & Saturdays at 7:30 pm, Sundays at 7 pm / $9
One of the great traditions of late at the Guthrie is that is that it conveniently uses its proscenium stage as an antidote to that holiday show on the other side of the building. And as far as holiday antidotes are concerned there are none better than James Goldman's The Lion In Winter. Though it's better known for its film adaptation (with Peter O'Toole and Katharine Hepburn as the warring royals), Goldman's examination the love/hate relationship of King Henry II of England, his imprisoned wife Eleanor of Aquitaine, and their three scheming sons over the Christmas holiday is a beloved chamber play on the headaches caused by power, family, and love. It also happens to be one of the wittiest plays ever written (in fact, this productions promo line "Well – what shall we hang? The holly or each other?" is one of Henry's best lines). For the Guthrie's production, director Kevin Moriarty has assembled a great cast with Kevyn Morrow and Laila Robins as Henry and Eleanor, and featuring Michael Hanna, Torsten Johnson, Riley O'Toole, David Pegram, Thallis Santesteban. Never have the holidays been so gloriously – and savagely – messed up. -Todd O'Dowd
Click HERE for Tickets and More Information
WEDNESDAY, NOVEMBER 26
9×22 Dance/Lab
@ Bryant-Lake Bowl
810 W Lake St
Minneapolis
8pm / $6-15 Sliding Scale
Of all the dance programming in town, 9×22 Dance/Lab is easily among the most popular – and the most vital! So named after the dimensions of the Bryant-Lake Bowl stage, the intimate monthly revue programed by acclaimed dancer/choreographer Laurie Van Wieren brings some of the Twin Cities best dance makers not only to talk about their work and their process, but asks them to create pieces to be performed that night. This month's line-up includes works from Bob Eisen, Majas (of Zorongo Flamenco), and Susan Horowitz. As they tend to sell out, we strongly encourage getting tickets in advance. -Todd O'Dowd
Click HERE for Tickets and More Information
WEDNESDAY, NOVEMBER 23
Fleetwood Magic: A Tribute to Fleetwood Mac feat. Black Widows, Just Perfect, Driftwood Pyre, Jennie Lawless, Christopher Gale, Meg Ashling & DJ Jen Hughes
@ The Turf Club
1601 University Ave
St. Paul
8 pm / 21+ / $10 advance, $12 door
We don't even have to talk about how awesome the Mac are anymore, right? Their rep has not only been flipped around, it's been straight-up revitalized: no longer viewed as the purveyors of slick LA session rock, the Mac are rightfully hailed as some of the best and most idiosyncratic musicians of the 70s, and their masterpiece, Rumours, and their other masterpiece, Tusk, are beloved rather than reviled. And thank god: there aren't a lot of other bands from that storied decade with as consistent a run as that edition of the Mac. Curious to see what this nifty tribute covers — there is, of course, the earlier version of Fleetwood Mac as a kind of late-60s blues group, plus the pre-Buckingham/Nicks-era stuff with Christine Perfect, will this have some o' that? "Black Magic Woman," the non-Samba version? One can but hope — it's a heck of a lineup, including the amazing Hot Roxx DJ Jen Hughes, who knows her 70s like just about nobody else. -Jon Hunt
Click HERE for Tickets and More Information
WEDNESDAY, NOVEMBER 23
Night Moves w/Rupert Angeleyes
@ 7th Street Entry
701 1st Ave N
Minneapolis
8 pm / 18+ / $15
Their First-Ave-website bio namechecks Brian Wilson and Paul McCartney and Todd Rundgren — I guess, in the sweep of the music, and the big-league-ness of the arrangements, but to me it reminds me way more of Electric Light Orchestra — a little bit of techno / electronic mixed in with giant, nasal melodies and killer hooks and that Jeff Lynne sense of how to ply minor chords into a song that's as cheerful as anything you could possibly think of. They're great, I love them, and their single "Carl Sagan" was on my iTunes for like three days straight earlier this year when it came out. I'm pretty fond of like-minded opener Rupert Angeleyes, too, which sounds like what you'd get if you dosed the Strokes and locked them in a room with fourteen Carly Simon records and no other music. -Jon Hunt
Click HERE for Tickets and More Information
WEDNESDAY, NOVEMBER 23
Thanks: A Transmission Thanksgiving Eve
@ Mill City Nights
111 5th St. N.
Minneapolis
9 pm-1 am / 18+ / $8 adv. $10 door
It's an annual tradition for Transmission to host a festive rendition of their classic dance party on the eve of the Thanksgiving holiday, and this year is no exception. Hosting venue Mill City Nights is about to close and considering some of the classic performers DJ Jake Rudh has opened for in the space (Peter Murphy, Adam Ant, Gary Numan, Garbage, Mazzy Star), it seems fitting for Transmission to give it a proper sendoff. Grab your visiting family and friends and come out to dance off some of the calories you're sure to pack on come Thursday while you enjoy Transmission's signature mix of eclectic tunes from the past six decades. This event has typically sold out so get yourself advance tickets or plan to arrive early to secure a place. -Anthony Enright
Click HERE for Tickets and More Information
WEDNESDAY, NOVEMBER 23
Drinksgiving with DJ Fundo & Shannon Blowtorch
@ VFW Uptown
2916 Lyndale Ave S
Minneapolis
9 pm, 21+ , $5
There is no better way to prep your body for a feast of mushy American goodness than by spending Thanksgiving Eve drinking and dancing. This Wednesday night, give thanks for your friends and family by shaking your turkey tail feather to the beats of DJ Fundo and Shannon Blowtorch. The best part is convincing yourself that a night of dancing will totally counteract the 5,000 calories you'll be consuming the following day. AMERICA! -Beth Hammarlund
Click HERE for the Facebook event
THURSDAY, NOVEMBER 24
Top Hat
@ The Heights Theater
3951 Central Ave NE
Minneapolis
7:30 pm / $8
There are few holiday traditions that we love so much as the Heights' annual holiday screenings. And while next week kicks off their annual Christmas screening of White Christmas, their Thanksgiving screening of Top Hat has always been a personal favorite of ours. While the plot is confusing as heck, the simple pleasure of it comes down to the stars; this is the first actual musical movie RKO Studios conceived and created for Fred Astaire and Ginger Rogers. While he would be hailed for his performances in films with other studios and his interpretations of songs for other composers (including Cole Porter, the Gershwin brothers, and many more that are part of the Great American Songbook), it was on Top Hat that Astaire cemented his status as the premier interpreter of the music of Irving Berlin (getting to sing "No Strings", "Isn't It A Lovely Day (To Be Caught In The Rain)", and "Top Hat, White Tie and Tails" in this film alone). And while he would go on to create memorable dance routines with some of the most talented women of the studio era (a murderer's row that includes Eleanor Powell, Judy Garland, Leslie Caron, Cyd Charisse, Kay Thompson, Audrey Hepburn, and more), it was on Top Hat that the pairing of Astaire and Rogers became iconic. While they cut a dashing figure together on screen (as the old saying goes, "She gave him sex. He gave her class."), it was on Top Hat that they (along with Astaire's frequent collaborator – and secret weapon – choreographer Hermes Pan) would create some of the most memorable dance sequences in all of film history – including the famous dance sequence to "Cheek To Cheek", complete with Rogers in her infamous feathered gown and the iconic final backbend at the end of the number. In short, let Fred and Ginger dance away all the turkey for you. -Todd O'Dowd
Click HERE for Tickets and More Information
CONTINUING THROUGH DECEMBER 24
Macy's SantaLand
@ Macy's Downtown Minneapolis
700 Nicollet Mall
Minneapolis
Daily during store hours / Free
Take a child (or your inner one) to the event that truly marks the launch of the Christmas season: Santaland's opening at Macy's Downtown Minneapolis. The 8th Floor Auditorium hosts the big jolly and his elves for the time-honored "photo opp" tradition, the annual "A Day in the Life of an Elf" auditorium display. As you wait your turn, be sure to do some planning. You can bet you'll be confronted with the question: "What's on your wish list this year?" -Staff
Click HERE for more information

FRIDAY, NOVEMBER 25 & SATURDAY, NOVEMBER 26
Plaid Friday + Small Business Saturday
@ Sociable Cider Werks
1500 Fillmore St NE
Minneapolis
12-6 pm / Free
Skip getting trampled at a Walmart and prep for Small Business Saturday this Friday at Sociable Cider Werks.  This cursed commercial day also happens to be the local cider company's third anniversary, and they want to party with YOU.  Check out the Plaid Friday festivities for live music, hot mulled cider, and new ciders released on the hour, every hour.  If that sounds dangerously fun, you're probably right on track.  Come back for more on Small Business Saturday when the Minneapolis Craft Market is back by popular demand.  Support your local businesses and meet the makers behind the brands as you shop wares from 14 local and handmade brands.  Tl;dr Don't get trampled at Walmart.  Support your local businesses. -Allison Shilinski
Click HERE for the Facebook event page
FRIDAY, NOVEMBER 25 – SUNDAY, NOVEMBER 27
Bell Museum of Natural History Garage Sale
@ Bell Museum of Natural History
10 Church St SE
Minneapolis
Friday 9-5 pm, Saturday 10-5 pm, Sunday 12-5 pm / Friday-Saturday $8, Sunday Free
If we didn't get the point about skipping big box stores on Black Friday yet, consider this: the Bell Museum of Natural History is having a garage sale this weekend.  You may have fond memories of falling asleep during your freshman year english class in the Bell Museum auditorium, maybe you hated that class on Chaucer, or maybe you just remember the goofy display cases as you drank your morning coffee and waited for class to let out.  Missing those good ol' college days?  Now is your chance.  The Bell Museum will be selling an assortment of treasures from throughout the years this weekend.  We're not sure if those attending on Friday and Saturday are more dedicated than the crazed individuals participating in the $5 fill-a-bag day on Sunday, but we'll leave that up to you. -Allison Shilinski
Click HERE for the Facebook event page
FRIDAY, NOVEMBER 25 – SATURDAY, NOVEMBER 26
Claymation Classics
@ Walker Art Center
725 Vineland Place
Minneapolis
Various Times / All Ages / $10 ($8 for Walker members, students and seniors)
Grab your gouda. Check your cheddar. Pack your pecorino. This Thanksgiving weekend, the world's most famous cheese lover (Wallace), his faithful canine companion (Gromit), and the rest of the Aardman Animations universe are making their way to the Walker Art Center. For anyone unfamiliar with Aardman Animations, this is the time to correct that incredible injustice. The British claymation studio creates shorts and feature films that are beautifully rendered, and their stories and characters are just as well-crafted. On both Friday and Saturday, the Walker will be showing a variety of shorts, including the brilliant and Oscar-winning The Wrong Trousers, which features Aardman's dynamic duo, Wallace and Gromit. Also on Friday is Shaun the Sheep, a charming feature film that follows an intrepid sheep as he journeys to rescue an amnesiac farmer in the big city. Then on Saturday, Wallace and Gromit are back in their feature film, The Curse of the Were-Rabbit, in which they must protect their village's prize-winning vegetables from a carrot-consuming abomination. On both days, after the features, the Walker will also screen Aardman's other claymation and traditional animation shorts created over their four decades in business, including their multiple British Arrow-winning commercials. You'll laugh. You'll cry. You'll crave cheese. -Beth Hammarlund
Click HERE for Tickets and More Information
FRIDAY, NOVEMBER 25 – SUNDAY, NOVEMBER 27
(Additional Performances through December 11)
Comedy Suitcase presents The Averagers: Christmas War
@ Bryant Lake Bowl
810 W Lake St
Minneapolis
Fridays – Sundays at 7 pm / $12 advance, $15 door ($6 for children 12 and under)
If you caught The Averagers! at the Fringe Festival, you'll be delighted to hear that they're back for the holiday season with a family-friendly Christmas adventure. These Minnesota superheroes range from a trust fund kid turned Iron Ranger (Captain Average), to a femme fatale spy (Black Wood Tick), to the encapsulation of Minnesota Nice (Passive-Aggressive Bulk). Oh, and Paul Bunyan. After destroying the iconic Spoonbridge and Cherry in an attempt to save Black Friday shoppers, the Minneapolis Parks and Rec Board demands control of The Averagers, dividing the team and turning friends into enemies. Sound familiar? Yeah, it's based on, like, a movie or something. Get your tickets today and start practicing your Bulk Smash! -Beth Hammarlund
Click HERE for Tickets and More Information
FRIDAY, NOVEMBER 25 – SATURDAY, NOVEMBER 26
(Additional Performances through December 17)
Interact Theater presents What Fools These Mortals Be
@ The Lab Theater
700 1st St N
Minneapolis
Wednesdays – Fridays at 7 pm, Saturdays at 3 pm & 7 pm / $22
For the past two decades, some of the best theatre in the Twin Cities has been taking place courtesy of one of the best secrets in town; the Interact Center. The internationally-recognized arts center has spent the past twenty years developing a host of visual and performance artists that continually shatters the preconceptions of what people with disabilities can do. For their big anniversary show, the two-time IVEY-winning theater program at Interact has teamed up with two fabulous artists (writer and actor Kevin Kling and IVEY-winning composer and director Aaron Gabriel) to create What Fools These Mortals Be. Using both the 400th birthday of William Shakespeare and the notion of the role of the court fools and jesters (many of whom, as history has revealed, were themselves afflicted and alienated by differences and disabilities) and their peculiar relationships to the monarchy as starting points, this new piece sees a troupe of disgraced fools on the run from Queen Elizabeth I and exiled in the New World; with their only hope for salvation resting in a command performance for the Queen by a new playwright named William Shakespeare. Mashing up Shakespeare, comedy, music, and more, this promises to be one of the most dazzling events of the season. -Todd O'Dowd
Click HERE for Tickets and More Information
FRIDAY, NOVEMBER 25 – SUNDAY, NOVEMBER 27
(Additional Performances through December 4)
Underdog Theatre presents Baltimore Is Burning
@ Savage Umbrella's SPACE
550 Vandalia St, Suite 306
St. Paul
Thursdays – Sundays at 7:30pm / Pay What You Can
These are sad times we live in, and the past two years in particular have brought the racial divides within our country painfully to the forefront of the American collective consciousness again and again. Which is why Underdog Theatre and their debut production of Baltimore Is Burning is so timely – and sadly, so necessary. Using the 2015 death of Freddie Gray as the centerpiece, this new play examines the case through the eyes of the Colored People's Advancement Advocates; a local civil rights advocacy group, as they try to find out what happened and are left to deal with the repercussions not only for themselves, but for their city. While this is heady stuff to be sure, we are most excited because of who is behind this production; with a script by Kory LaQuess Pullam, direction by Jamil Jude, and a stellar ensemble featuring Brianna M. Daniels, Pedro Juan Fonseca, Anna Hickey, JuCoby Johnson, Joann Oudekerk, Siddeeqah Shabazz, Dana Lee Thompson, and Andrew Erskine Wheeler, this production went from "interesting" to "must-see" in our eyes. Go! – Todd O'Dowd
Click HERE for the Facebook Event Page
FRIDAY, NOVEMBER 25
Har Mar Superstar w/ Tickle Torture, Ggoolldd
@ First Avenue Mainroom
701 First Ave N
Minneapolis
8 pm / 18+ / $20
Consider the locally-lensed music video for "It Was Only Dancing (Sex)" for a moment. While it is awash in local charm it also aspires to distant things in a perfectly Har Mar-ian manner. The melding of Flashdance, Road House and other staples of eighties music cinema into a contemporary working man's fantasy is more than just retro mash-up. It also signifies Tillman's singular niche as a pop artist. This Mainroom show should give him ample room to boost that star power to eleven. Tickle Torture will bring his own style of naughtiness, probably with more skin than usual for November. Ggoolldd is indie dance pop that hails for Milwaukee. -T.A. Wardrope
Click HERE for more information.
FRIDAY, NOVEMBER 25
Dojo Holliday Birthday Party featuring Death of a Ladies Man, Bruise Violet, Chalk, Sauna Accident
@ Reverie Cafe + Bar
1931 Nicollet Ave
Minneapolis
8 pm / All Ages $5
Firstly: I dig that Death of a Ladies Man member Dojo has convinced everybody to donate all the proceeds of this night to a couple of great charities: Planned Parenthood (in Mike Pence's name, no less!) and the women/girl's music education org She Rock She Rock. I don't even know how the hell to describe Death of a Ladies' Man — comparisons to Swans are fair, this isn't pretty music by any means, but it's crazy, dark, weird, wild and throbbing in equal measures. We're on record as occasionally, drunkenly saying that Bruise Violet are better than the Babes In Toyland song that inspired it (and possibly better than the whole band — shhhh) — they're great, harmony-laden, and tremendous songwriters. Chalk play a neatly shambolic (think: Pavement) romantic-type pop music with great melodies and neatly off-key vocals (they would have played with, say, Mollycuddle back in Ye Olde Days). And Sauna Accident have very little recorded stuff out there, but it sounds super DIY and punk as fuck, a lot of really loud noise and some almost Shaggs-esque drumming. -Jon Hunt
Click HERE for the Facebook event page
FRIDAY, NOVEMBER 25
A Tribute to the Replacements feat. The Melismatics, Eleganza!, Tabah, Private Interests, Colin Campbell & The Shackletons, Nato Coles & Sam Beer, Mary Bue, Monica LaPlante and Mad Ripple Hoot for Slim
@ Turf Club
1601 University Ave
St. Paul
7 pm / 21+ / $15
At this point, you know how these go: a bunch of bands get together, learn songs by the band in question, play 'em on stage. And you know the Replacements too — hell, if you're from here and you don't I don't know what to tell you, it's not like you didn't have a chance. So you pretty much know what you're gonna get, here, except I have to say there's always that nifty left-to-chance that is Jim Walsh and his Mad Ripple Hoots, and to me that almost sounds like the coolest part of the night — he conducts them like free-form, wild campfire singalongs and I have no idea who he's bringing along or who he'll invite to play what Slim songs, and that sounds almost more fun than a bunch of bands learning 'Mats songs (though I will also say that'll probably be fun too, especially the Melismatics whom I love like no tomorrow). Anyway, you love the 'Mats. Right? -Jon Hunt
Click HERE for Tickets and More Information
FRIDAY, NOVEMBER 25
The 4onthefloor w/ The Yawpers, Coax
@ 7th St. Entry
701 First Ave N
Minneapolis
7:30 pm / All Ages / $10
Music writers can reach for phrases like "high octane" when describing The 4ontheFloor's full speed post-punk rock stylings. Car metaphors are apt, of course, and they certainly sound like racing around with some muscle under the hood. Perhaps we can consider updating our fuel metaphors, though. "Pure hydrogen", "Overcharged lithium-ion" or "Cold conductive" seem like they could stand-in just as well. This might offend the motor purist, but put The 4ontheFloor on your radio and you'll have all the engine noise you really need. The Yawpers have a song called "Jesus Car" and get some raw power out of their acoustic guitars. The Coax is all about the 70's psych rock and will make you wonder again what all goes on inside that van with the sweet smoke pouring out of the side slide door. – T.A. Wardrope
Click HERE for Tickets and More Information
FRIDAY, NOVEMBER 25
Hipshaker
@ The Kitty Cat Klub
315 14th Ave SE
Minneapolis
9 pm / 21+ / $5
Who would have guessed that Hipshaker, the bastion of old school funk and soul, would still be around and still throwing one of the best dance nights in the Twin Cities? Hipshaker's resident DJs will be in the house, back at the Kitty Cat Klub for this month's massive soul throwdown. Stretch throughout the day as tonight we will get funky! -Staff
Click HERE for the Facebook event page
SATURDAY, NOVEMBER 26
Trylon DVD / Blue Ray Sale
@ Trylon Microcinema
3258 Minnehaha Ave
Minneapolis
9 am-2 pm / Free
Local art house Trylon Microcinema is planning to expand their space, and what more appropriate way to fund the expansion than with a sale of the very films the Trylon champions. This Saturday thousands of DVD's and Blue Rays with be available with lots of hard to find titles including many sealed Criterion Collection and and rare UK discs. It's a perfect place to pick up gifts for the cinephile in your life and the pricing can't be beat, with sealed Criterion disks listed at half their retail prices and all other disks at either $5 or $10. Better yet, the full priced sale only goes until noon, while from 12:30-2:00 remaining discs are reduced to half price. Find gifts, build out your library, or just treat yourself to some of your favorite films this Saturday at the Trylon. -Anthony Enright
Click HERE for the Facebook event page
SATURDAY, NOVEMBER 26
Choreographer's Evening 2016
@ Walker Art Center – McGuire Theater
1750 Hennepin Ave S
Minneapolis
7 pm & 9:30 pm / $20-25
There are certain holiday traditions that we here at l'étoile are thankful for. One of the biggest – and best – has to be the Walker's annual Choreographer's Evening. For the past 40-plus years, Choreographer's Evening has always been the best barometer of the current state of dance scene in the Twin Cities. Curated by a different local choreographer every year (in this case, dancer and choreographer Rosie Simas), this evening-long event showcases new short works from choreographers of all stripes and genres – and at various points in their careers – for a spectacular look at where the dance scene in town is heading. This year's class of choreographers includes Akiko, Erin Drummond, Joelle Fernandez & Frankie Hebres X Al Taw'am, Robert Keo, Paula Mann, Megan Mayer, Crystal Norcross, Laura Selle Virtucio with Holo Lue Choy, Deja Stowers – BLAQ, Taja Will, and Magnolia YSY. There are few events that we feel are mandatory in town. This is one of them. Go! -Todd O'Dowd
Click HERE for Tickets and More Information
SUNDAY, NOVEMBER 27
Real Numbers w/ Teenage Moods, Universel, DJ Shawn Reed
@ 7th St. Entry
701 First Ave N
Minneapolis
7:30 pm / 18+ / $6
The copy for Real Numbers explains that they are "terse and bright". They are also jangly, poppy, indie, garage-y and we have to confess there's a little bit of Duran Duran, R.E.M. and dream pop buried in there too. Isn't that crazy? They are from Minneapolis which you may find hard to believe once they start playing their transatlantic-sounding tunes. Local garage rockers Teenage Moods and Universel bring their guitars for support. DJ Shawn Reed (Night People Records) will surely be offering of some other fine indie/punk releases. – T.A. Wardrope