Led by Lizzo, Grrrls Take Over Twin Cities Hip-Hop
by Anthony Iverson
For the past 20 years, the Minneapolis hip-hop scene has been pioneered by a group of creative, tenacious and like-minded individuals. This tight-knit crew has escalated their craft to the point where their name, Rhymesayers, has become synonymous with hip-hop throughout the Twin Cities. Not only that, they've helped put the Minneapolis hip-hop scene on the map throughout the Midwest and well beyond.
But — to no fault of their own — the winds have shifted in the past few years as a new face has emerged with a fresh sound, a unique delivery and a bold personality, who has established a sound of her own that comes across as equal parts Missy and Beyonce. That artist is commonly known as none other than Lizzo.
Lizzo arrived on the scene somewhere around five years ago, toiling around in various side projects and getting acquainted with the area, slowly gaining a cult-like following that would eventually turn her into a regular Late Night television music guest.
Following her debut solo album Lizzobangers back in 2013, Lizzo dropped her sophomore effort, Big Grrrl Small World, back in December, and boy is it a doozy — and as if that wasn't enough as it stands, the album happens to be named after the independent label she just launched (BGSW). Let me just say that an album of this stature — one that pivots from hip-hop to pop to R&B and back again all within the span of a song and a half — isn't something that comes along often, at least not to this degree.
Album opener "Ain't I" is the perfect example of how Lizzo effortlessly sneaks from genre to genre often unbeknownst to the unsuspecting ear. The track starts off rumbling (not unlike Lizzobangers' opener "Lizzie Borden") only to shift midway to a vocal opus with a gorgeous piano accompaniment that sounds like it's been submerged in water. From the opening verses on "Ain't I," Lizzo tackles racism head on with tenacious verses that march her narrative forward. It's important that this track starts off the album because it outlines her reasoning for releasing this album independently. As someone whose ancestors helped build Henry Ford's dynasty with little to no reward, Lizzo has seen enough of others benefiting from her own hard work. This sentiment shows up again on the following track "Betcha," where she continually builds each verse to the mantra "Big business ain't forever, that's a mighty long time / A wise woman once told me even platinum lost its shine." This is further reflected in the production of her two recent music videos, "My Skin" and "Humanize," both of which she coordinated and helped direct herself.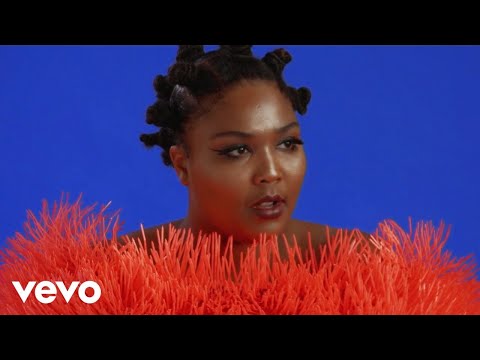 It's clear from this that Lizzo is very content doing things her own way with the friends she has surrounded herself with (such as her frequent collaborator Caroline Smith and her colleagues in the collective GRRRL PRTY). And "Bother Me" is proof that this strategy has not cost her anything, kicking off the track with a Parisian soundbite that properly follows up a highlight from her debut that featured the hook "Have you ever been to Paris? Neither have I, neither have I, neither have I." Everything from the carryover of unique themes to the broad range of influences on this record indicate that Lizzo is doing what she damn well pleases and that it's working.
From racism to body-shaming, Lizzo runs down her checklist of issues throughout Big Grrrl Small World in a way that is clear and concise, but doesn't take a grade-A banger and turn it into a preachy snoozer. The production throughout the entire album is mostly a shared effort between BJ Burton and Bionik, the latter who has quickly developed a following in the Twin Cities as a result of his work on the most recent GRRRL PRTY EP. The diverse production team on this album creates an atmosphere in which Lizzo fits comfortably, allowing her to shift gears from spittin' bars to flexing her vocal chops in the matter of one or two measures.
She held an album release party Saturday night at First Avenue, giving new life to the tracks in her own unique way while running through the entire thing cover to cover. It was her first headlining show in the Mainroom, which, when you think about it, is a little amazing because it seems like she's been a Mainroom mainstay for years now — and in a way she kind of has been. But this was a proper homecoming for an artist who has recently been on the road supporting legends like Sleater-Kinney and fellow up-and-comers like SZA. I can't imagine many other artists can say they've sold out the First Avenue Mainroom on their first official headlining show.
Throughout the night, Lizzo strut her stuff across the stage with a group of familiar faces, full with synchronized dance moves, sleek transitions and her humble, charming appreciation for her fans and their support. After getting through "En Love" from her new album, she switched gears and brought out Manchita and DJ Shannon Blowtorch to join her and Sophia Eris to satisfy the GRRRL PRTY-diehards scattered throughout the audience, running through bangers "Grrrl Anthem," "Night Watch" and "Poppin'" before jumping back into a moving, emotional performance of "My Skin" and finishing with "Jang a Lang."
Then, following a shot of tequilla, she returned for an encore, but not before bringing up Twin Cities legend Har Mar Superstar to sing him happy birthday with the help of her good friend Caroline Smith. From there, Smith and Lizzo jumped into one of the biggest hits to touch Minneapolis/St. Paul in recent years, "Let 'em Say." Wrapping things up, she shut the Mainroom down with Lizzobangers classics "Batches & Cookies" and "Faded" before expressing her appreciation for the crowd once more and heading to the merch table to shake hands and pose for pictures.
This is the new icon of Minneapolis, one that raps lyrical laps around you, blows you away with vocal prowess and then shakes your hand for the simple fact that you were there to witness it. All of that accompanied by a personality that boasts as much confidence as it does modesty. Lizzo is a pioneer for inclusion — inclusion of both different types of music and, more importantly, diverse groups of people. It's a bold claim to say that the Twin Cities is turning a new page in its long and impressive hip-hop history, but judging by Saturday night's crowd and the talent it was supporting, a new day has dawned — and its star is bright.