A Few Of Our Favorite Things: The Best Of 2015
by Todd O'Dowd
Edited by
TODD O'DOWD
With Contributions From
GIGI BERRY, JAKEY EMMERT, ANTHONY ENRIGHT, BETH HAMMARLUND, JON HUNT,
ANTHONY IVERSON, MIKE JONES, LEE PURVEY, NILES SCHWARTZ, and ALLISON SHILINSKI
Header Image by
CAROLINE ROYCE
*****
As we enter the final days of 2015, we pause to take stock of the year that has past. And while there has been an awful lot of truly horrible things that have happened this year, we have to admit that as a cultural scene the Twin Cities had a truly fantastic year. From artists of all stripes gaining national and international recognition, to daring works being created in town, to the return of many beloved people and artists to the scene, Minneapolis and St. Paul had a year that it should be proud of. Here now is our list of high points of 2015 which have set the bar very high for next year!
xoxo,
l'étoile
*****
VISUAL ART
BEST VISUAL ARTIST: Caitlin Karolczak
Minneapolis-based painter Caitlin Karolczak has had a lot of good years, but 2015 was undoubtedly her best to date. In addition to her work in the Twin Cities (which, this year, included designing cover art for City Pages), she showed her paintings at Art Basel and has been making the rounds in New York City. Her work was recently included in "Rose is a Rose," a gallery show held in the home of Nanette Lepore, which prompted the New York Times to refer to the artist as "an emerging talent." A bit of an understatement, in our opinion, but quite an endorsement nonetheless. Karolczak has been a fixture in the Twin Cities art community for years. She's shown her work at independent galleries like Rogue Buddha, co-created and participated in a performance art pieces during Art-A-Whirl with frequent collaborator Jaime Carrera, and sold her pieces to private collectors both locally and around the world. For the unfamiliar, congratulations. You are about to become acquainted with one of your new favorite artists. Karolczak's figurative paintings are always evocative and often provocative, but she's not a shock artist, desperate for attention. Her pieces are quiet, almost gentle, despite the sensual and macabre subject matter. In almost all of her portraits, her subjects demonstrate a knowing peacefulness that make Karolczak's explorations of sexuality and the human body feel introspective rather than exploitative. In addition to her work as a painter, Karolczak also co-curates Spinario Design, an art project all on its own. The gallery boasts a collection of unique treasures including art, antiques, and some of the most amazing vintage furniture you've ever seen. Whether you're looking to window shop or make a purchase, a visit to Spinario is always time well spent. And if you're lucky, you'll have the chance to meet the artist herself. And if you're extra lucky, you'll be able to spend some bonding time with Capote, her canine companion and the gallery's unofficial mascot. Here's hoping that in 2016, Mr. Capote finally gets a Karolczak portrait of his own. – Beth Hammarlund
BEST PHOTOGRAPHER: Kevin O'Meara
Minneapolis-based street photographer, Kevin "Shakes" O'Meara, is someone you might not want to run into in your darkest hour, because it just might end up in a photograph. O'Meara's film photography is often chilling and always intense. A quick scroll through his Instagram feed brings up dramatic moments ranging from dangerous to debaucherous and a genuine love for film photography. Kevin has been busy in the local and national art scene as well, recently doing a shoot in his signature, candid style for Public Functionary and collaborating with fellow photographer,Kevin Horn, to create photobook Day & Night in which O'Meara captures San Francisco at night over the course of a week. We salute O'Meara's elegantly gritty work and look forward to more collaborations and national attention for O'Meara's work, as well as our own vicarious excursions via Kevin's Instagram. – Allison Shilinski
BEST EXHIBITION (National): Hippie Modernism: The Struggle for Utopia, Walker Art Center
Walker Art Center continued to captivate onlookers of contemporary art around the world throughout 2015, and the museum's current exhibition, Hippie Modernism: The Struggle for Utopia, is no exception. Hyper focused on an era which begins with a spark in 1964 and blazes through 1973, Hippie Modernism engages with the countercultural wildfire of the time. With art forms, experiments, and artifacts ranging from live projections and psychedelic posters to a citrus orchard and Ken Isaac's Superchair, the exhibition calls from an era that begs to be recognized and revisited. Hippie Modernism tugs at the heartstrings of a convoluted present with its genuine works of revolutionary energy and novel brilliance of the past. Hippie Modernism is on view and ready to impress at Walker Art Center through February 28, 2016. – Allison Shilinski
BEST EXHIBITION (Local): Michael Thomsen: Mystery School, Public Functionary
We Twin Citizens are lucky to be swimming in amazing visual artists. We have painters and sculptors. Mixed media and installation artists. And then we have Michael Thomsen, who is probably our most difficult-to-classify artist. His pieces fall under every category and none of them, making it almost impossible for poor arts writers to accurately describe his work while maintaining any sort of verbal economy. Though Thomsen is a consistent artistic presence in the cities (he regularly participates in gallery shows and he has pieces on display in the Cedar Cultural Center and Northeast Social), his last solo show, Curio at the Rogue Buddha Gallery, was all the way back in 2012. Mystery School, his 2015 show at Public Functionary, was well worth the wait. Thomsen spent a year and a half creating the grand pieces, which ranged from wall-hanging sculptures to major installations. The show explored the world of secret societies and cults, incorporating mythological and religious iconography. But this wasn't The Da Vinci Code. The stories told were so rich and fascinating that guests spent almost as much time huddled around the didactics (those handy little art information cards) as the artwork itself. Almost. Thomsen told tales such as those of the nephilim, the giant angel-human hybrids from the Book of Genesis, as well as stories from the Biblical apocrypha. He explored Freemasonry, the Cult of Dionysus, and the engrossing exploits of Papa Ciro and the Decided Ones of Jupiter the Thunderer. You'd better believe that plenty of people were hunched over their smartphones, Wikipedia-ing like crazy. The overall effect was that of an archaeological carnival, a visual panegyric praising human imagination and devotion. Considering the incredible time that it takes for Thomsen to create his pieces, it might be a few years before we see another solo show. However, Mystery School reminded us just how very worth the wait it will be. -Beth Hammarlund
BEST BIRTHDAY YEAR: Minneapolis Institute of Art
As the spryest centenarian in the history of all time, the MIA (or as it wants to be known as, Mia) threw the best party in town this year. What party, you ask? Why the entire year-long celebration of its 100th birthday. From the expansion of its monthly Third Thursday events (themselves some of the most fun events in town), to creating crop art in the park inspired by van Gogh, to their gigantic summer party under the tent with performances by Chromeo, Allan Kingdom, Tiiiiiiiiiip, and Caroline Smith, and a whole lot more. But best of all, Mia really brought its A game in terms of exhibits this year. The Habsburgs: Rarely Seen Masterpieces from Europe's Greatest Dynasty was one of the most visually opulent exhibits we have ever seen. Leonardo da Vinci, the Codex Leicester, and the Creative Mind and Mark Mothersbaugh: Myopia were insider looks at two very different artists / polymaths punctuated by random appearances of the artist in question (Mr. Mothersbaugh, that is). And with Delacroix's Influence: The Rise of Modern Art from Cézanne to van Gogh, the Mia gave us one of the best art history lessons we've had in a long time (which tied back into its mission of being a "teaching museum"). Best of all, since most of the events at Mia are free, it was the best gift we could have received this year! – Todd O'Dowd
MUSIC
ARTIST(S) OF THE YEAR: (TIE) Lizzo & Hippo Campus
Usually for our annual year end pieces, we try to avoid any sort of tie whatsoever. And for the most part we succeeded. Except for this award. After going through our short list for the year (with many of the artists on said short list winning other awards this year) we narrowed our choice for Artist of the Year down to two. And that's where the fighting began. "Hippo Campus has exploded overnight to become the band of the Twin Cities!" "Screw that! The rest of the music scene has finally caught up to Lizzo!" "But the boys got tons of national attention this year for The Halocline and South!" "So did she for Big GRRRL Small World!""But the St. Paul boys are such a tight band live!" "They are, but she doesn't need a band to support her!" "But Jake, Nathan, Dustin, and Stitches opened for the likes of Modest Mouse, Jr Jr, and The Mowgli's!" "Well, when she wasn't busy touring non-stop, or playing with her pals GRRRL PRTY or Caroline Smith, she was opening for this little band called Sleater Kinney! Ever hear of them?" "Violet!" "My Skin!" And the debate went on, and on, and on! And after much debating, shouting, drink tossing, and general disagreement, we came to a consensus; if both Lizzo and Hippo Campus can dominate 2015 in tandem so gracefully and not cause fisticufs amongst music fans, then the very least we can do is give the award to both of them for making 2015 one of the best years ever for Twin Cities music. – Todd O'Dowd
ALBUM OF THE YEAR (R&B): PaviElle, Fear Not
Throughout 2015, PaviElle French and her namesake band quietly owned the R&B scene throughout the Twin Cities, and if you were lucky enough to catch even just a few songs at one of her shows this year, you'd know why. PaviElle possess all of the traits of a successful R&B singer: vocals that will bring the house down, crafty songwriting prowess, and a compelling on-stage personality to back it all up. But it's her ability to mix a traditional R&B sound with other genres is what truly makes her unique. There is a broad spectrum of influences that can be heard in her music, from Afrobeat to '70s pop music, that can all be found on her 2015 effort, Fear Not, which casually meanders through styles in a seamless way that ties everything together. Fear Not is proof of the old adage that an artist is only as good as her influences. And from the sound of it, PaviElle has a lot of incredible influences: A small dose of Fela Kuti, some instrumentation like that of The Roots and a touch of Fleetwood Mac (and not just because of her cover of "Dreams;" her own songwriting comes from a similar place). It's the combination of these elements that make this such a compelling album, and her live performance really breathes new life into this music in a way that isn't possible to capture on record. – Anthony Iverson
ALBUM OF THE YEAR (Hip Hop): Greg Grease – Born To Lurk, Forced To Work
The embarrassing moment for your average Twin Cities hip-hop fan arrived whenever s/he realized "mainstream hip-hop" had been good for years — like really, really good. Not that there weren't still plenty of easy targets to go around (there will always be Tygas and Flo Ridas to pick on). But with a new generation of artists like Chance the Rapper, Earl Sweatshirt, and Kendrick Lamar occupying the heretofore demonized mainstream, the kind of antiestablishmentarian harangues that have long characterized the local rap scene have lost whatever bite they once had. Enter Greg Grease, a skilled rapper with a DIY approach and a respectable local pedigree, but also an open minded awareness of the genre innovation taking place outside of the 612 and 651 area codes. On his latest full-length Born to Lurk, Forced to Work, Grease invokes everything from Chance's sing-song hooks ("Killer Love") to Chicago drill intonation ("TWUD") to the spaced out production of Andre 3000's solo work ("RBG") as powerful touchstones in what's finally a deeply personal project. Lacing airtight verses over soulful, brooding production (largely his own), Grease occupies a unique space in independent rap: listenable but challenging, calmly delivered but thematically urgent, touching on everything from identity to hustle to police racism. Grease hasn't taken any time off, following the March release of Born to Lurk, Forced to Work with two EPs (produced by Javi Santiago and M¥K respectively), with a third soon to follow. Here's to hoping another full-length is on the way, too! – Lee Purvey
ALBUM OF THE YEAR (Electronic/Pop): Al Church, Next Summer
2015 was the year that Al Church revealed himself to be more than just a damn great songwriter in seven different bands — no, this was an auteur, flat out; a smooth-music genius, a guy who could put oodles of saxophone in a song with aplomb and not bat a freakin' eye. There was no more straight-up fun album released by anybody anywhere this year than Next Summer — it's loaded with smooth grooves, great melodies and tons of falsetto harmonies. And yeah, tons and tons of saxophone, just in there, as if it was 1977 and it was okay to do that, which is awesome. And that's not to say Next Summer is lightweight — "Birthday Party" is as heavy as anything, and "Next Summer" as heartbreaking and nostalgic and gorgeous. It's just that when he does do smooth, god does he do it well. "You Came Into My Life" cruises along at a brilliantly loping pace, "The Clock" is damn near funky, "You And I" is funky and "Next To You" is one of those perfect radio singles that comes along once or twice a year. Mmmm — just a gorgeous slice of music, this. – Jon Hunt
ALBUM OF THE YEAR (Country/Folk): Katy Vernon, Present
We don't know if you can even call British ex-pat Katy Vernon folk anymore — sure, she still twangs the uke and carries a nifty folk sensibility through this album. But Present shows her growing by such remarkable leaps and bounds that she could be equally considered "rock," or "80s-inflected sophisti-pop" if you're into such narrowcast labels. There's no question that it caught on, too: tons of airplay for "Lily" and "Pearl" and a million ever-growing shows proves that there's something about her sensibility — sad, sure, but optimistic, and sweet and just a little bit cute — that appeals massively to Minneapolis audiences. Which is great: she's also that rare artist that got where she is later in life through sheer chutzpah and hard work rather than any kind of artificially-manufactured buzz. And smart-as-hell music — there's no denying the beautiful, brainy lyricism of a song like "23" or the delightfully wistful "Out Of My Depth" or the coyly bouncy "Play." This is what happens when you've got a ton of talent and you came up in the UK in the late-80s — you absorb all that cool and eventually filter it into your sensibility, yeah? Guessing there's more/better to come, too. – Jon Hunt
ALBUM OF THE YEAR (Rock / Punk): Näive Sense, Art Failures
Punk has long struggled between the historical reality of being a young-white-men's club and the hope and promise of being an inclusive genre for the marginalized. Hardcore punk has often been the domain of hypermasculine musicians such as Henry Rollins and Dave Dictor. Thrashing in mosh pits can literally push women to the margins notwithstanding those who have long fought to be in the center. However, Minneapolis hardcore punk has many badasses who are not content to exclude the less privileged. This was seen in action at a show organized by Drew Ailes in September in a South Minneapolis basement, where Näive Sense told the audience to allow female, trans*, and queer fans up front. Also up front is their transgender frontwoman Natalie Grace McKay whose screamed vocals are so aggressive they make your throat hurt just thinking about it. That is to say, not only is this band's commitment to deshittifying the scene on point, but their ability to shred is legendary. Their debut album Art Failures was released as a cassette and digitally November 4, and features everything great about this band. 12 tracks of fast lo-fi noise and energy, including the 7-second power-violence noise bomb "Landshark," or the slower anthemic "Art Failures." As stated, the vocals are raw and relentless, and the band has an undeniable talent. Guitarist Tommy Rehbein, a veritable godfather of the scene, delivers all the blistering shred you need to get crazy. Drummer Jeffrey Truckenmiller beats the crap out of his drums in a compelling and tonally mature thunder. Bassist Mikey Hansen clobbers you with a fuzzy rattling beat. If that's not enough ways to rock, they also serve up some of the dankest content online, having members of the eelite Eel Squad cluttering up your Facebook feed. They will be releasing a new single a month in January ("Killing Compass" on New Year's Day), February ("Scratch the Mirror" featuring Sonja from Wretch), and March ("Divide the Ashes" featuring Mariko from Rifle Diet), so definitely look out for those. Come see this band play, and scream at them, emphatically, "h" and "I'd asked." – Mike Jones
SONG OF THE YEAR: Grrrl Prty, "Grrrl Anthem"
Grrrl Prty have steadily created a loyal group of diehard fans over the past couple years, but they proved in 2015 that they have officially graduated from the class of "Minneapolis block party bands." Their show this fall to reopen First Avenue's Mainroom doors to some degree raised the stakes and expectations for hip-hop as an entire genre across the Twin Cities. Minneapolis, a city known for its hip-hop scene, has fallen into the habit of recycling a sound that worked in 2002 to the point where much of the scene has become stagnant and the music redundant. Grrrl Prty, on the other hand, is right on time, and they have escalated to one of the premier hip-hop acts in the area in just a few short years. "Grrrl Anthem" — the lead single from the group's new EP — and a few of their recent live performances points to their full-on embrace of the feminist badasses that they are, something that is as important as ever in a genre that is increasingly male-dominated and notorious for misogyny. This track is something special, not only in its message, but in the wit, delivery and tone. The production is the epitome of the slick sound Bionik is becoming known for — it's deep, enthusiastic and lively — and the rapping from Lizzo, Manchita and Sophia Eris showcases each of them at their best. Lizzo's verse in particular brings this track to a whole new level, and it's no wonder they position her verse as the anchor of the three here. Following the line "I be throwing shade / And you be throwing in the towel," she jumps into four bars of trap-style rapping followed by four more of a rhythmic vocal foxtrot. This combination of unique rhythms and her witty lyricism — along with strong verses from Sophia and Manchita — solidifies Grrrl Prty's status as a hip-hop group that is currently untouchable throughout the Midwest. It's the kind of song that will inspire a new generation of hip-hop heads the way Rhymesayers did back in the '90s. – Anthony Iverson
SHOW OF THE YEAR: Triple Rock Block Party / D4'th of July
Are you serious? How can all of these bands play in the same space in the same day? Dillinger Four turned 21, which is known to be a special number in the numerology of Minneapolis' drunken, unruly, loud, and crazy OG punks. Seeing them alone was worth the price of admission, as their live shows are stories of legend. Lead singer Patty Costello likes to stop and joke between songs, and some dude in a bee shirt brought the band a bottle of Jameson during one of these breaks. There was just too much fun had. But then you have Against Me! headlining. Straight outta Gainesville, Florida, the band released Transgender Dysphoria Blues in 2014 in reference to lead singer Laura Jane Grace's announcement that she is transgender. Their performance was blistering, and 7 hours after the festival started, people are still begging for more. Laura was a relentless explosion, and you could see people crying in response to her passion. But wait, there's more! When organizer Adam DeGross announced this festival, there was talk of a super secret band in the lineup. Fan theories included Prince, Luminary of Spheres, NOFX, and a number of unlikely candidates. Who shows, but none other than Lifter Puller, who hadn't played a show since they played at the opening of the Triple Rock in 2003. Many fans got their one chance, probably forever, to see these art punk nerds party synth-style. Many other awesome bands played, including Scared of Chaka, Toys That Kill, Off With Their Heads, Tim Barry, Pink Mink, Nato Coles and the Blue Diamond Band, and United Teachers of Music. Surly Brewing released a new beer to galvanize the occasion,#MERICA!, a pre-prohibition American lager which tastes exactly what a lager should taste like. Your ticket also got you into a pre-party show featuring France Camp, Zero, Arms Aloft, and No Skin. And it got you into an after-party show featuring The Slow Death, Mike Brody, Rana May, Jonah Ray, and The Underground Railroad to Candyland. Somehow, this all happened one weekend this year, and it was the best show ever. – Mike Jones
REUNION OF THE YEAR: Babes In Toyland
Everybody was pretty god-damn glad to see Babes in Toyland back. They played a big-ass show at the Roxy in Los Angeles in February that people from Minneapolis flew out to see, then did a tour of the UK, then hit a couple music festivals, then followed it up with a tour of the US that included a triumphant stop in their hometown for this year's Rock The Garden. Everybody agreed: they sounded damn great, and everybody was looking forward to new material. And then shit kind of went south — the group canned bassist Maureen Hermann and replaced her with the super-young Minneapolis native Clara Salyer, which was fine. But then Maureen went public on her Facebook page recently with the reason: Maux had publicly supported Runaways bassist Jackie Fox in her rape allegations against svengali Kim Fowley, and what's more had called out former Runaway Joan Jett in an article that went viral for not doing the same. Turns out, according to Maux, that Babes drummer Lori Barbiero had done some production work with a band that was funded by Jett. And turns out (still according to Maux) that Lori didn't appreciate Maureen's outspokenness. And so: canned. What started out as seriously awesome ended up kind of — well, icky. And that's a drag. But that doesn't take a way a single jot from those amazing early-in-the-year shows. And I'm sure any new Kat songwriting will rule. Still, though: No Maureen. Hm. – Jon Hunt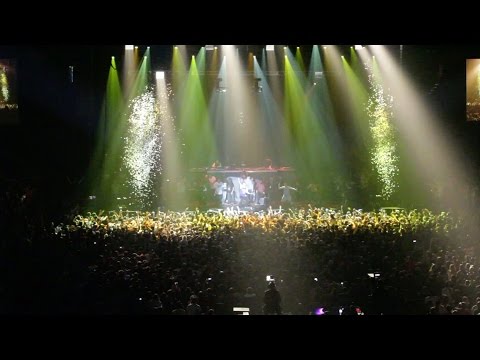 PARTY OF THE YEAR: Rhymesayers 20
Arguably one of the biggest independent hip-hop labels in the world, Rhymesayers celebrated twenty years with a very special homecoming concert concert at the Target Center on December 4 like nothing we've ever seen! It was truly a once in a lifetime local hip hop family reunion bringing in most of the artists signed or affiliated with the label in someway over the last two decades (including DJ Abilities, Evidence, P.O.S, Prof, I Self Devine, Atmosphere, Brother Ali, Aesop Rock, deM atlaS, Dilated Peoples, and so much more). Like any family reunion there was a bit of drama since Psalm One (the first lady of the label) was missing from the line up, but this brought forward a much-needed conversation about how Rhymesayers could use its position in the community to be more inclusive for women. CEO Brent "Siddiq" Sayers penned an open letter to the community on their social media channels in response to Psalm One and to let Rhymesayers fans and the hip hop community as a whole know he's listening to these concerns and working to make changes going forward. Overall, Rhymesayers 20th Anniversary concert was one for the history books, and we can't wait for their next big party as Soundest will be moving to the Minnesota State Fairgrounds this May! – Gigi Berry
"THE KIDS ARE ALL RIGHT" AWARD: (TIE) Bad Bad Hats & Bruise Violet
There's no question this was the year for female-fronted badass young-people punk here in Minneapolis, especially in the City Pages' "Picked to Click" poll. Bad Bad Hats (#1 in this year's list) hit huge, seriously huge, with their July album Psychic Reader, garnering tons of national press from Pitchfork and Spin and a dozen others. And worthily so: their album has the lean-and-mean rock ass-kickingness that reminds one of the early Pixies before they got stupid mixed with Throwing Muses — in other words, 4AD in the late 80s, which is a sound everybody could use more of. It's not earth-shatteringly groundbreaking, but god-damn if songs like "Cruella" and "Midway" didn't sound better than 90% of the shitty white-person indie that passed this year simply by having tons of, you know, grit and soul and melodic sensibility. And special mention to even younger band Bruise Violet (#2 in the "Picked To Click" list), still underage but if anything more interesting than the 'Hats simply because their sound — punk as fuck but then with three part harmonies! — isn't something you've heard before, at least not in this decade. Gorgeous stuff, all of it, and destined for even further greatness down the line. – Jon Hunt
FASHION & RETAIL
BEST FASHION DESIGNER: Caroline Hayden
Caroline Hayden is such a successful and consistent presence in the Twin Cities fashion community that it's almost a bit shocking when we're reminded that she's only been active in the local scene for three years. (Her first showing in Minneapolis was at the Spring 2012 Emerging Designers Showcase sponsored by MNfashion and l'étoile.) She's been a runway fixture ever since, regularly creating collections that win the affections of both fashion critics and consumers. Her high note this year was her fall collection, shown at Envision Fall 2015. The designer sent gowns and separates down the runway that managed to be both glamorous and conservative, a daring feat these days. Contrasting textures and sumptuous fabrics added depth to a limited palette of red, black and gray. The stylish layering, including v-necks and turtlenecks, was decidedly '90s, while the calf-length skirts and dresses recalled some of the more conservative styles of the '70s. (Though if you want to see some real '70s influence, check out her Spring 2014 collection.) But perhaps Hayden's greatest success this year was in creating buzz. The designer has hired a seamstress and is in the process of expanding her business. We can't wait to see what she has in store. – Beth Hammarlund
BEST FASHION EVENT: Fashion Week MN
This year, the local fashion industry was treated with the return of Fashion Week MN. A team of the best local producers and designers came together in a superstar lineup which includes Sarah Edwards, Jahna Peloquin, John Mark, and others in order to bring back Minnesota Fashion Week programming. The newly launched site provided a comprehensive calendar of events throughout the Twin Cities and served a rallying point for the whole week. Highlights included "Homme," an event kicking off the week which included both a runway show and a marketplace highlighting a broad array of Minnesota menswear and accessories that was curated and styled by Ms. Edwards and Connie Mrotek, FGI of Minneapolis & St. Paul's "Fall: Into Luxury" showcase, and the well produced eighteenth season of local fashion show, Envision, which finished off Fashion Week MN on a high note. Building community in local fashion isn't just a once a year thing, though, and the Fashion Week MN crew is continuing to provide updates, events, and a working calendar for the local style scene, as well as planning the next edi and the community couldn't be in better hands. – Allison Shilinski
BEST EMERGING DESIGNER: Cory Allen
Though we have some established design heavy hitters, one of the best parts of attending a local fashion show is spotting fresh talent. These designers are often among the graduates of local fashion programs at the University of Minnesota or St. Kate's. Sometimes they're designers from out of town, who were already on our radar, and decided to relocated to our fair sister cities. But the best debuts are the ones that come from out of the blue, like Milwaukee-based menswear designer Cory Allen, who blew us away with his fall collection at Envision this October. The designer took major risks that paid off big with the crowd. His equus-inspired looks toyed with traditional high-end menswear, but included big surprises, such as the mane of black hair that ran down the back of a luscious camel coat. Though there were some classic pieces, such as sweaters and trousers, the leather joggers and tailored shorts were unapologetically modern. The young Mr. Allen possesses a unique point of view and the talent to execute it. He definitely has a bright future ahead of him. – Beth Hammarlund
BEST LOCAL BOUTIQUE (Men): Askov Finlayson
Not content to rest on the accolades received to date the Dayton brothers took their "The North" concept to new heights this year, improving on what was already a killer shopping experience with a larger space and expanded offerings. All this improvement didn't just get notice locally; in November GQ picked Askov Finlayson as one of the top ten men's shops in America, and for good reason. The store is always packed with rugged yet refined offerings including both a plethora of locally made goods from top brands along with items from the store's own line; there's even a Warby Parker eyewear outpost right in the store. It's the perfect place to pick up both your workhouse wardrobe staples and those unusual yet practical pieces that round out the modern man's stylish wardrobe. – Anthony Enright
BEST LOCAL BOUTIQUE (Women): Semblance
When coming up with our "best of" nominations, we tend to focus on the Twin Cities metropolitan area. But even though l'étoile is based in Minneapolis, sometimes there's an artist or a business outside of our usual scope that's impossible to ignore. Consider Semblance, the New Ulm women's lifestyle boutique. Owner Bobbi Barron has curated a selection of clothing, accessories, jewelry, and bath and beauty products that manage to communicate her particular vision, while still generating wide appeal. Her typically neutral palette and appreciation of timeless design create a shopping experience that feels simultaneously indulgent and practical. Individual items can be integrated into practically any wardrobe, while a combination of pieces creates an effortlessly stylish uniform. The shop has been on our radar for several years now, both for its top-notch offerings, as well for Barron's pledge to support independent designers. Her commitment to independent design is understated and 100% authentic. She knows that her covetable wares are top-notch, and champions the "buy small" movement by seeking out incredibly talented artists whose work can go unappreciated far too often. If you can't make the trip to New Ulm, you can always visit Semblance via their online store, which offers an impressive selection of their brick and mortar inventory. (We recommend The Nude Label undergarments, a line of high quality bras and briefs produced in Spain that will convince you that underwear can be simultaneously basic and sexy.) To get an even better sense of what they have to offer, add them to your Facebook feed for daily updates. This year marked a major milestone for the Semblance. Barron opened a second, slightly smaller location in Mankato. With two locations and an online store, Semblance is suddenly a triple threat. When one of your favorite shops begins to expand, it's easy to worry that the curation will become watered down, that what makes it special will be lost to broad commercialization. But Barron has managed to retain her refined focus and in all three of her ventures. Her commitment to supporting independent designers is unwavering and exists happily alongside her excellent taste. Here's hoping that 2016 is the year that she finally decides to open a location in Minneapolis. – Beth Hammarlund
BEST SHOPPING EVENT: Mona Williams Estate Sale
Mona Williams hosted what was definitely the best shopping event of 2015, and possibly the year's best vintage couture sale in the country. Mary Wangsness of North Oaks, Minnesota passed away last spring, leaving behind a lovingly cared for and amazingly sized designer collection. A few thousand pieces were held back from what was donated to major museums in order to have a sale at International Market Square October 1 through 3 which would benefit fashion programming at Minneapolis Institute of Art and the Minnesota History Center. The wares for sale, including handbags, shoes, and apparel, were showcased at Fashion Week MN event FGI Minneapolis & St. Paul's Fall: Into Luxury, and they nearly stopped the show. If you made it to this one, we're sure you found the treasure of a lifetime. If you didn't, it's probably because this was an event that you didn't RSVP to on Facebook and casually glanced over in conversation with your friends, just to ensure the best picks for yourself. – Allison Shilinski
BEST COMEBACK: Russell Bourrienne
Don't call it a comeback. He's been here for years. Though menswear designer Russell Bourrienne may have stepped away from fashion for several years to focus on restoring vintage three-speed bicycles (that must be the most charming sabbatical we've ever heard of), he's always remained in the back of our minds as one of our favorite local designers. But this year, he returned to the runway with a fall collection for Envision that put him front and center once again. The looks featured plenty of what Bourrienne does best: classic shapes reimagined, meticulous tailoring, thoughtful details. But the fresh point of view demonstrated that his time spent pursuing his other passions was time well-spent. Bourrienne's collection updated looks from early 20th century English bicycle touring, transforming them into something modern and new, both timeless and of-the-moment. If any other designer put out a collection so rich with knickers and waist coasts, they would have been written off as steampunk cosplay. (No disrespect to steampunk cosplay.) But Bourrienne's pieces were a reminder that even casual menswear can be sophisticated and fashion-forward. And considering how obsessive we are with our bike culture around these parts, it was about time that someone offered up something beyond the beat-up cuffed jeans and a Chrome messenger bag. Here's hoping that Bourrienne sparks a revolution. – Beth Hammarlund
PERFORMING ARTS
BEST THEATRE PERFORMANCE: The Crucible, Guthrie Theater
There were many stories that ran throughout the Twin Cities performing arts scene in 2015; from revivals of seminal works (which we'll talk about in a bit), to the return of many beloved artists after a hiatus (and we'll talk about that in a bit as well), but the big story of the year was the farewell of Joe Dowling from the Guthrie Theater which caused for mixed reactions all over town; from fawning tributes over his good works (the new venue on the Mississippi River, founding the BFA acting program at the U of MN, etc.) to examining his faults (the lack of developing newer works, his tricky relationship with the local talent, etc.). But at the end of the day, he reminded us what a strong director he can be with what we considered his best work of all time. It wasn't his revival of A Midsummer Night's Dream, nor his revival of his Broadway hit production of Juno and the Paycock, but in his dazzling production of Arthur Miller's seminal tale of persecution in all of its forms. Not only was it one of the most handsome productions to ever grace the Guthrie's thrust stage, but Dowling's careful direction managed to get his cast (with Erik Heger and Michelle O'Neill leading an honor roll of Twin Cities actors including Raye Birk, Jennifer Blagen, Virginia S. Burke, Tyson Forbes, Nathaniel Fuller, Peter Michael Goetz, Wendy Lehr, Bill McCallum, Ashley Rose Montondo, Greta Oglesby, and Stephen Yoakam) to give a truly thrilling ensemble performance. As far as we're concerned, it was the perfect capstone for Mr. Dowling's tenure in the Twin Cities. – Todd O'Dowd
COMPANY OF THE YEAR: Walking Shadow Theatre Company
The question I always ask whenever I go to see a show presented by Walking Shadow Theatre Company is always the same: "How the hell are they pulling this off?!!" Between them, artistic directors John Heimbuch and Amy Rummenie have created the little company that could (and did!) by taking huge artistic risks that have paid off for them in spades (and in their second IVEY award for their 2014 production of Gabriel). And did they ever take risks this year1 After Gabriel, they pulled of the major coup of getting the rights to Samuel D. Hunter's The Whale, which was a heartbreaking Christmas gift of a production anchored by one of the best performances Zach Curtis ever gave in his distinguished career. This was followed by the area premiere of The Coward, with Ms. Rummenie enlisting an army of fantastic actresses (including Briana Patnode, Jean Wolff, Suzie Juul, Shelby Rose Richardson, Charlotte Calvert, and Linda Sue Anderson) to play all the male roles in this manly comedy about manly things. Hilarity gloriously ensued! To end the year, they tackled A Midwinter Night's Revel, Mr. Heimbuch's lyrical ode to the dark side of the holidays brought to life with sharp performances from Jessie Scarborough-Ghent, Peter Ooley, Eric Weiman, Heidi Fellner, Jaxen Lindsey, and Ms. Richardson. Aside from consistently great ensemble work they get from their performers, Walking Shadow has consistently had some of the most gorgeously realized productions of any small company in town; enlisting some of the best designers in town to create miracles with minuscule budgets. It is for this audacious – and the ability to deliver on that audaciousness! – that has earned Walking Shadow our award for company of the year! – Todd O'Dowd
DEBUT OF THE YEAR: New Epic Theater
Last year, when director Joseph Stodola presented the stage adaptation of Tennessee Williams' One Arm at the Fringe Festival, we were stunned by what we saw; dazzling stage work, breathtaking performances, and a surprising use of Brechtian theatre techniques (exposed staging and more to remind the audience that they were watching a play). Of course, as it was known as the Perestroika Theater Company, we were dubious that we'd see them again: a flash in the pan as so many companies that perform at Fringe are. Well, one year, one name change, and three shows later, New Epic Theater has proven they are here to stay with one of the most impressive debut seasons I've seen in a very long time thanks to taking Stodola's fascination with Brechtian epic theater techniques to their modern end point. The full-length version of One Arm was a bracing knockout that was lyrical and lurid in equal measure. Their Fringe production of The Picture of Dorian Gray was a sleek, sexy meditation on beauty and its disturbing underside. And their recent production of Doubt presented the beloved Pulitzer Prize-winning play into a new direction by playing up the notion of the story as a parable. And while his vision for each show was complete, and his use of the Lab Theater as a space was on point, it was Mr. Stodola's work with his actors that really got our attention; getting fabulous ensemble work from each of his casts and fantastic individual work from Torsten Johnson, Aeysha Kinnunen, Adam Qualls, Craig Johnson, Trevor Goris, Austene Van, and Claudia Wilkens. Like we said, it was a hell of a debut for New Epic Theater and we can't wait to see what's next! -Todd O'Dowd
BEST PERFORMANCE ART (Local): Liz Miller, Rachel Jendrzejewski, SuperGroup, and Brute Heart, In Which _______ and Others Discover The End
As the capstone to her exhibit at Public Functionary, artist Liz Miller teamed up with playwright Rachel Jendrzejewski, the performance collective SuperGroup, and the band Brute Heart to create a performance piece. What they came up with was one of the most haunting works we've seen all year; a deceptively simple, dense, lyrical meditation on the fragility of existence in the face of societal anxiety. Ms. Miller's installation magically transformed (thanks to the performers and lighting designer Heidi Eckwall) from an iceberg to a boneyard to a junkyard strewn with gears and cogs and Brute Heart's sonorous score accentuated the dread that served as counterpoint to Ms. Jendrzejewski's slightly opaque script. The production as a whole was less of a narrative and more of a tone poem that held the audience in its grasp, thanks to some of the best ensemble work seen on any stage this year. In Which _______ and Others Discover The End was one of the most challenging, and most rewarding, experiences this year and for that, it has deservedly won this award.
BEST PERFORMANCE ART (Non-Local): Geoff Sobelle, The Object Lesson
Minnesotans are an awkward bunch. We are truly the land of the cutting the last slice of pizza in half, of arguing over who gets to pay for five minutes when the server is standing there waiting for you to outperform generosity over the other person, of sitting at a four-way stop waving when it's obvious it's your turn. Any performance art that involves moving inside your audience's bubble will deal with this hotdish culture. In The Object Lesson, a touring one-man show which has a stop at the Walker Art Center, Geoff Sobelle attacks this head-on. As the audience arrives at the Walker's McGuire Theater, the seats in which they would usually sit are covered with piles of worn and labelled cardboard boxes, some with miscellany inside. With minimal direction, people eventually begin inspecting the boxes, which doesn't help too much. There's a bar where the front of the stage usually is, but it's unclear where to sit or stand and what to do. Shortly before show time, people are ushered behind the stage curtain where the true performance space is. The area has been transformed into a gigantic attic of clutter with hundreds of boxes. Some boxes have collections of random junk inside: broken records, old trophies, toys. Some boxes are labelled for sitting, and are eventually pulled around where the performance would seem to be. After a small amount of time for everyone to play and interact, the show begins. The first act consists of Geoff describing a small living room space into a tape recorder. He then plays the recording and has a conversation with himself via an old rotary phone in which both sides seem to be talking past each other. The next act involves a long story in which one lucky audience member gets to pass things to Geoff atop a shelf full of more junk and to the audience. In another act, Geoff goes on a "date" with another audience volunteer with activities including the conversation with a recording trick again, making a salad by tap dancing with ice skates, and ice skating under a flurry of packaging peanuts. The show concludes with an extended magic trick dealing with all the junk we carry in the different stages of life. By the end, it is clear that you have shared an experience with the strangers around you, and that there is no real need to be awkward. You may have a new appreciation of all of your junk laying around and the life that surrounds it. This show was directed by David Neumann, and included scenic installation design by Steven Dufala, lighting design by Christopher Kuhl, and sound design by Nick Kourtides. – Mike Jones
COMEBACK OF THE YEAR: Myron Johnson
BEST REVIVAL OF THE YEAR: Nutcracker (Not So) Suite, James Sewell Ballet
2015 will be remembered in the Twin Cities as the year of the revival, as many companies in town remounted seminal works in their histories (from the Guthrie remounting Joe Dowling's productions of A Midsummer Night's Dream and Juno and the Paycock, to the Jungle Theater launching its 25th season with its IVEY-winning remount of Gertrude Stein and A Companion, to Sandbox Theatre's gut-punch reexamination of its iconic show War With The Newts). And a surprising number of performers, directors, and figures came back to prominence with great work. But for us, the happiest of returns came towards the end of this year. When choreographer Myron Johnson put his iconic company Ballet of Dolls on hiatus while he dealt with some personal issues, the Twin Cities dance scene as a whole was worried that they had lost one of its most idiosyncratic voices. Well, that worry was short lived with Mr. Johnson returning to teach with James Sewell Ballet, and then Mr. Sewell allowing Mr. Johnson to remount his most beloved work; which ended up being a box office bonanza that received tons of critical hosannas. Even better, Mr. Johnson created one of his most cohesive tellings ever of his very particular vision for The Nutcracker featuring performances (in particular Deanna Gooding's Marie and Kelly Vittetoe's Barbie) that could stand side by side with the Dolls (and, in this case, did with the returns of Stephanie Fellner and Kevin McCormick to their iconic roles of the Rat Queen and mother Flo). Best of all, it gave the Cowles Center the holiday show it has needed for a long time and reminded us that Mr. Johnson is a choreographic voice we need in this town. As we said in our review, it was truly a Christmas Miracle. – Todd O'Dowd
FILM
BEST FILM: Carol
The patterns captured in the opening image transform in movement so vividly it feels like 3-D, abstraction and placement delicately crossing into viewer cognizance and spatial context like we're awakening from a dream and adjusting to the temporal duress of real life; we're on a Manhattan street in the early 1950s, following a fedora into a high end restaurant, listening to his familiar chattiness with the bartender and turning with his eyes to view two seated women, one of whom he recognizes; there's the elder lady with a piercing stare and firm poise, presumably the predatory seductress overpowering the younger one, confused by desire and performative expectations in this environment. Or not. This initial response to Carol, Todd Haynes' luscious and often sublime adaptation of Patricia Highsmith's little-read lesbian romance The Price of Salt, is itself like that opening abstraction, a fragment undergoing metamorphosis as the camera luxuriates in the abundant surfaces surrounding the younger woman, Therese (Rooney Mara), who's thinking back on what led to this moment of silent and amorous glances with Carol (Cate Blanchett). Cutting between his two leads (both giving—as is expected—wonderful performances) it's as if the blue in Mara's eyes are flying out of space toward us, and the glow of Blanchett's face renders a smothering arrest of absolute warmth. For its formal exquisiteness and impeccable recreation of period mores and spaces, moving from the big coastal city to the Midwest's sad open spaces, Carol isn't chilly or burdensomely cerebral. Haynes migrates the lifeless apertures to the full-blooded gazes and spoken words of its characters. A phenomenal movie about the implications of phenomenality, Carol makes love victoriously loud. – Niles Schwartz
BEST FILM EVENT: "In Glorious Technicolor: 100 Years of Luxuriant Cinema!" at the Heights Theater
This year's year-long celebration at the Heights Theater of the 100th anniversary of Technicolor made Quentin Tarantino's recent 70mm nerdism look l-i-t-e by comparison. Under the umbrella "In Glorious Technicolor: 100 Years of Luxuriant Cinema!", the Heights sprinkled events throughout the year celebrating the Technicolor coloration process by which so many Hollywood films were produced from the late 1920s to early '50s. Joining classics like Gone with the Wind, Singin' In The Rain, and The Wizard of Oz were more obscure offerings — the silent aviation adventure Men with Wings, the synchronized swimming comedy Bathing Beauty, the stunning surreal ballet that was The Red Shoes — frequently in their original 35mm prints. And what better venue for this celebration of Hollywood history than the Heights? From its retro lobby to its pre-show organ recitals, the Heights serves as a time portal to a better time in cinema — one full of luxury, ritual, and genuine cinematic wonder — and, boy, were we happy to visit. – Lee Purvey
BEST RECURRING FILM EVENT: The Alfred Hitchcock Film Festival
Take Up Productions always has a solid lineup year-long at the Trylon, with gorgeous celluloid presentations at the Heights, but their most rewarding event remains the annual spring Hitchcock festival, sharing the Heights and Riverview for several weeks of the Master's work, including this last year longtime favorites (North by Northwest), resurged masterpieces (Vertigo), earlier gems (Saboteur), and elegant misfires (Topaz—and while calling it a misfire, one acknowledges it's still incredible to watch, dammit). Hitchcock's fifty-film corpus, with so many entries insistent on repeated viewings, ensures the program will be healthy for a long time running, and perhaps the endless accretion of interest in Hitchcock, bolstered recently by the BFI naming Vertigo the best film of all time and Kent Jones' excellent documentary of Hitchcock/Truffaut, will only make 2016 bigger. Quite amazingly, there really is no way to break-down the demographics of who shows up. – Niles Schwartz
BEST FILM PROGRAMMING: Walker Art Center
The Walker's continued to not only be not only a great cinema for retrospectives, but is a center for rare exclusives, such as the one and only late-night showing of Gasper Noe's 3-D sex odyssey Love just last month. This year has also contributed multiple important director dialogues to the Walker's prodigious catalogue—celebrated this year with a summer-long session of special screenings, ranging from Nashville to Stroszek to a near sell-out crowd for Blue Velvet.Guests run the gamut, including blockbuster maker Christopher Nolan, subject of a retrospective and who recently curated a special 35mm presentation of Brothers Quay shorts (including Nolan's own documentary about the acclaimed duo). There's also been Abderrahmane Sissako, who presented his urgent new film Timbuktu for its area premiere, and just recently Todd Haynes, debuting Carol in addition to his older pictures. And while theaters across the country struggle to wrangle with the willy-nilly Weinstein system of tossing them expensive film projectors, the Walker has Justin Christopher Ayd in the projection booth, a pro at handling all sorts of prints (his work with the 70mm print of Intersteller resulted in a 10-week run with the only undamaged print in the country), given the thumbs up by Mr. Nolan himself. – Niles Schwartz
FOOD & DRINK
BEST NEW RESTAURANT: Revival
Perhaps it's a signal of the maturity of the local dining scene, but some of the most exciting openings this year were less focused on the kind of show stopping creativity that turns heads and more focused on drilling down to bedrock flavors and classic techniques. The stellar diner food at Nighthawks showed that excitement could be found in the seemingly familiar, while Spoon and Stable proved that classic dishes could be elevated with world class preparations. But no new eatery this year was more surprisingly resonant than Revival. The kitchen's deceptively simple yet uniformly excellent Southern sides (collard greens, fried green tomatoes, crispy pig's ear, johnnycakes) didn't overshadow the almost spiritual experience that is Revival's fried chicken. Offered in both standard and Tennessee Hot versions (both perfect) this chicken is the kind of crispy yet moist creation that haunts the dreams of many a foodie. Word quickly got around, and this Summer Revival was arguably the hottest ticket in town, with lines around the block to get a seat in their diminutive space. No matter how long we waited it was always worth it. Washing a perfect piece of chicken down with one of the many unusual sparkling wines and champagnes on the compact and focused beverage list proved to be the most unexpectedly transcendent dining experiences of the year. Revival shows that excellence doesn't always accompany complexity, a simple concept perfectly executed is sometimes the best. – Anthony Enright
BEST NEW BAR: Tattersall Distilling's Cocktail Room
Just getting to Tattersall Distilling's cocktail room feels like a mini-adventure. Tucked away in an industrial alley off a busy traffic corridor in Northeast Minneapolis, the raw and soaring space seems to promise an unvarnished yet cosmopolitan experience, it delivers on both counts. Yes, the cocktails (made with Tarrersall's distinctive spirits) are creative and lovingly crafted, but that's what we've come to expect from all of the city's better bar programs. No, what sets this bar apart is the unique energy of the space and the buzzing enthusiasm with which a broad cross section of Twin Cities residents have embraced the local distilling movement. Just try to get a seat at the bar on a sunny Saturday afternoon and you'll see why we find this to be a very special new addition to local cocktail culture. – Anthony Enright
BEST BREWERY: Able Seedhouse + Brewery
It was only a matter of time until the farm to table movement found an expression in the explosion of local breweries. While the big beer news of the year was Surly's immense and ambitious new destination brewery, a hint at the way forward opened in the quiet and unassuming new Able Seedhouse + Brewery. Able's goal of working with local farmers to incorporate their grains into their brews hints at a whole new way of thinking about how to craft beers that truly reflect the flavors of Minnesota. Each of the four beers Able has made to date (an IPA, a Stout, a Wheat and a Red) are excellent, with clean and pure flavors that let the grains be the star rather than relying on showy manipulation. We applaud the trend toward more complete use of local produce in all forms and hope that Able's concept is only the tip of the iceberg when it comes to the integration of local grains in local brews. – Anthony Enright
GONE TOO SOON: La Belle Vie
It what was an unofficial beginning to an unfortunate wave of restaurant closings in the downtown Minneapolis area (see: Masa, Loring Kitchen, Vincent — well, don't really see them as they're gone) none was more painful of a departure than the iconic La Belle Vie. Once home to legendary local culinary talents such as Jim Christiansen (Heydey), Matthew Bickford (Icehouse), famed bartender Johnny Michaels and many more, La Belle Vie closed its doors this October after a seventeen-and-a-half year. Chef and owner Tim McKee gave a rather blistering interview to Minneapolis/St. Paul Magazine that included several reasons for closing; lack of a demand for fine dining, construction in the area, a raise in minimum wage, and the threat of the unpopular Working Class Families Agenda. Hungry if not overzealous social media users opined that it was the worst day of their lives. City Pages wondered if the closing would affect our reputation as a "culinary boomtown". Even local television covered the closing. A local real estate broker suggested that the space, held in the first floor of an opulent apartment building in Loring Park, will be difficult to fill. A former recipient of the prestigious James Beard Award for his work there, McKee is still involved in the Minneapolis dining scene as a partner with Parasole Restaurant Holdings (where he helped launch Libertine) and as a co-owner of Smalley's Barbecue. And while it's not out of the question that he could open another fine dining establishment, there will never be another La Belle Vie, the opulent yet cozy place where many of us had (or imagined!) our engagement dinners, promotion celebrations, close-knit birthday parties and meals to welcome visiting friends and relatives. – Jakey Emmert
PEOPLE
MVP OF THE YEAR: Lisa Bender
When the Minneapolis City Council was almost entirely replaced in 2013, many residents were cautiously optimistic about the city's future. In Ward 10 (Uptown, CARAG, Whittier, the Wedge, East Harriet, and East Calhoun), mother, community organizer, and cancer survivor Lisa Bender had won from behind after a rollercoaster caucus in which two other candidates threw their support to Bender who beat Meg Tuthill, the incumbent. This resulted in a campaign battle in which Bender galvanized her support in the ward. Bender has been an outspoken advocate of development in Uptown, which resulted in some mudslinging from reality show house rehabilitator Nicole Curtis (and the ugly might of internet fandom retaliation), but Bender persevered in the name of smart development. Bender was a founding member of the Minneapolis Bicycle Coalition and a member of Twin Cities Streets for People, so making the ward friendly to pedestrians and cyclists has been at the top of her list while in office. This passion extends to eradicating one of the most embarrassing situations in Minneapolis: that freaking Kmart at Nicollet and Lake. The first steps in purchasing the land are in action, and you might be able to walk from Glam Doll Donuts to Hola Arepa without circumnavigating a suburban-style parking lot in the not-too-distant future. Bender took on the controversial Working Families Agenda which received passionate criticism from service industry workers regarding the "fair scheduling policies." The agenda was altered after Bender met with industry representatives and Service Industry Staff for Change to find compromise and solutions, resulting in the Workplace Regulations Partnership. Bender was present at the Black Lives Matter protests, and when police in riot gear pointed their rifles at protesters, and Bender stepped in front and said "My name is Lisa Bender. I'm a council member. If you want to shoot anyone, shoot me." There was much more progress made in the first two years of her first term, and Lisa Bender will continue to work hard for her constituents and for Minneapolis as a whole. – Mike Jones
*****
A Few of Our Favorite Things: 2014
A Few of Our Favorite Things: 2013
A Few of Our Favorite Things: 2012
A Few of Our Favorite Things: 2011
A Few of Our Favorite Things: 2010