Weekend What's What: 9/3-9/6
by Anthony Iverson
EDITOR: ANTHONY IVERSON / CONTRIBUTORS: TODD O'DOWD, JAHNA PÉLOQUIN, ANTHONY ENRIGHT, JON HUNT, BETH HAMMARLUND, ALLISON SHILINSKI, T. A. WARDROPE, SUSAN WOEHRLE, PRESTON ROGOSHESKE, RENE MEYER-GRIMBERG, GIGI BERRY, JAKEY EMMERT, CHASE BURNS / HEADER IMAGE: CAROLINE ROYCE
…And just like that summer is nearly over. Say goodbye to the constant block parties and your flip flops and replace them with an influx of pumpkin-spiced everything, new fall-themed events, and that sweater you hate that you love. If you're still bummed, you can quell those seasonal blues with this weekend's list of events, including Prince's Labor Day weekend soirée over at Paisley Park, First Ave's Forever Young Back 2 School Bash or a variety of all kinds of other events — indoors and out.
xo-l'étoile
THURSDAY, SEPTEMBER 3 – MONDAY, SEPTEMBER 7
(Closing Weekend)
Minnesota State Fair
@ Minnesota State Fairgrounds
1265 Snelling Ave N
St Paul
6 am-midnight daily / $13
It's that time again, the proverbial "Great Minnesota Get-Together" otherwise known as the best damn State Fair in the world! (Suck it, Texas.) Say your goodbyes to what's been a pretty fantastic summer by joining hundreds of thousands of your fellow Minnesotans in the annual ritual of battling crowds, stuffing your face with a vast array of singular food-like creations, and perhaps enjoying some great music at the Grandstand. Even the most jaded of us here at l'étoile love us a good wander through the many weird and wonderful attractions, grabbing a bit of traditional State Fair food and a gander at a few impossibly adorable baby animals. Come say hi if you see any of our faces wandering the Fairgrounds, we'll definitely be there, and you should too. -Anthony Enright
Click HERE for More Information
THURSDAY, SEPTEMBER 3 – SUNDAY, SEPTEMBER 6
Live music at the Minnesota State Fair
@ State Fair Grounds
1265 Snelling Ave N
St Paul
8 pm / All Ages / Adults $13, Seniors $11, Children (Under 5) Free
It's the last week folks, and honestly the best time to check out the famous Minnesota-on-a-stick-fest. The State Fair is one of those well-oiled machines that's just waiting for thousands of hungry people, of every age, shape, and size, to break through the gates in search of some good ole' midwestern cuisine. Not to worry, we know there's a strategy to all of this, and think the secret is within our grasps. Courtesy of the Growler Magazine, a local brew culture publication, we now know where all the best beers will be hidden. Once you're saddled up, either just follow the sounds of amps, or use their guide to find free stage entertainment. This year looks to bring in some serious international and most definitely some local bands, including Haley Bonar, The Cactus Blossoms, and the always hilarious ska band known as Reel Big Fish! If you're really in the zone, take advantage of the Grandstand acts over the weekend. It'll cost you a chunk more, but these moments will be classic. Thursday's set: Lynyrd Skynyrd. Friday: A Prairie Home Companion! Saturday: the Avett Brothers. And on Sunday: Merle Haggard/Kris Kristofferson. It's only once a year, don't ya know?! Get out to the great Minnesota get together! -Preston Rogosheske
Click Here for Tickets and More Information
CONTINUING DAILY THROUGH SEPTEMBER 7
(Closing Weekend)
Walker on the Green: Artist-Designed Mini Golf
@ Minneapolis Sculpture Garden
725 Vineland Pl
Minneapolis
10 am-10 pm Thursdays–Saturdays, 10 am-8 pm Sundays–Wednesdays, first-come, first-served / 9 Holes: $12 adults, $10 students ($9 Walker members, and children ages 7–12); Full Course: $18 adults, $15 students ($13.50 Walker members and children ages 7–12); free for ages 6 and under with a paid adult
Get your mini golf fix with a side of art at the Walker Art Center's Artist-Designed Mini Golf. One part classic leisure activity, one part art installation, the course is designed by Minnesota architects, designers, and artists. This year's course picks up where last year's left off, with returning favorites such as the oversized gumball machine and sculptor Aaron Dysart's Rock! Garden (featuring glittery rocks that make sounds when balls strike them), plus the the chance to get a hole-in-one in a hole inspired by Marcel Duchamp's iconic "Fountain" porcelain urinal. New additions are inspired by the Walker's current International Pop exhibit, including an arrangement of Warhol-inspired Brillo boxes and a hot-dog-and-French-fry hole. Have a beer and an all-beef or vegan hot dog at the Dog House, and be sure to take advantage of the free gallery admission for the day (up to a $14 value). Heads up: Expect a wait time during evenings and weekends. -Jahna Péloquin
Click HERE for the Walker Art Center site
THURSDAY, SEPTEMBER 3
Ute Bertog: Et al.
@ TuckUnder Projects
5120 York Ave S
Minneapolis
6-9 pm / All Ages / Free
This Thursday evening, TuckUnder Projects, aka the magical home of artist and curator Pete Driessen, will be presenting a new collection of work from Ute Bertog. Bertog's colorful and textural paintings will adorn the White Cube (the tuckunder garage), while paintings from Mark Rode will be on display in the Leaky Sink Gallery (the bathroom). Paul Wegner and Aesthetic Raspberry Tactics (ART) will both have work on display in the yard, and the plenty of other artists have pieces and installations tucked and nestled throughout the site. It's just a matter of time until Driessen outgrows his one-of-a-kind residential space, so pop down to his South Minneapolis home to take in this show before he's eventually forced to move into a more traditional setting. -Beth Hammarlund
Click HERE for the Facebook event
THURSDAY, SEPTEMBER 3
You Know Who You Are Jerome Fiber Artists Project Grant Exhibition Opening Reception
@ The Textile Center
3000 University Ave SE
Minneapolis
6-8 pm / All Ages / Free
We've said it before and we'll say it again: The Textile Center is one of the most under-appreciated art institutions in the Twin Cities. The brick building with bright interiors is nestled in Prospect Park (dangerously close to the sweet treats at Cupcake) and staffed by a team of knowledgeable and passionate employees and volunteers. Unfortunately, textile art is still regarded by many as more "arts and crafts" than "fine art," a misconception that does a great disservice to the many artists and curators who dedicate themselves to communicating narratives, emotions and ideas through fiber artwork. If you've never taken the time to explore and appreciate this unsung medium, Thursday evening's event is a great example of the kind of boundary-pushing work the Textile Center is committed to celebrating. Artists Sarah Kusa, Becka Rahn, Jennifer Schultz and Kate Vinson were all awarded Jerome Fiber Artists Project Grants through the Textile Center, and You Know Who You Are features the final results of their projects. If you can't make the opening night event, the show will be on display through October 24. -Beth Hammarlund
Click HERE for the Textile Center site
THURSDAY, SEPTEMBER 3 – SATURDAY, SEPTEMBER 5
20% Theatre Company presents The Pink Unicorn
@ Bryant Lake Bowl
810 W Lake St
Minneapolis
7 pm / $10-20 sliding scale
As one of the few outlets in our theater scene for queer, trans, and female voices, 20% Theatre Company consistently makes efforts to push the envelope with local storytelling. Much of this work is due to Claire Avitable, the company's director, and her consistent dedication to featuring community voices that are often overlooked. This commitment continues with 20% Theatre Company's presentation of The Pink Unicorn, an award-winning solo theatre piece by Elise Forier Edie about a mother coming to grips with her gender queer child. The piece's strength lies in its ability to connect to a wide audience over a politically contentious topic — suburban moms to angsty teens will be able to resonate with this story. The show is performed by local actress Mykel Pennington, and tickets are selling fast due to the small venue and limited performance run. If you're curious about 20%'s work, or if you're a longtime fan of the company, make sure to grab tickets quickly. -Chase Burns
Click HERE for Tickets and More Information
THURSDAY, SEPTEMBER 3
Twin Shadow w/Lany
@ Varsity Theater
1308 4th St SE
Minneapolis
6 pm / All Ages / $20 advance, $25 door
George Lewis Jr., aka Twin Shadow, lives in a world where it is perennially 1984. His blend of phenomenally epic, energetic synthesizer music, blended with a kind of earnest soul music, could almost only exist in that era where all genres were blended together and the radio was a kind of utopian, integrated, wonderful thing. I liked 2012's Confess quite a bit, but my one complaint was that it was a little thin — an issue that so does not plague his latest, Eclipse, which takes an epic, gigantic page from the M83 playbook and offers up wonderfully detailed arrangements and fist-pumpingly epic hooks. It's really quite magnificent, and I can only imagine translates wonderfully live, especially in a venue as intimate as the Varsity. -Jon Hunt
Click HERE for Tickets and More Information
THURSDAY, SEPTEMBER 3
Andrew W.K. w/ Mark Mallman
@ Triple Rock Social Club
629 Cedar Ave S
Minneapolis
7:30 pm/ 18+ / $20
Andrew W.K. really likes to party. He really wants you to party. He's been singing about parties since 2001, when he unleashed the party-lovin' song "Party Hard." He's partied all the way to Conan O' Brien, not once but twice. He's started his own night club so he can party correctly whenever he wants. Now, in 2015, he's out on a solo tour showing just how much he loves partying (by his bad self) and how much he wants you to enjoy yourself. White shirts and pants are encouraged, so he knows that you take this party seriously. Mark Mallman opens, because, of course! – T.A. Wardrope
Click HERE for tickets and more information
THURSDAY, SEPTEMBER 3
Colleen Green w/ The Lower 48, Wowsville
@ Turf Club
1601 University Ave
St Paul
7:30 pm / 21+ / $10
At this point in the history of pop music it is hard to tell what the measurements of success are. Album downloads? Cassette sales? Sold-out shows? Facebook likes? For better or worse, likely better, the indie pop scene has avoided the benchmarks of the fossilized music business. This is worth mentioning because it is clear that Colleen Green has crossed some kind of threshold. "I Want to Grow Up" is a serious production that recalls the almost slick recording of the 90's indie greats. Fans of Breeders, Liz Phair and Garbage might see her as a second-coming. People who have no idea who those bands are will hear a catchy alt-pop bit of music that they can also thoroughly rock out to. Next time she comes around it might be in a significantly larger venue. -T. A. Wardrope
Click HERE for tickets and more information
THURSDAY, SEPTEMBER 3
(Additional Performances through September 23)
Murder Shoes Minneseries w/ Chalk, Wretch, Swimsuit Area
@ Nomad World Pub
501 Cedar Ave S
Minneapolis
9 pm / 21+ / Free
I love love LOVE that the Nomad World Pub does "residencies." The way a band creates a scene and turns into a great live band is by doing a residency somewhere, playing once a week for a month and inviting along bands they fit with perfectly. People show up, see their friends' bands, see other like-minded bands, and boom — a scene. This month it's Murder Shoes, who are just coming off their magnificently fuzzy, mysterious EP Little Lost — their combo of twangy, distortion-drenched guitars and ominously disaffected female vocals is so damn good. And this week, they've brought along very like-minded bands Chalk, Wretch and Swimsuit Area, whose name cracks me the shit up every time I see it (and who, btw, are also really really good). Go, more than once. -Jon Hunt
Click HERE for More Information
THURSDAY, SEPTEMBER 3
612Collection EVENT 001
@ Honey
205 E Hennepin Ave
Minneapolis
9 pm / +21 / $5 advance, $7 door
Music and art hub 612Collection wants to advance the cause of local hip-hop, R&B, jazz, reggae and studio art finding ways to make access easier and more enjoyable for all of the Twin Cities. Their appropriately named EVENT 001 is a showcase for hip-hop/art-pop artists and DJs including Pseudoubt, Spencer Joles, Andre Mariette, Taylor Rave, DJ AndThatsBreon and Raji The One. The evening of chill tunes and even better vibes is hosted by local R&B/Neo-Soul artist @Ahhvvaah (Ava McFarlane) and sponsored by urban news source The Morning Macchiato. -Anthony Enright
Click HERE for the Facebook event page
CONTINUING THROUGH OCTOBER 4
Minnesota Renaissance Festival
@ Minnesota Renaissance Festival Grounds
12364 Chestnut Blvd
Shakopee
9 am-7 pm Friday – Sunday / All Ages / $19.95 General Admission, $89.95 Season Pass
Blacken your teeth, toast a foamy stein and kick up your petticoats because the Minnesota Renaissance Festival is back! Don't get us wrong, we love a good ol' trad-ish State Fair just like everyone else, but if there is only one Minnesota get-together you go to this year, we would heavily recommend it be the State Fair's freakshow cousin, the Ren Fest. It's impossible to not lose yourself in this quaint, medieval-themed affair. No costume is too wench-y, no Lord of the Rings knowledge too nerdy and gnawing on turkey legs the size of your head is perfectly acceptable, if not encouraged. Enjoy all the ambiance, kitsch, fashion and character flair of this lively epoch, without the risk of contracting the Black Plague. Ogle live mermaids, drink your weight in beer and gorge on bacon during the Pig N Swig event, awe at fire breathers and overload on chimera at the Fairytale Princess Party. There are 250 artisan booths for your Ren shopping needs and plenty of food and drink vendors to keep you properly liquored up. Plus, live armored jousting just like in a Knight's Tale (RIP Heath Ledger), seven themed weekends and 16 stages of live entertainment. -Juleana Enright
Click HERE for Tickets and More Information
FRIDAY, SEPTEMBER 4 – SUNDAY, SEPTEMBER 6
MetaCon
@ Hyatt Regency Minneapolis
1300 Nicollet Mall
Minneapolis
Friday 12 pm – Sunday 6 pm / All Ages / $40 full weekend registration, $30 one day pass at the door
Though there's still a long weekend of State Fair events ahead of us, all of the good little nerds have already gotten their fix of deep-fried candy bars and llamas dressed as humans in order to keep this weekend open for the 2015 annual Minneapolis Comic Con. MetaCon returns to the downtown Hyatt Regency this Friday for three days of fun and fandom. For those unfamiliar with the event, it is a truly all-encompassing celebration of all things geeky. Whether you're a sci-fi aficionado, an anime obsessor, a fantasy enthusiast, a comic book collector, or a steampunk devotee who commutes on an old-timey one-of-a-kind penny-farthing bicycle, there will be plenty of booths and events over which you can obsess. More of a casual fan of nerd media? No worries. You don't need to be hardcore to enjoy MetaCon. And the people-watching is incredible. (MetaCon is a close second to the State Fair when it comes to annual Minnesota people-watching events.) Whether you attend in full costume or just show up in your everyday duds, it's uplifting to see so many people gathered together to celebrate things that they love passionately. It's easy to get bogged down in the negativity of the day-to-day, but at MetaCon, everything is fun and flashy and hopeful. It's a shot of positivity that we could all use. -Beth Hammarlund
Click HERE for the MetaCon site
FRIDAY, SEPTEMBER 4
McKnight Poetry Fellows Reading
@ Loft Literary Center
1101 Washington Ave S Suite 200
Minneapolis
7 pm / Free
The Loft presents this evening of readings from the 2014 McKnight Fellows in Poetry, a unique opportunity to hear from some of the most unique and accomplished poetic voices in the region. Participants include Sierra DeMulder, Danez Smith, Carolyn Williams-Noren, and Sun Yung Shin each of whom is as highly accomplished in their field as they are widely differential in their approaches and subject matter. An intriguing and essential event for lovers of words and their unusual power to spellbind and illuminate. -Anthony Enright
Click HERE for the Facebook event page
FRIDAY, SEPTEMBER 4 – SUNDAY, SEPTEMBER 5
(Additional Performances Through October 18)
Annapurna
@ The Jungle Theater
2951 Lyndale Ave S
Minneapolis
Tuesdays – Thursdays at 7:30 pm, Fridays – Saturdays at 8 pm, Sundays at 2 pm & 7:30 pm / $28-$48
Annapurna premiered off-Broadway last year to good reviews, but the buzz was mostly about the husband/wife comedy dream team of Megan Mullally and Nick Offerman. If you know anything about either of these two (how could you not?) then you know they're hilarious, zany, and sharp. The Jungle Theater's production has cast Terry Hempleman and Angie Timberman, two local actors known for their similar comedic chops. The production is set around a final reckoning inside a trailer in the middle of nowhere. The off-Broadway set contained a life-size trailer cut in half like a dollhouse, and director/designer Joel Sass has recreated this trailer design — it's pretty awe-inspiring. The Jungle Theater, like many theaters in town, is in the middle of a very large transition this year as a new Artistic Director takes control of the space. While this artistic shift is reason enough to see Annapurna, the all-star team of Timberman, Hempleman, and Sass are the real reason you should be reserving your seats now. -Chase Burns
Click HERE for tickets and more information
FRIDAY, SEPTEMBER 4 – SUNDAY, SEPTEMBER 6
Four in Motion – Gadu, Justin Jones, Kaleena Miller, Pramila Vasudevan
@ Southern Theater
1420 S Washington Ave
Minneapolis
Friday at 7:30 pm, Saturday at 2 pm & 7:30 pm, Sunday at 2 pm / $24 (Free for ARTshare members)
Four pieces, four dances, four different worlds. Start with slow super-conscious Butoh (Japanese), inspired moving from Gadu in his Here Cometh the Balloon Man. He practices Subbody Butoh, what's referred to as a way of melting one's subconscious mind and body together in oneness. Gadu is a practitioner and teacher. Imagine this piece as slow, super-conscious movement including balloons. Adroit tapping and quick moves come from Kaleena Miller, part of the group Rhythmic Circus and a participant in America's Got Talent, she has also performed all around town and the world. This year she is also a Jerome Dance Fellow. Next month she will be busy as the artistic director of the upcoming Twin Cities Tap Festival. Justin Jones, is not a middleweight fighter, but a dancer who looks at the place between rehearsal and performance in his The Best Practice solo. He teaches and performs around town and was called "experimental, often multidisciplinary" by critic Camille Lefevre in 2008. Pramila Vasudevan's piece Headroom, features a dancer with a solid background in traditional Indian dance and who is known as the director of Aniccha (she choreographed beautiful pieces at Northern Spark). She will perform with Dustin Maxwell who,  to keep it all in the family, studies Butoh with Gadu, as well as teaches and dances around town. Enjoy Japanese and Indian influence, with tap and experimental all in one fell swoop in Four in Motion, the best of all possible dance worlds! -Rene Meyer-Grimberg
Click HERE for tickets and more information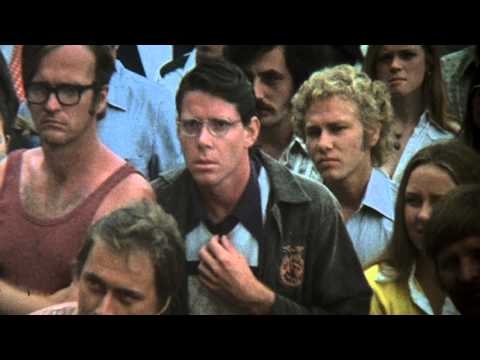 FRIDAY, SEPTEMBER 4 – SUNDAY, SEPTEMBER 6
The Blessed Profanity of Robert Altman: Nashville
@ Trylon Microcinema
3258 Minnehaha Ave S
Minneapolis
Friday and Saturday at 7 pm, Sunday at 5 pm & 8 pm / $8
Of all the various weekend retrospectives done there, few are so fit for the Trylon Microcinema as the films of the late Robert Altman. This might sound slightly oxymoronic given that his films are often big in scope, big in theme, and massive in cast (with every actor worth their salt in Hollywood clamoring to work with him). But the Trylon is the perfect venue for showing off Altman's sly satirical streak, his pioneering use of overlapping naturalistic dialogue and stylized images, and the frequently playful way he engaged the audiences of his films. Few of his films do that better than his magnum opus Nashville, screening this weekend as the opening of the Trylon's month-long retrospective. Set over the course of five days, this musical socio-political comedy of manners looks at the titular city in the grips of a political rally and its effects on every corner of the town; thanks to a massive ensemble cast that includes David Arkin, Barbara Baxley, Ned Beatty, Karen Black, Keith Carradine, Shelley Duvall, Scott Glenn, Jeff Goldblum, Barbara Harris, David Hayward, Michael Murphy, Lily Tomlin and many more. -Todd O'Dowd
Click HERE for Tickets and More Information
FRIDAY, SEPTEMBER 4 – SUNDAY, SEPTEMBER 6
Three Day International Dance Party
@ Paisley Park
7847 Audubon Rd
Chanhassen
9:30 pm each night / $40 each night
Remember earlier this summer when we talked about the streaming music arms race and how we wondered if we would "need a Tidal subscription before I can snag tickets to the next Prince show or before I head over to Paisley Park?"? Well, that day hasn't happened yet, but it's pretty close. To celebrate the release of his new album HITNRUN on Monday (which will be exclusively on Tidal), Prince is throwing a three-day late-night party. While the poster only says "Live Music," we can assume at these prices that he will be making an appearance in some form; more than likely with his current band 3rdEyeGirl (especially since Joshua Welton, the husband of 3EG drummer Hannah Welton, is co-producer of the new album). Knowing that Paisley Park parties are always full of surprises, expect anything to happen (notice the logo at the end of the flyer and also consider which musicians are in town this weekend). One thing to remember: Paisley Park is an alcohol-, camera-, and cell-phone-free environment, so plan accordingly. -Todd O'Dowd
Click here for Prince's Twitter account, which will have all the latest information about the event
FRIDAY, SEPTEMBER 4
BLVCK SPVCE w/ Finding Novyon and Nick Travae
@ Triple Rock
629 Cedar Ave S
Minneapolis
9 pm / 18 + / $7
Friday night? Trock night.  Local rap collective BLVCK SPVCE will be out in full force. RP Hooks, 1990, Niles Miller, and Connye will holding down Triple Rock's pit deep into the night. It's that last late night grind session before the weather breaks and we start turning on the sweater beats. Get in, sweat it out.  The young, talented, and always fashionable Finding Novyon will definitely be showing up with one of his notoriously high-energy sets, but honestly, the real draw here is Travae. This dude's been there, caused as much noise as possible and brought it back. Nick Travae is international, based in L.A., but from here. Get in, floor the club, flood the basement. -Preston Rogosheske
Click Here for Tickets and More Information
FRIDAY, SEPTEMBER 4
Forever Young "Back 2 School Bash"
@ First Avenue – Mainroom
701 1st Ave N
Minneapolis
9 pm Doors / 18+ / $3-8
It's Labor Day weekend, and we all know what that means. The start of school. (You may start cringing now.) Which means that you, gentle reader, have a responsibility – nay, a duty – to party like it's your last days (responsibly, of course!). And we can think of no better party than Forever Young's infamous Back 2 School Bash. Playing the best music of the TRL era, DJ's ☁ (CLOUD) and Flipstyle will be ensuring that you have the best beats of the late '90s and early '00s to shake your thing too. So get out there and dance, because we all know what happens on Tuesday… -Todd O'Dowd
Click HERE for Tickets and More Information
FRIDAY, SEPTEMBER 4
House Proud
@ Honey
205 E Hennepin Ave
Minneapolis
10 pm Doors / 21+ / $8
For the past four years, House Proud has been one of the most vital dance nights in the Twin Cities. As curated by acclaimed local DJ Bryan Gerrard and his associates, the monthly dance night has not only been a gathering of the clan in celebration of house music in all its forms, but a dazzling showcase of some of the best DJs both globally and locally in the packed intimate confines of Honey. For this edition Gerrard and fellow resident DJ Jeff Swiff welcome iconic local DJs Tybierius and Matt Moxx for an all-local start to their fourth year of the best house music in town. -Todd O'Dowd
Click HERE for the Facebook event page
SATURDAY, SEPTEMBER 5
#BloodyBash 
@ The Soap Factory
514 Second St SE
Minneapolis
Noon-4 pm: Scavenger Hunt (Meet @ The Soap Factory), 5 pm: Pick up Bloody Bash ammo, 5:30 pm: Bloody Bash, 6:30 pm: Movie & BBQ
Just because it's September doesn't mean it's too early to be spooked. The horror masterminds behind the Haunted Basement at The Soap Factory are organizing a day's worth of bloody activities for some pre-October spoopy fun. #BloodyBash is your chance to snag some free tickets to Haunted Basement and also play, eat, and get bloody. Start your Saturday by romping around the neighborhood in an afternoon Scavenger Hunt, and then meet back up around 5 pm to get ready for the #BloodyBash. Wear white and be prepared to get bloody (the perfect way to meet your fellow Twin Citians). The Soap Factory will be hosting a movie and BBQ after the #BloodyBash. -Chase Burns
Click HERE for the Facebook event page
SATURDAY, SEPTEMBER 5
Rails & Ales
@ Various Locations
Along Metro Transit Green Line
Minneapolis & St. Paul
Noon – 6 pm / Free
Seems cruel to alert you to this already Sold Out event, but take this as a reminder to get you tickets early next year. Rails & Ales is a unique brewery tour that utilizes the glory of our light rail system to (legally!) transport your increasingly tipsy self to nine awesome local breweries all within walking distance (a few blocks) of the many stops between Minneapolis and St. Paul. Throughout your self-guided light rail crawl, each brewery will offer special discounts on beer, food, and merchandise exclusively for participants. Along the way you'll find live music, special events and all the good stuff you'd expect from one of the best brew crawls around. So, yeah if you already have your ticket have fun. If not, get in on this action next year! -Anthony Enright
Click HERE for the Facebook event page
SATURDAY, SEPTEMBER 5
Spinning Stories: Grease Rag
Starting @ Cherry Cycles
1621 Harmon Pl #150B
Minneapolis
12 pm – 4pm / Free
Our fair Twin Cities are known for unique events, but there are few as unique as Spinning Stories. A moveable feast of storytelling, Spinning Stories is equal parts progressive party, performance art, and group bike ride as the audience leisurely bikes to various locales where storytellers tell their stories in the settings that they happen in. For this month's edition, they are teaming with Grease Rag Wrench & Ride to present stories centered around the struggles and triumphs of women/trans/femme identities, in keeping with Grease Rag's mission of encouraging and empowering women/trans/femme cyclists. Frankly, we can't think of a better way to spend the afternoon than exploring the Cities in a truly unique way. -Todd O'Dowd
Click HERE for the Facebook event page
SATURDAY, SEPTEMBER 5
612Brew Summer Concert #4 w/ Pornonono, AATS, Weather Maps, Tera Del, Nathan Miller, Jonny and the Palms
@ 612BREW
945 Broadway St NE
Minneapolis
4 pm / 21 + / Free
612BREW had the foresight to build an amphitheater in their backyard, obviously looking to summer festivals years ahead. Pretty smart move, as most taprooms seem to be hosting one sort of entertainment or another this year. So, all summer long they've been throwing these concerts with a wide variety of local acts spending an hour on their stage. Shows start at 4pm with Jonny and the Palms, with turn-overs every hour or so until the evening wraps up with Pornonono filling the hot August night with synthy tastiness. Tap room opens at noon if you feel like you need to get a head start. -T.A. Wardrope
Click HERE for the Facebook event page
SATURDAY, SEPTEMBER 5
2nd Annual Brit's Pub Vault Crown
@ Brit's Put
1110 Nicollet Mall
Minneapolis
7 pm / Free
Summer's not over yet, which means it's time for a pole-vaulting competition! The all-day event returns to Brit's Pub this weekend (to be held on the rooftop). The competition starts at 9:30 am, but the professionals don't start until 7 pm. While admission is free, spots for spectators will fill up fast, so audience members are encouraged to attend early — and be sure to take your shoes off! Information about the athletes can be found at britspubvault.com -Jakey Emmert
Click HERE for the Facebook event page
SATURDAY, SEPTEMBER 5
Tek & Metasota Official EP Release Party Hurry Up And Bye
@ Schmidt's Brewery Building
900 W 7th St
St Paul
8 pm / 21 + / $10
Twin Cities musicians are constantly complaining about the lack of venues we seemingly have around here, and are often times finding new spots to take up residency.  The vast expansion of local breweries have definitely helped play a role in creating stage time for artists, but the historical Schmidt's brewery is a gem all it's own. After converting the old abandoned building into artist lofts, complete with it's own club and mainroom, this St. Paul brewhouse will undoubtedly become a hub for art-forward, music-based events.  Tek and Metasota have always proven to be one step ahead of the game, and with the official collaborative album release for Hurry Up and Bye being hosted at Schmidts, this only solidifies their ingenuity. Check out this new space with us and take a peek at what's to come! -Preston Rogosheske
Click Here for More Information
SUNDAY, SEPTEMBER 6
MiX: Summer's Last Blast
@ Union Rooftop
731 Hennepin Ave S
Minneapolis
6pm Doors / 21+ / Free Admission
Of all of the dance nights out in the Twin Cities, MiX has to be one of the most insane. Taking place on the roof of Union, the long-running LGBTQ and friends dance party has been a staple of the scene for years and shows absolutely no signs of slowing down. With longtime residents DJ Shiek and Lenka Paris being joined by DJ Rich B on the beets, and tons of drink specials throughout the night, this is one of the best ways to end your summer! -Todd O'Dowd
Click HERE for the Facebook event page
SUNDAY, SEPTEMBER 6
Flip Phone presents: B-A-N-A-N-A-S w/FooLProoF
@ Honey
205 E Hennepin Ave
Minneapolis
9:30pm Doors / 21+ / $5
It's the end of summer as we know it, so feel fine and head over to Honey to dance the last day of summer away. Everyone's favorite party throwers Flip Phone will be handing the DJ reins over to FøøLPrøøF for an evening filled with remixes of Flip Phone favorites (such as the one posted above) and more. Get there early and get ready to get down, because as Ms. Stefani says, "This shit is…", well, you know. -Todd O'Dowd