Weekend What's What: 1/15-1/18
by Anthony Iverson
EDITOR: ANTHONY IVERSON / CONTRIBUTORS: TODD O'DOWD, JAHNA PÉLOQUIN, JULEANA ENRIGHT, ANTHONY ENRIGHT, JON HUNT, BETH HAMMARLUND, ALICIA NEUBAUER, MAGGIE LAMAACK, ALLISON SHILINSKI, TODD WARDROPE, SUSAN WOEHRLE, PRESTON ROGOSHESKE, RENE MEYER-GRIMBERG, GIGI BERRY, JAKEY EMMERT, MIKE JONES, EMILY CHANG, CAROLINA BORJA / HEADER IMAGE: CAROLINE ROYCE
Brace yourselves for a busy weekend of events on events on events! Whether you're attending the Walker's forum discussion on regional arts journalism or Icehouse's MPLS Beer Brucnh; First Avenue's Best Bands of 2014 or any of the Current's 10th Anniversary events, this weekend is chock full of options morning, day or night. At this rate, 2015 is shaping up to be a phenomenal year for Minneapolis/St. Paul events.
xo-l'étoile
THURSDAY, JANUARY 15 – SUNDAY, JANUARY 18
U.S. Pond Hockey Championships
Various Times – Full schedule of events available here / Free
@ Lake Nokomis
2401 E Minnehaha Pkwy
Minneapolis
The nation's largest outdoor pond hockey tournament will take place this weekend right here on Lake Nokomis. Now in its 9th year, this massive hockey tournament will once again draw crowds of bundled up Minnesotans out to play, observe and take part in a variety of hockey-related outdoor activities. In addition to 5 divisions of hockey with more than 230 hockey teams participating, the event will feature beer gardens, open skating, food and more. There's nothing more Minnesotan that watching hockey outside, so head to Nokomis and take in this spectacle for yourself. -Maggie LaMaack
Click HERE for the U.S. Pond Hockey site
THURSDAY, JANUARY 15
(On View Through February 22)
Julie Buffalohead: Coyote Dreams
@ MN Museum of American Art Project Space
Pioneer Endicott
332 Robert St N
St Paul
Gallery Hours: Thursday 11 am – 6 pm, Saturday 10 am – 4 pm, Sunday 10 am – 4 pm
Opening Reception: Thursday, January 15 /  7-8:30 pm (Members-only artist talk 6:30 pm)
Fresh off an exhibition at the Bockley Gallery, Julie Buffalohead's retro-surrealist Coyote Dreams will grace the walls of the MMAA public art space, bringing its playful, candy-colored tableaus. Her work has an allegorical feel, ripe with symbolic imagery, tantalizingly enigmatic. Buffalohead is based in Minnesota but is a registered member of the Ponica Tribe of Oklahoma. Her work uses Native narratives like that of the Coyote as trickster as well as pop-culture and European fairytale references for good measure. If you are curious to get the 411 on her work, there will be an artist talk at 6:30 pm (open to members only) on January 15 along with an evening of storytelling curated by poet Heid E. Erdrich at 7 pm followed by a puppet show featuring In the Heart of the Beast Puppet and Mask Theatre, open to the public -Susan Woehrle
Click HERE for More Information
THURSDAY, JANUARY 15
Paige Dansinger: Vases of Flowers
@ Woman's Club of Minneapolis
410 Oak Groove St
Minneapolis
5:30-7 pm / Free
Vases of Flowers is the new exhibition at the Woman's Club of Minneapolis. We encourage you to come and see this-one of a kind selection of well-thought paintings, but we have to say, Paige Dansinger is quite a piece of art herself. Dansinger is as brilliant, colorful, deep, humorous and unique as contemporary art gets. The creator of the #DrawArt app and owner of Gallery Paige in Downtown Minneapolis has worked with the Guggenheim Museum in NY and exhibited in SooVac, along with her recent window display for the Made Here series, to name a few. Stop by opening night and witness yourself an art history-informed approach on working with digital arts. -Carolina Borja
Click HERE for more information.
THURSDAY, JANUARY 15
Third Thursday: #BDAYMIA and Exhibition Openings of "Inventory" and "Inverse Echo"
@ Minneapolis Institute of Arts
2400 3rd Ave S
Minneapolis
6-9 pm / All Ages / Free
The Minneapolis Institute Of Arts may not look a day over 27, but come celebrate its 100th birthday this Thursday night! With music from psychedelic pop master and local favorite Rupert Angeleyes, a make-your-own pop-up birthday card station, and a confetti photo booth, this is sure to be one of the most festive birthday celebrations you've ever attended. While you're there, be sure to check out the openings of "Inverse Echo" and "Inventory" from artists Jonathan Kaiser and Carolyn Swiszcz. Kaiser's installation is a sculptural spatial sonic sound experience. Featuring custom records on continuous loops and by varying the playback speeds, "Inverse Echo" explores time and space through sound. Swiszcz's exhibition features paintings and linoleum prints of St. Paul landmarks, three short films, as well as sculptures from the films. "Inventory" is the first installment of a long-term art project that she will continue to develop in the coming years. It's pretty incredible that Thursday's affair includes three events for the price of one, especially once you remember that this is the MIA, so that price is $0. -Beth Hammarlund
Click HERE for More Information
THURSDAY, JANUARY 15 – SATURDAY, JANUARY 17
Out There 2015: CAMPO / Pieter Ampe and Guilherme Garrido – Still Standing You
@ Walker Art Center – McGuire Theater
1750 Hennepin Ave
Minneapolis
8 pm / $20-25
The month of January has always been a lull in the performance arts calendar in the Twin Cities, as most of the local companies are in rehearsal for their projects that are coming in the spring. Thankfully the Walker has returned with Out There; their 27th annual examination of global performance. Bringing a dazzling lineup of the most exciting theater makers in the world to Minneapolis, this month-long festival features four different shows that push the boundaries of performance to the extremes. This year's festival continues with the acclaimed dance duo CAMPO (Pieter Ampe and Guilherme Garrido) in their new two-man work. Examining the boundraries of male relationships from friendship to lovers to enemies and more, Still Standing You features Ampe and Garrido's often violent and playful choreography that is startling, shocking, and often infused with slapstick humor. Word to the wise: Get your tickets quickly as the entire Out There festival is one of the hottest tickets in town. -Todd O'Dowd
Click HERE for Tickets and More Information
THURSDAY, JANUARY 15
The Walker People's Archive Revue
@ Walker Art Center
1750 Hennepin Ave
Minneapolis
7 pm
Ever wanted your work in a world-renowned art museum? Now's your chance! Those with interesting visual artifacts, like photos, from their foray through the strange and wonderful place that is the Walker Art Center are encouraged to submit them here. Dylan Hicks will be the MC for an evening of festivities celebrating the rich 75-year history of this storied art place. Drawing on this Walker People's Archive—legendary Minneapolis-based musician and writer Dylan Hicks will be joined onstage by actors Lara Blackwood Avery, Bill Schoppert, and Jenny Adams Salmela as well as singer Jayanthi Kyle and bassist Jeffrey Sugerman. Together they will take us on a magical journey through fact and fiction, music and community theater! This lounge-act cum slideshow is not one that any true art aficionado will want to miss. -Susan Woehrle
Click HERE for More Information
THURSDAY, JANUARY 15 – SATURDAY, JANUARY 17
The Most Dangerous Game
@ Bedlam Theatre
213 E 4th St
St. Paul
8 pm / $10, $9 Students and with Fringe Festival Button
Richard Connell's famous short story "The Most Dangerous Game" has been cultural fodder ever since it was published in 1924. Inspiring various movies and other adaptations, it finally comes to Bedlam Theatre in a humorous riff on the classic story of a big game hunter getting shipwrecked on an island where he becomes the prey of another hunter. It helps that the production features a rollicking ensemble that can deliver the laughs (including Joey Hamburger, Michael Hugh Torsch, Iris Page, Brian Grossman, Currant Somers, Matt McGuire and Rob Goetzke).  -Todd O'Dowd
Click HERE for Tickets and More Information
THURSDAY, JANUARY 15 – SATURDAY, JANUARY 18
(Closing Weekend)
The Misanthrope
@ Bryant Lake Bowl
810 W Lake St
Minneapolis
7 pm Thursdays, 10 pm Friday & Saturday / $10-15 sliding scale
French theatre in the 17th century (and in particular the works of the playwright Molière) was all about skewering and satirizing the notions of propriety, one's place in society, and the hypocrisy of the aristocracy. The best example of of this would be The Misanthrope, a witty verse comedy about staying true to yourself — for better or worse — in the face of "polite" society. Director Adrian Balbontin's production opening at the Bryant Lake Bowl resets the action from the social conventions of the French salons to the cutthroat fashion scene of modern-day New York where the irritable designer Alceste (Sam Pearson) fights for status and love. In this small intimate space, with this exciting cast (which also features Devon Cox, Nathan Gebhard, Pegeen Lamb, and a cameo by our own Todd O'Dowd), The Misanthrope is a hilariously cynical couplet comedy of mis-manners. -Rene Meyer-Grimberg
Click HERE for Tickets and More Information
THURSDAY, JANUARY 15 – SUNDAY, JANUARY 18
(Closing Weekend)
2 Sugars, Room For Cream
@ Park Square Theatre – Andy Boss Thrust Stage
Hamm Building – Lower Level
20 W 7th Place
St Paul
7:30 pm Thursdays – Saturdays, 2 pm Saturday & Sunday / $38-58
There are several great things about the new Andy Boss Thrust Stage at Park Square Theatre. While allowing Park Square to produce more shows and serve as new stage for resident companies, the space has also allowed other companies in town to remount shows that should be seen again. A prime example of this is the remount of Shanan Custer and Carolyn Pool's IVEY-winning paean to the joys of coffee, wine, and friendship. Given the fact that it's created and performed by two of the best actresses in the Twin Cities, 2 Sugars, Room For Cream is a perfect way to start your theatre going in 2015. -Todd O'Dowd
Click HERE for Tickets and More Information
THURSDAY, JANUARY 15
Film 4M presents Gigot
@ Black Forest Inn
1 E 26th St
Minneapolis
7 pm / All Ages / Free (Suggested Donation $5)
This Thursday night, consider warming up with a hearty meal at the Black Forest Inn, then warm your soul with a free screening of Jackie Gleason's touching screwball comedy, Gigot. Okay, to be fair, a lot of critics hated Gigot, but there's a good chance that their hearts were made of stone. It was Gleason's big sentimental moment, an idea that he nurtured for years. The Gene Kelly-directed fable tells the tale of Gigot, a mute and misunderstood Frenchman who is beloved by children and animals, but who disgusts and annoys adults. In his typical compassionate fashion, Gigot takes in an ill woman and her young daughter, with whom he forms a close friendship. Sure, there's a lot of cheese here, but watching Gleason silently act out the story of Christ for the little girl is both befuddling and moving, and his constant desire to keep her safe (including a famous scene in which he runs alongside her while she rides a merry-go-round) could make even the Grinch's heart grow three sizes. It's a muse-see for anyone who enjoys physical comedy and appreciates Mr. Gleason. -Beth Hammarlund
Click HERE for the Facebook Event Page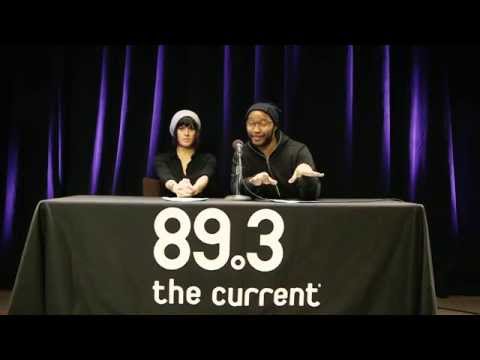 THURSDAY, JANUARY 15 – SATURDAY, JANUARY 24 
89.3 The Current's 10th Anniversary Celebration
@ Various venues throughout the Twin Cities
Varying times /  Varying prices – Click HERE for Times and Details
It's hard to believe, but 89.3 The Current is turning 10 years old, and to celebrate they will be doing their version of the Doomtree Blowout with ten days of events all around the cities. It all starts this weekend and rolls over on through to the next by ending with what The Current has always done: two already sold out shows inside First Avenue's mainroom. Not to worry if you haven't gotten your tickets, there are tons more opportunities to get on over the next week. To start it all off on Thursday, one of our favorite folk bands, the sister duo The Ericksons, will be performing live for the morning broadcast of The Current's Coffee Break in the public forum at MPR.  It's free with an RSVP, and will be sporting Glam Doll Donuts for your morning sugar high and Peace Coffee for that caffeine fix. Later that evening the Amsterdam Bar in St. Paul will play host to the Policy and a Pint series, covering city transportation entitled Buses, Bikes, and Beyond. Friday morning, The Current DJ's will be shopping at the Electric Fetus, where a photo contest is being held for a shopping spree inside the store.  Friday night the Turf Club will host a the release of a 10″ vinyl created by The Current that features in-studio performances from the Hold Steady and the Suicide Commandos. The Suicide Commandos featuring Craig Finn and Tad Kubler of the Hold Steady and L'Assassins will be taking to the Turf's stage for this sold out event. As Mark Wheat heads to Rochester, the Turf Club will host another Current event. Being dubbed the Sound Check party, Hamilton Leithauser of The Walkman will perform later in the evening. From winter tubing, to private concerts at bowling alleys, to screenings of Purple Rain at the Fitz, to karaoke with P.O.S.'s mom, the events leading up to the final sold out shows at First Ave are all about celebrating not only the local talent we have here in the Twin Cities, but to realize what wonderful things having such a strong community surrounding our larger broadcasting companies can bring out in a city. -Preston Rogosheske
Click HERE for Tickets and More Information
THURSDAY, JANUARY 15
Zola Jesus with Deradoorian
@ Cedar Cultural Center
416 Cedar Ave S
Minneapolis
7 pm / All Ages / $15
Singer-songwriter Zola Jesus visits Minneapolis in support of her October 2014 release, Taiga. The experimental pop artist blends electronic, goth, and experimental rock sounds to bring something totally unique to fans and critics alike. She has released several albums and extended plays since her debut in 2008 and her sound has only evolved since then. On her latest release she shares some of her strongest songs to date like the incredibly infectious "Dangerous Days," dark and broody "Ego," and R&B/rock ballad "Lawless." If you're a fan of Lykke Li, Grimes, Purity Ring or Chvrches, consider this show. She will be joined by Northern California multi-instrumentalist, singer, and songwriter Deradoorian on this visit so don't miss Zola Jesus for this intimate performance at The Cedar! -Gigi Berry
Click HERE for Tickets and More Information
THURSDAY, JANUARY 15
Tartu Popi ja Roki Instituut w/Basement Apartment and The Starfolk
@ 7th St Entry
701 1st Ave N
Minneapolis
8 pm / 18+ / $8
This is one of those shows that make living in this sub-Martian climate worth it. You've got an Estonia psych pop band that references a variety of sounds without taking too much from any one of them. They've also got eight members, so there's a lot of room to stretch the sonics out. Local folks Basement Apartment have three fewer members, but they somehow match Tartu Popi ja Roki Instituut in energy and scope. The Starfolk are all local stars in their own rights, but here they perform "chamber pop". This music is subtle, pleasant and borders on lullaby at times. This all might wisk you off to dreamland, but you won't be sleeping. -Todd Wardrope
Click HERE for Tickets and More Information
FRIDAY, JANUARY 16
(On View Through February 14)
Private Myths: New works by Christopher Saint Christopher Opening
@ White Page Gallery
3109 42nd St E
Minneapolis
7-10 pm /  Monday, Thursday, Saturday & Sunday 1 pm – 5 p / Through February 14th / Free
The White Page gallery has been collectively-run since its inception a couple years ago. Their new focus is artist Christopher Saint Christopher, who has hand-dyed and cut a collection of new pieces during his recent residency there. His artistic vernacular is based on his own deeply personal mythology that nevertheless resonates in a universal way. A Joseph Campbell's Hero of a Thousand Faces way. The human faces in his elaborate paper-cuts are mixed with bestial elements, hearkening back to our most primal instincts and storytelling. -Susan Woehrle
Click HERE for more information.
FRIDAY, JANUARY 16
(On View Through February 14)
Exploring Composition Epistemologies
@ Midway Contemporary Art
527 2nd Ave SE
Minneapolis
Artist talk January 16 at 7 pm / Free
This is one big project we should keep our eyes on for the next four weeks. We don't have to say how fond we are about experimentation and cross-disciplinary art to reassure this series has a pack of great events exploring this alley. This week's event consists on an artist talk by Jeff Hoff followed by his performance of Blaster, which made it on the Rolling Stone's 20 Best Avant Albums of 2014. This Brooklyn based artist will have you end your week in the perfect way, while computer viruses become contemporary art as you beat into your coolest weekend ever. -Carolina Borja
Click HERE for More Information
FRIDAY, JANUARY 16 – SUNDAY, JANUARY 18
(Additional Performances Through January 25)
Loudmouth Collective presents A Bright New Boise
@ Open Eye Figure Theatre
506 East 24th St
Minneapolis
8 pm / $10-15, Pay what you can January 19
Looks like we are having a Samuel D. Hunter wave in the Twin Cities; on the heels of Walking Shadow's production of his acclaimed play The Whale, comes Loudmouth Collective with the area premiere of his 2011 Obie-winning play A Bright New Boise. In this show, issues surrounding adolescence, Christianity, and parenting are woven into a plot in a Hobby Lobby store (that bastion of Jesus rights), the employees, and the rapture. Known for "unfiltered, succinct & ballsy performances" (as they proved with their hit production of Kitty Kitty Kitty at last year's Fringe Festival), the company will do this material justice; especially with director Natalie Novacek at the helm and featuring Zach Garcia, Anna Hickey, Spencer Levin, Adam Whisner and Karen Wiese-Thompson in the cast. This dark comedy delivers the sacred and profane on a platter for the judgment day. Sometimes it seems the rapture just might not be coming, but don't try telling these characters. –Rene Meyer-Grimberg
Click HERE for Tickets and More Information
FRIDAY, JANUARY 16 – SUNDAY, JANUARY 18
(In Previews – Additional Performances Through February 15)
The Color Purple
@ Park Square Theatre – Main Stage
Hamm Building – Main Level
20 W 7th Place
St Paul
8 pm / $10, $9 Students and with Fringe Festival Button
Among the many coups that Park Square Theatre has pulled off this season (expanding its number of shows produced and its audience base, opening a second stage, entering into producing partnerships with other theatre companies, etc.) one of the biggest was landing the rights to the first local production of Marsha Norman, Brenda Russell, Allee Willis, and Stephen Bray's musical adaptation of Alice Walker's Pulitzer Prize-winning novel and Steven Spielberg's Oscar-nominated film version of the novel; especially since it's rumored to be returning to Broadway this spring. While the story of Celie's three-decade journey to a place of love and happines is sprawling to say the least, the musical is a joyous theatrical experience. And for its first local production Park Square has assembled an impressive ensemble onstage (with Aimee K. Bryant as Celie and featuring T. Mychael Rambo, Regina Marie Williams, Thomasina Petrus, Dennis Spears, Ginger Commodore, and more) and offstage (director and choreographer Lewis E. Whitlock III, music directors Gary D. Hines and Denise Prosek, etc.); yet another reason why this is one of the most eagerly-awaited productions of the Twin Cities theatre season. -Todd O'Dowd
Click HERE for Tickets and More Information
FRIDAY, JANUARY 16
12 Rods Reunion Show
@ First Avenue
701 1st Ave N
Minneapolis
8 pm / 18+ / $20
The first time I saw 12 Rods live it was something like sucking in a chest full of fresh air after a night at a casino. The local scene was drowning in guitar schlubbiness and it seemed like it was all descending into self-parody. Then these guys lit everything up with a high-energy sci-fi sound that was not to be heard anywhere else. So, here we are many years later and Justin Vernon's Chigliak Records is re-releasing the final studio album that is appropriately titled "Lost Time". It's impossible they planned it this way, right? Right? -Todd Wardrope
Click HERE for Tickets and More Information
FRIDAY, JANUARY 16
Fleetwood Mac
@ Xcel Energy Center
199 Kellog Blvd
St Paul
8 pm / All Ages / Various Prices
Do I even need to tell you how great the Mac are? Do I? If you somehow live under a cave or are the last person in the universe to not accept their amazingness, lemme just tell you: it's a band with three (THREE) world-class top-of-the-line songwriters — and you bet I'm including Stevie Nicks in that list. Plus, for this tour, Christine McVie has returned to the fold and by all reports she is sounding astonishing. Go sit down with Rumours and tell me it's not the finest, most solid record of that entire decade. Go on. I dare you. I will fight you. -Jon Hunt
FRIDAY, JANUARY 16
White Boyfriend Album Release  w/Fort Wilson Riot, Yoni Yum, Lott, and DJ Minnie Blanco
@ 7th St Entry
701 1st Ave N
Minneapolis
9 pm / 18+ / $5
White Boyfriend has quickly become a favorited project of ours, headed by three young musicians far too matured, witty and weird for their own good. So we celebrate their unique perspectives, and this Friday, we will finally be able to get our hands on their work in physical form.  White Boyfriend has announced that the name of their project will actually be taking a change, which may or may not be decided by audience participation.  They're breaking up with their boyfriends, and we'll all be front row.  Sound Gallery recording mates Fort Wilson Riot will be sharing the stage, along with Yoni Yum, and another new favorite of ours, the new Homestead Records project by We Are The Willow's violinist Leah Ottman, LOTT. Five bones people. If you're free, this is where you should be. -Preston Rogosheske
Click HERE for Tickets and More Information
FRIDAY, JANUARY 16
Anonymous Choir sings STAX w/ The Ventures Cover Band
@ Icehous
2528 Nicollet Ave S
Minneapolis
11 pm / 21+ / $8 advance, $10 door
The talented Nona Marie (Dark Dark Dark, RONiiA) returns to the Icehouse stage with The Ventures Cover Band for the second time this year, this time joined by her ethereal, all-lady amassment of background singers, Anonymous Choir. For tonight's showcase, the choir performs their favorites from the vaults of Motown Records' 60's/70's label rival STAX, whose sound was synonymous with Southern and Memphis soul, gospel, funk, blues and jazz. Be prepared to hear sultry, soul jams from Otis Redding, Rufus Thomas, William Bell, Booker T. and the M.G.'s and more. After the choir sings, stick around as the rhythm section stays to play the surf rock classics that brought The Ventures fame, à la "Wipe Out" and "Tequila." (Photo: Anonymous Choir) -Juleana Enright
Click HERE for Tickets and More Information
FRIDAY, JANUARY 16
SiKPiN Presents: Dirty Rotten All Stars (SD), Old Towne Ghosts, ZERO, and SUDAKA
@ Hexagon Bar
2600 27h Ave S
Minneapolis
9 pm / 21+ / Free
South Dakota's main exports include: banksters, airmen, fat dudes on Harleys, and the Dirty Rotten All-Stars. You know the drill, son: fast, loud, drunken, dirty, gluey, Sioux Falls punk rock. Niah Bourbon, Adam Wantadollar, Gary Graceless, and Johnny Gin play punkrock instruments to punk rock songs and do punk rock dances in punk rock venues. Before that ruckus we got Mankato's classiest Old Towne Ghosts (the 'e' in 'Towne' makes them 26% classier). Kelly Quinn screams that music awesome abrasive loud, and Kortas, Jason Knudson, and Joe Vampire hit and strum things behind her. Also performing are Minneapolis punks Zero and Argentinian-Minneapolitan low-lofi 77 style punk Sudaka. Mr. Goat assures me that this show will be a rager. -Mike Jones
Click HERE for More Information
FRIDAY, JANUARY 16
Chicago Afrobeat Project w/ Hotpants
@ Nomad World Pub
501 Cedar Ave
Minneapolis
9 pm / 21+ / $10
Chicago Afrobeat Project is super badass. Dunno, do you dig the afrobeat sound? The crazy, psychedelic, horn-filled multi-rhythmic skittering sound? You should if you don't, and these guys do a damn good rendition of it, a kind of Americanized hip-hop-informed version of it which sounds pretty forward-thinking, actually. They're super tight players, too — amazing horns, unbelievable keyboards, amazing drum shuffles, the whole thing. It's great great great. Hotpants, of course, our very own, spinning amazing deep soul cuts. The whole night seems like a hell of a deal, and the Nomad is a pretty alright venue besides. -Jon Hunt
Click HERE for Tickets and More Information
FRIDAY, JANUARY 16
MN Heavy Hitters
@ Club Underground
355 Monroe St NE
Minneapolis
9 pm / 21+ / $10
This is essentially going to be the first serious showcase of local rap and hip hop forces in 2015, between Uncle J Entertainment, Long Doe Records, Big Jess Music, and Tha Bassmint Entertainment. Some notables being Carnage the Executioner, Big Wiz , AquaFresh, Big Jess, Ken-C and JuJu, Renegade, Taylor J Takeover, and King Fuvi. If you are new to being exposed to some of the local hip hop scenes, this is going to be a good place for you to get that exposure.  Collectively, the forces behind this event come together with over a decade in the game. – Preston Rogosheske
Click HERE for Tickets and More Information 
FRIDAY, JANUARY 16
DO YOU! Dance Party
@ Honey
205 E Hennepin Ave
Minneapolis
10 pm / 21+ / $5
Every third Friday for the last three years has been dedicated to doin' you, so if you've never experienced this one of a kind dance party consider making DJs Bach & Kenigan's DO YOU! Dance Party when they take over Honey on Friday night. They'll be playing '90s hip-hop, R&B, chart toppers and booty jams all night. It's been super cold the past few nights in our fair city and it's time to warm up with a super hot dance party! This is one dance party you don't want to miss, so head down to Honey and DO YOU! -Gigi Berry
Click HERE for the Facebook Event Page
SATURDAY, JANUARY 17
4 x Forum: Everywhere Is Local Online
@ Walker Art Center – Star Tribune Foundation Art Lab
1750 Hennepin Ave
Minneapolis
1 pm / Free
Hear a well-informed panel at the Walker Art Center volley different perspectives back and forth on the most intriguing and relevant topics in Minneapolis' cultural scene this Saturday. Part of MN Artists' new program series titled 4 x Forum, this weekend's panel consists of AM 950's Julia Nekessa Opoti, director of Minnesota Playlist Alan Berks, The Current's Andrea Swensson, and University of Minnesota professor Christina Schmid, who will discuss what regional arts journalism really means when it's only published online, which consists of both stateside and international audiences. Susannah Schouweiler moderates this talk, which begins at 1 pm. -Emily Chang
Click HERE for More Information
SATURDAY, JANUARY 17

#MPLS Beer Brunch
@ Icehouse
2528 Nicollet Ave S
Minneapolis
11 am-3 pm / $65
Super-fancy brunch, beer and badass local music at one of the best venues in town? Count us in. This weekend at Icehouse you can nosh on a multi-course meal created by Chef Matthew Bickford paired with some of the the best of the local brews while enjoying live music from Gabriel Douglas & Friends. You'll be tasting beers from Fulton Brewery, Indeed Brewing & Surly Brewing paired with matching dishs. The $65 cost includes tax, tip and a cocktail featuring Norseman Distillery spirits, so while a bit pricy for brunch it's actually a good value. -Anthony Enright
SATURDAY, JANUARY 17 – SUNDAY, JANUARY 25

Bloomington Winter Fete
@ Various Locations
Bloomington
Times Vary / Free
Trust Minnesotans to make the very best of cold weather, and while of late it's been a bit too chilly for even the heartiest Minnesotans, the weather for the next few days is predicted to be much more manageable. So take advantage of the milder temps in lovely Bloomington for their action packed Winter Fete. The fun starts on Saturday with Minnesota Hockey Day at Running Park (9501 12th Avenue South) where cute little mite teams battle it out for hockey supremacy. The fun continues throughout the week with a fat bike race, ice gardens, Nordic ski jumping, broom ball tournaments, and an Ice Harvest Festival. The vast majority of the events are free and there really is something for everyone, so grab some of your winter loving buds and truck on down to Bloomington for a week of winter fun. -Anthony Enright
Click HERE for More Information
SATURDAY, JANUARY 17
Lake Harriet Winter Kite Festival
@ Lake Harriet near the Bandshell
4135 W. Lake Harriet Parkway
Minneapolis
Noon-4 pm / Free
This Saturday, kites of all sizes, shapes, colors and themes will take to the skies in the 13th annual Lake Harriet Winter Kite Festival. Whether you're looking for a nice place to take a walk, or you want to bring your own kite and get in on the action, Minnesota Kite Society experts will be on hand to demonstrate their skills maneuvering kites throughout the day, and will offer their expertise to kite flying enthusiasts and to those who are new to the pastime. Kites will be for sale on site, and for those who need a break from all that looking up, Tips Outdoors will be providing ice fishing lessons and safety tips with equipment and permits for children provided. -Maggie LaMaack
Click HERE for More Information
SATURDAY, JANUARY 17
Victor Yepez Art Opening
@ Showroom
615 W Lake St
Minneapolis
5-8 pm / Free
Mixed media and sculpture artist Victor Yepez will be making an appearance at Showroom this Saturday from 5-8 pm for his newest art opening. Public art, bright colors, and the healing properties of art are all forces that drive his opus. Mixing metals and found objects, the Ecuador-born Yepez' work has significant connections back to his hometown, Quito. Join him and his globally-inspired art on Saturday, along with sips and small bites. -Emily Chang
Click HERE for More Information
SATURDAY, JANUARY 17
Betsy Ruth Byers: Indeterminate Present
@ Kolman & Pryor Gallery
7-10 pm / Free
Thinking about viewing abstract painting in the Twin Cities? Then this is your cup of tea! Betsy Ruth Byers has the most delightful pieces. They are bright and texturized and experimental and balanced, yet intriguing, and all the things you might wish for when thinking about abstract works. Kolman & Pryor is one of our prestigious galleries in NE Minneapolis and they are pairing this opening on a Northrup King Nights, which converts your night out into a multiple studio visit with the cherry on top experience. -Carolina Borja
Click HERE for More Information
SATURDAY, JANUARY 17 – SUNDAY, JANUARY 18
In Case of No Emergency: The Films of Ruben Östlund
@ Walker Art Center – Walker Cinema
1750 Hennepin Ave
Minneapolis
2 pm Saturday Involuntary (De ofrivilliga)
7:30 pm Saturday Play and Filmmaker Q&A
2 pm Sunday Force Majeure and Filmmaker Q&A with Dennis Lim / $7-9
Ruban Östlund 's Play was one of the most memorable 2011 film festival movies on the circuit. Following a group of tweens, it confronts the viewer's understanding of racial profiling, bullying and childish maneuvering as the plot twists and turns moving towards an ending that will have you squirming in your seat. Involuntary (De ofrivilliga) weaves five storylines into an analysis of group pressure across a diverse cross-section people. This mini-retrospective of three feature films is supported by the Swedish Embassy gives you the chance to see these earlier films as well as his more widely circulated Force Majeure (which won a Jury prize last year at Cannes). The latest film examines the aftermath of a father's decision to abandon his family as an avalanche approaches. Each film aims to force the audience to be both active and reflective as they watch. The best part of this series is that the filmmaker will be present twice — Saturday after the 7:30 pm presentation of Play and Sunday after Force Majeure with Dennis Lim, director of programming at the Film Society of Lincoln Center (where the films are also being shown this week). Hold on to your seats, even if this ride is in your head, this is the best of Swedish tragi-psycho-comedy. -Rene Meyer-Grimberg
Click HERE for Tickets and More Information
SATURDAY, JANUARY 17 – SUNDAY, JANUARY 18
(Additional Performances Through February 21)
Swandive Theatre presents Defying Gravity
@ The Southern Theater
1420 Washington Ave S
Minneapolis
7:30 pm Tuesdays – Saturdays, 2 pm Sundays (Running In Repertory) / $24
After years of being lost in the wilderness of restructuring, The Southern Theater came out swinging with its ARTshare program; taking the Netflix subscription program and applying it to theatre. It also helps that they managed to get a jaw-dropping list of local companies to join in (including ARENA Dances, Live Action Set, Sandbox Theatre, and more). To start the great ARTshare experiment, Swandive Theatre opens the 2015 season with playwright Jane Anderson's freeform look at the 1986 Challenger mission disaster as seen through the point of view of Christa McAuliffe, the teacher who died with the six other crew members. Using the memories and impressions of Claude Monet, a NASA mechanic, a bartender, a retired couple, McAuliffe, and her grieving daughter, the new work uses the free form structure (and a thrilling ensemble featuring David Coral, Bryan Grosso, James Lekvin, Roneet Aliza Rahamim, Erin Roberts, Maggie Scanlan and Lacey Anne Zeiler directed by Meg DiSciorio and Damon Runnals) to escape from the limitations of earth-bound reality to reach for something beyond ourselves. -Todd O'Dowd
Click HERE for Tickets and More Information
SATURDAY, JANUARY 17 – MONDAY, JANUARY 19
The 55454 Series: Pilgrims Musa and Sheri In The New World
@ Mixed Blood Theatre
1501 S 4th St
Minneapolis
7:30 pm Saturday & Monday, 2 pm Sunday / $20
Given its work on and advocacy for racial parity in all aspects of the theatre, it's surprising that Mixed Blood Theatre is finally getting around to doing something like The 55454 Series. Inspired by the theatre's setting in the West Bank neighborhood of Minneapolis, the new series of plays is a showcase of works by, by, about, for, and with Africans and Muslims in America. Kicking off the series is the local premiere of  Yussef El Guindi's award winning romantic comedy about a Muslim immigrant, the American Muslim he is arranged to be married with, and the white American non-Muslim woman he has fallen in love with. -Todd O'Dowd
Click HERE for Tickets and More Information
SATURDAY, JANUARY 17
Siberia
@ The Saloon
830 Hennepin Ave
Minneapolis
9 pm / 21+ / $10
The talents of Justen Pohl's Enticing Entertainment are behind this ambitiously festive event Saturday night. Enticing Entertainment is providing aerialists, dancers (including Rich Pendleton, pictured), a plunge tank and more. DJ Rich B will spin in the main room while DJ Stephen Wayne will be the highlight of the fire bar, with chilly drink specials being poured all night long. Partygoers are encouraged to bust out their vintage fur coats or anything winter-themed. Think of the money you'll save on coat check! And speaking of money, 100 percent of proceeds will go to the Russia Freedom Fund, which responds to Russian state-sponsored discrimination. This is a story that keeps on getting bigger and bigger, as just last week they announced in Russia that if you have a "sexual disorder" you can't drive. We wish we were making that up. -Jakey Emmert
Click HERE for the Facebook Event Page and HERE for the Russia Freedom Fund
Mystery Date LP Release w/ Teenage Strangler, Vats
@ Eagles Club 34
2507 E 25th St
Minneapolis
9 pm / 21+ / $5
There are quite a few big deal shows happening this weekend, so you might feel a bit overwhelmed with rock and roll history or the strange confidence that recognition can bring an indie band. You might feel the need to check out a good old fashioned, down and dirty Eagles Club show. You are in luck! Mystery Date are celebrating the release of "New Noir" on Pinata Records with a live gig. Some people call it a "mod opus" but it sounds like high school rebellion to me. Teenage Strangler make me wonder if they aren't the Lemonheads shadow doppelgänger, not necessarily evil, but less prone to frolicking. VATS are in the neighborhood of old school Husker Du, but with more high end pretty sounds. -Todd Wardrope
Click HERE for More Information
SATURDAY, JANUARY 17
First Avenue's Best New Bands of 2014 feat. Hippo Campus, PaviElle, Sam Cassidy, Tiny Deaths, Warey, and Zuluzuluu
@ First Avenue
701 1st Ave N
Minneapolis
7 pm / 18+ / $7
It's that time of year once again: time for First Avenue to gather the best new artist of the last year. And there was a LOT to love from 2014, so rounding up the nominees to play a night of music in the Mainroom is going to be a great experience in itself. First in the lineup are young locals Hippo Campus and their brand of pretty, Vampire Weekend-esque indie-rock-pop. Joining them is neo-soul songstress PaviElle, experimental hip-hop group Zuluzuluu led by local rapper Greg Grease, songwriter Sam Cassidy, "post gender guitar freak" Suzie, dark electropop outfit Tiny Deaths featuring Grant Cutler (of Lookbook) and Claire de Lune (of The Chalice), and Channy Leaneagh of Poliça's new project Warey. The whole night is hosted by The Current's own DJ David Campbell, DJ on the former K-Twin Jason Nagel, and Mary Scott and Aaron Bolton of Radio-K. Who will be the best new act of 2014? Only time will tell, but before the unveiling, you'll want to catch each and every act in this lineup no matter what the vote outcome is! -Alicia Neubauer
Click HERE for Tickets and More Information
SATURDAY, JANUARY 17
Just a Taste
@ The Dakota
1010 Nicollet Mall
Minneapolis
11 pm / $7
Come to this monthly late-night hip-hop concert series which features a variety of upcoming Twin Cities artists. Curated by brilyahnt peace and performance artist I.B.E., this month includes I.B.E. and the Cavalry with live music, southside rapper Manny Phesto, R&B and soul by Margeaux Davis, DJing by Benzilla, and poetry from Koo Keem. Come stay out late and see what some local artists of color from varying media have to offer.-Mike Jones
Click HERE for More Information
SATURDAY, JANUARY 17
Hamilton Leithauser
@ Turf Club
1601 University Ave
St Paul
8 pm / 21+ / $15
The name Hamilton Leithauser may sound like a guy who grew up on a yacht in Martha's Vineyard, but you may actually recognize his voice and name as the frontman of The Walkmen. The band went on an "extreme hiatus" fairly recently, and Leithauser has soldiered on as a solo artist, coming out with the superb full-length release Black Hours last summer. The unique warble of Leithauser is undeniable and still very Walkmen-esque; however, his new music has a more jazzy, pop feel which is almost danceable (see: "Alexandra"). Joining Leithauser is Bully, a Nashville quartet who make an awesome compliment to Leithauser's sound with their bristling indie grunge-punk. Do you miss The Walkmen? never got to see them? Just love Leithauser's voice? Then Saturday at the Turf is going to be your best bet, friend, so grab your ticket! -Alicia Neubauer
Click HERE for more information from First Ave
SATURDAY, JANUARY 17
bloodnstuff w/Zebulon Pike, and Hardcore Crayons
@ Triple Rock Social Club
629 Cedar Ave S
Minneapolis
9 pm / 18+ / $8 advance, $10 doors
Quick experiment for the uninitiated: listen to Minneapolis rock band bloodnstuff (here's a sample video!). Tell us how many musicians you hear. Four? Three?! Nay, there are two musicians in the band: Ed Holmberg sings and plays guitar, and Dylan Gouert plays percussion. What's more is that everything is created live without looping. Not only is that an ambituous creative method, but it's a practical one, as a live show will sound much like their recorded self-titled LP. Performing before them is Minneapolis instrumental hard rock band Zebulon Pike. They are grungy like the Melvins, and sometimes a little more uptempo like Metallica, but always impressive. Starting out the night is dub-infused progrock trio Hardcore Crayons. -Mike Jones
Click HERE for Tickets and More Information
SATURDAY, JANUARY 17
TAWST
@ Club Jager
923 Washington Ave
Minneapolis
10 pm / 21+ / $5
This Saturday night at Club Jager marks part III for the duo dance party with DJ Shannon Blowtorch and Sophia Eris of GRRRL PRTY. This new residency's breakout in the club back in November gave us a taste of what's to come. Expect much of the same high intensity, party anthem vibes, and heavy mashups of throwback pop R&B hooks that keep the energy high.  These sets are made to break your back, stretch your legs, and pop your glutes. Come join and go hard, or step back. Simple as that. -Preston Rogosheske
Click here for the Facebook Event Page
Click Here for Juleana Enright's interview with GRRRL PRTY
SUNDAY, JANUARY 18
Palmer's MLK Eve Party feat. Cadillac Kolstad
@ Palmer's Bar
500 Cedar Ave S
Minneapolis
9 pm / 21+ / Free
So I could be cynical and say "wow, interesting that we have an MLK celebration with no actual black folks," but Cadillac Kolstad is so god-damn amazing that I will not. Instead I will just point out that the guy's blues piano is totally reverent to the source material, totally authentic, the real deal for sure. I get mad when people say that music "isn't about race" but sometimes it isn't — you play what you play, you play what you love, and if your'e good, you're good. And he's definitely really good, a kind of combo of Jerry Lee Lewis and Leadbelly or something. He also brings the legendary Cornbread Harris into his deal quite often, and if you wanna talk about authentic/real/whatever, that guy is astonishing — the father of Minnesota rock and roll. So fuck it — this is a celebration of unity, cooperation and righteousness is what this is. -Jon Hunt
Click HERE for the Facebook Event Page
SUNDAY, JANUARY 18
Frankie Lee and Friends
@ The Clown Lounge
1601 University Ave
St. Paul
7:30 pm / 21+ / $5 advance, $7 doors
There are few venues you can go to and shows around the Twin Cities you won't see Frankie Lee in the lineup for lately. The prolific Americana/alt-country singer and his ever-present hat may appear out of place in the Twin Cities at first glance, but listen to the lyrics of his music: it's about pining for the country life, the simplicity of dirt roads and guitar, the feelings of loneliness lost in urban sprawl and the emotional distance we all create in this modern world. But the music isn't super heavy and still contains plenty of fun, rhythm, and clever lyrics. Lee is lucky enough to be taking residency this month in the Turf Club's basement hangout, the newly renovated Clown Lounge (and if you dislike clowns, let us warn you: there will be clown. Like, everywhere). And of course, these Sundays will include appearances by friends of Lee where the band may include 5 or 15 musicians, depending on who's in town. The residency began January 4 and runs through January 25, so if you miss this one, you best not miss the next! -Alicia Neubauer
Click HERE for Tickets and More Information
SUNDAY, JANUARY 18
Cult of Youth and Uniform
@ 7th Street Entry
701 1st Ave N
Minneapolis
7:30 pm / 18+ / $10
There are a lot of ways writers have tried to describe Cult of Youth's music, including "punk-influenced psychedelic neofolk," "Post Enlightenment," and "rock and roll." It's a decidedly tribal sounding music which engages fans and makes bodies move. Also, bones were involved in the recording process, so they have that going for them. Also performing is nowave noise factory Uniform with some pulsating mind torture that is somehow compelling and almost (but not quite) industrial rock. -Mike Jones