Weekend What's What: 1/1-1/4
by Anthony Iverson
EDITOR: ANTHONY IVERSON / CONTRIBUTORS: TODD O'DOWD, JAHNA PÉLOQUIN, JULEANA ENRIGHT, ANTHONY ENRIGHT, JON HUNT, BETH HAMMARLUND, ALICIA NEUBAUER, MAGGIE LAMAACK, ALLISON SHILINSKI, TODD WARDROPE, SUSAN WOEHRLE, PRESTON ROGOSHESKE, RENE MEYER-GRIMBERG, GIGI BERRY, JAKEY EMMERT, MIKE JONES, EMILY CHANG, CAROLINA BORJA / HEADER IMAGE: CAROLINE ROYCE
Happy 2015 everybody, and welcome to the first Weekend What's What of the New Year! If you're joining us for first time, this is our curated list of the best events going on in the Twin Cities this weekend, and friends, it covers everything! From great art openings (including the MIA's 100th Birthday Year kickoff party), to theatre shows (including a remount of and IVEY-winning favorite and a contemporary spin on a classic play), music shows, parties, and other events that we feel are worth your time. If you're looking for the ultimate list in what's going on in Minneapolis and St. Paul this weekend, look no further. Now get out there and start 2015 off with a bang!
xo-l'étoile
THURSDAY, JANUARY 1 – SUNDAY, JANUARY 4
MIA 100th Birthday Year Kick-Off
@ Minneapolis Institute of Arts
2400 3rd Ave S
Minneapolis
A big birthday calls for a big birthday bash, so turning 100 should be no small feat. In this case, the Minneapolis Institute of Arts is throwing not one but several birthday thrills over the course of 2015: special exhibitions, store discounts, blockbuster shows, art-cloaked water towers around Minnesota, much more, and perhaps most artful: Vincent Van Gogh's "Sunflowers" ingrained as a crop formation to greet incoming air passengers landing into MSP airport. This weekend, the MIA will kick off this yearlong celebration with imaginative cake creations in "MasterPieces of Cake" (on view for four days only), an Agra Culture-hosted New Year's Weekend Brunch (tickets required), surprising music and theater performances by the Twin Cities Gay Men's Chorus and Savage Umbrella respectively, a tremendous Italian Style: Fashion Since 1945 store sale of up to 40% off on select items, and a droll take on birthday-themed tours. It's going to be a fun year full of surprises, and why would we expect anything less from the MIA? We like 2015 already. -Emily Chang
For New Year's Weekend Brunch tickets and more information, click HERE
THURSDAY, JANUARY 1 – SUNDAY, JANUARY 4
(Closing Weekend)
Italian Style: Fashion Since 1945
@ Minneapolis Institute of Arts – Target Galleries
2400 3rd Avenue S
Minneapolis
Various Times – Check the MIA Website For Specifics
We've had some pretty stellar exhibitions in the Twin Cities, but rarely, if ever, are they fashion-focused. Italian Style: Fashion Since 1945 was a stunning show on its own merits, but the fact that it offered something different than what usually comes through Minneapolis made it all the more special and made it a game-changer for the MIA. Spanning Italy's fashion history from the demure suiting of the 1940s to the feline glamor of the modern runways, the exhibition curated by the Victoria & Albert Museum in London is the most visually scrumptious history lesson of the year. The chance to get up close and personal with vintage Versace, appreciate the complex color schemes of Marni textiles, examine the painstaking detail of classic Valentino, and experience first hand the "ugly-pretty" of Miuccia Prada is a dazzling experience. It isn't hard to be swept away by the dizzying drama of a sequined gown worn to Truman Capote's Black and White Ball or the twinkling diamonds of the Bulgari brooch that Eddie Fisher bought for Elizabeth Taylor mere weeks before she left him for Richard Burton. This exhibition is a must-see for anyone who appreciates fashion, art, or timeless craftsmanship. Since this is the final weekend, we implore you to go to it before it closes and see why we named it one of the best exhibits of 2014!  -Beth Hammarlund
Click HERE for Tickets and More Information
Click HERE for our full review of Italian Style: Fashion Since 1945
THURSDAY, JANUARY 1
Naked Girls Reading: The Hangover
@ Bryant Lake Bowl
810 W Lake St
Minneapolis
7 pm / 18+ / $15 advance, $20 door
Looking for an unconventional way to warm up your holiday season? May we suggest a literary evening, perhaps one with a dose of playful nudity? You read that correctly. While the weather outside is frightful the Bryant Lake Bowl will be filled with the warm bodies and soothing voices of Naked Girls Reading. The concept is so simple: A nude woman. Reading out loud. Nothing more than that. Of course it helps if said naked girls are entertaining in their own right, and have the right material. For this special post-New Year's edition, the girls in question (led by local burlesque luminary and show producer Queenie von Curves) will be reading various tales of drunken debauchery; baring their souls (and derrières) in the name of literature. It's a simple idea and the organizers encourage you not to over think it but just enjoy this unique event that thrives in a dozen US cities. However you need to explain it to yourself is fine; it's just girls and they are reading while naked. Nuff said. -Anthony Enright
Click HERE for Tickets and More Information
FRIDAY, JANUARY 2 – SUNDAY, JANUARY 4
Land O'Lakes Kennel Club Dog Show
@ St. Paul RiverCentre
175 W Kellogg Blvd
St Paul
8 am-6 pm daily / $8.50
Puppies, Puppies, Puppies! Big and small, hunting to herding, working or terrier, even cuddly lap dogs – over 2,000 dogs in all will compete for American Kennel Club awards this weekend as Land O'Lakes Kennel Club presents their annual dog show in Saint Paul. Nowhere else can you coo over so many adorable dogs in one place! In addition to the judging, more than 70 vendors showcase the hottest trends in canine apparel, accessories, and puppy supplies. If you're looking to get a dog for the first time, the Kennel Club will be on hand to answer all your dog owning questions including help identifying breeds that are compatible with your personality and lifestyles. Every hour from 10 a.m. – 2 p.m. on Saturday and Sunday you can even get a free behind the scenes tour of the show for the full "Best In Show" experience. -Anthony Enright
Click HERE for Tickets and More Information
FRIDAY, JANUARY 2
Dankert Art Opening
@ Palmer's Bar
500 Cedar Ave S
Minneapolis
7-9 pm / Cover $10 after 10 pm
James Dankert a.k.a Billy Dankert is an artist and musician living in the Twin Cities and you might know him well as the drummer of Gear Daddies. This opening night is one of a kind because after showing his new paintings Dankert will hop on stage and perform a solo. You can expect some rich colored abstract stokes on the walls and some great music including Front Porch Swingin' Liquor Pigs, Doug Collins and the Recepcionists and rock trio Sons of Gloria on the exciting Palmer's stage. Remember to bring cash. Palmer's Bar is what a night out really should be. Been here since 1906, Palmer's has a record of pouring great beers and whiskeys as well as  ranking as one of the best bars in the nation -Carolina Borja
Click HERE for More Information
FRIDAY, JANUARY 2 – SUNDAY, JANUARY 4
(Closing Weekend)
Radical Presence: Black Performance in Contemporary Art
@ Walker Art Center – Target and Friedman Galleries
1750 Hennepin Ave
Minneapolis
On View During Gallery Hours
They say timing is everything, and given the turbulent times that we live in when it comes to race relations, the Walker was damn near prescient in presenting Radical Presence: Black Performance in Contemporary Art. This jaw-dropping, mind bending exhibition of African-American performance art from the 1960s to today is provocative, illuminating, and necessary. Using the artifacts of performance art (scores, installations, videos, interactive works, artwork, and more), Radical Presence rips the lid off a shockingly unexplored chapter of performance art over the last 50 years and showcases work that is mesmerizing, sometimes horrifying, and utterly vital. Do not miss this! -Todd O'Dowd
Click HERE for More Information
FRIDAY, JANUARY 2 – SUNDAY, JANUARY 4
(Closing Weekend)
The 2014 British Arrows Awards
@ Walker Art Center
1750 Hennepin Ave S
Minneapolis
Various screening times / $12, $10 Walker members, Students, and Seniors
One of the most eagerly awaited events at The Walker every year for the past twenty-eight years, The British Arrows Awards (formerly the British Television Advertising Awards) celebrate the cheek, humo(u)r, and wit of British Advertising. Among the commercials featured in this year's edition are a magical dancing Shetland pony, Jason Sudekis as a confused football coach, upstaging travelers, several disturbing PSAs, and a holiday campaign starring the Danish cast of The Killing. This always eclectic mix of wit and innovation is a must-see event and these screenings historically sell out, so get your tickets as soon as possible! -Todd O'Dowd
Click HERE for tickets and more information
Click HERE for our full review of the 2014 British Arrows Awards
FRIDAY, JANUARY 2 – SATURDAY, JANUARY 3
(Additional Performances through January 17)
The Misanthrope
@ Bryant Lake Bowl
810 W Lake St
Minneapolis
7 pm Friday & Saturday / $10-15 sliding scale
French theatre in the 17th century (and in particular the works of the playwright Molière) was all about skewering and satirizing the notions of propriety, one's place in society, and the hypocrisy of the aristocracy. The best example of of this would be The Misanthrope, a witty verse comedy about staying true to yourself — for better or worse — in the face of "polite" society. Director Adrian Balbontin's production opening at the Bryant Lake Bowl resets the action from the social conventions of the French salons to the cutthroat fashion scene of modern-day New York where the irritable designer Alceste (Sam Pearson) fights for status and love. In this small intimate space, with this exciting cast (which also features Devon Cox, Nathan Gebhard, Anni Jordan-Amberg, Pegeen Lamb, and a cameo by our own Todd O'Dowd), The Misanthrope is a hilariously cynical couplet comedy of mis-manners. -Rene Meyer-Grimberg
Click HERE for Tickets and More Information
FRIDAY, JANUARY 2 – SUNDAY, JANUARY 4
(Additional Performances Through January 18)
2 Sugars, Room For Cream
@ Park Square Theatre – Andy Boss Thrust Stage
Hamm Building – Lower Level
20 W 7th Place
St Paul
7:30 pm Thursdays – Saturdays, 2 pm Saturday & Sunday / $38-58
There are several great things about the new Andy Boss Thrust Stage at Park Square Theatre. While allowing Park Square to produce more shows and serve as new stage for resident companies, the space has also allowed other companies in town to remount shows that should be seen again. A prime example of this is the remount of Shanan Custer and Carolyn Pool's IVEY-winning paean to the joys of coffee, wine, and friendship. Given the fact that it's created and performed by two of the best actresses in the Twin Cities, 2 Sugars, Room For Cream is a perfect way to start your theatre going in 2015. -Todd O'Dowd
Click HERE for Tickets and More Information
FRIDAY, JANUARY 2 – SUNDAY, JANUARY 4
Strait-Jacket
@ Trylon Microcinema
3258 Minnehaha Ave
Minneapolis
7 pm & 9 pm Friday & Saturday; 5 pm & 7 pm Sunday / All Ages / $8
"WARNING! Strait-Jacket vividly depicts ax murders!" After her incredibly creepy turn in What Ever Happened to Baby Jane?, Joan Crawford cemented her reign as queen of the psycho-biddy horror flick with Strait-Jacket. Decades after killing her cheating husband and his mistress, Crawford's character is released from a psychiatric hospital, having been deemed fit to re-enter society. But after moving in with her family, including her now grown-up daughter, the murders resume. Is she being framed? Has she had a psychiatric break? Is it all in her head? These questions and their answers are beside the point, as Strait-Jacket is ultimately just another great excuse to watch our favorite Mommie Dearest ham it up on the silver screen. If you spent a little too much time with your family over the holidays and were tempted to reach for an axe yourself, this movie provides all the therapy you need. -Beth Hammarlund
Click HERE for Tickets and More Information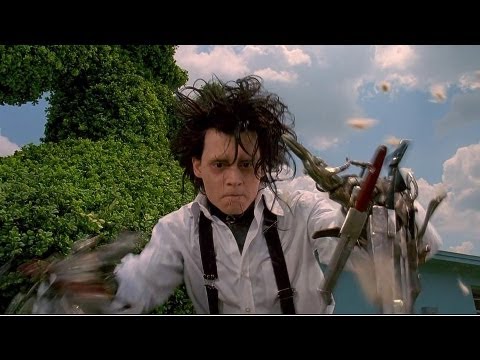 FRIDAY, JANUARY 2 – SATURDAY, JANUARY 3
Edward Scissorhands
@ Uptown Theatre
2906 Hennepin Ave
Minneapolis
Midnight Screening / $9
Ever since his first film (Pee Wee's Big Adventure), director Tim Burton has always gravitated towards tales of an outsider trying to deal with a society that doesn't have their best interest at heart. Nowhere is this more apparent than in Edward Scissorhands; what Burton himself would call his most personal film. In telling the story of an abandoned creation dealing with a candy-colored yet stifling suburban life, Burton mines the story for all the heart, humor, and inherent tragedy possible. With one of Johnny Depp's all-time best performances (his very first collaboration with Burton) anchoring a spectacular cast that all clicked into Burton's vision (including Winona Ryder, Dianne Wiest, Alan Arkin, Kathy Baker, Anthony Michael Hall, and the great Vincent Price in his last on-screen performance), Edward Scissorhands would be one of the all-time best examples of Burton's aesthetic where the everyday and commonplace becomes a heart-breakingly horrorific. -Todd O'Dowd
Click HERE for Tickets and More Information
FRIDAY, JANUARY 2
Peter Wolf Crier w/BBGUN and Actual Wolf
@ Turf Club
1601 University Ave
St Paul
8 pm / 21+ / $8 advance, $10 door
We know it's going to be a long week in consideration of all the New Years celebrations you inevitably will attempt to attend, not to mention the various holiday get-togethers that are lined up to make sure no family member or out of state college roommate is missed, so relax.  This Friday at the Turf Club will host three of the best local folk acts: Peter Wolf Crier, BBGUN, and Actual Wolf. No set times have been determined, so it's going to be best to just get in early and stay late.  Check out all the new renovations the club has seen since First Ave purchased the joint, and if you haven't taken it yet, the Light Rail Green Line will drop you off at the front door for a minimal fare. -Preston Rogosheske
Click Here for Tickets and More Information
FRIDAY, JANUARY 2
The Modern Era w/ Holy White Hounds, The Missing Letters, and Dirty Louis
@ 7th Street Entry
701 1st Ave N
Minneapolis
7:30 pm / 18+ / $8 advance, $12 door
Though they've only been a band for about a year, but The Modern Era has released three albums of catchy garage rock. Band members Jack Swagger, Ben Pelowski, Nick Pelowski and Shannon Drymalski combine for a tight, polished rock and roll that is very accessible without being bland.  Also playing are Holy White Hounds, The Missing Letters, and Dirty Louis. -Mike Jones
Click HERE for more information.
FRIDAY, JANUARY 2
Davina & The Vagabonds
@ Lee's Liquor Lounge
101 N Glenwood Ave
Minneapolis
9:45 pm / 21+ / $10
Local jazz ensemble Davina and the Vagabonds are well-known for their blend of blues, American roots and New Orleans jazz, fronted with the retro-styled crooning of vocalist/pianist Davina Sowers. This is the real deal — we're talking dueling horn players, standup bass — accented with the throaty, soulful and smooth vocal stylings and jazzy ivory ticklings of Davina. If you're going to see Davina and crew, we can't recommend seeing 'em here more, as the juke joint-esque flavor of Lee's is sure to inject a welcome shot of looseness into the proceedings. -Staff
Click HERE for More Information
FRIDAY, JANUARY 2
Get Cryphy feat. DJ Fundo, Jimmy 2 Times, and Last Word
@ First Avenue – Record Room
701 1st Ave N
Minneapolis
10 pm / 18+ / $3 advance, $5 door
If you still haven't recovered from Get Cryphy taking over the First Avenue Mainroom on New Year's Eve and want to keep the CryphLife™ going, consider checking them out again on Friday night! The first Friday of every month, a cadre of dudes with impeccable facial hair (DJ Fundo, Jimmy 2 Times, and Last Word) take over the Record Room for a sweaty dance party and you're invited! No bells or whistles – just a chill hip-hop party to turn up with a couple hundred people you don't know. So if you're looking for the perfect way to end your holiday break and celebrate the New Year again consider heading downtown to the Record Room for the January edition of Get Cryphy! -Gigi Berry
Click HERE for the Facebook Event Page 
FRIDAY, JANUARY 2
The Right Track! '60s Vinyl Dance Night
@ Dubliner Pub
2162 University Ave W
St Paul
9 pm / 21+ / Free
There is just something about collecting and playing a vinyl record that brings out a greater sense of appreciation for music overall. The crackle of the vinyl, the worn record cover for a tangible piece of music, the history behind the album — it's these things that have fueled this resurgence in vinyl over the past few years in particular. And there's no better opportunity to achieve this kind of musical experience than to come out to The Dubliner this weekend to groove to some authentic '60s cuts from a few of the area's hardest working vinyl collectors. The legendary Ms. Sara Oxton, pilot of the long-running KFAI staple "The Rockhouse," will join resident DJs Benjamin Mena and Mike Elias in spinning little bits of music history in the form of vinyl this Friday at the Dubliner. -Anthony Iverson
Click HERE for the Facebook Event Page
SATURDAY, JANUARY 3
Sticky Valentines: Recent Paintings by Mark Ostapchuk – Opening Reception
@ Form + Content Gallery
210 2nd St N
Minneapolis
6-8 pm, Gallery Hours Thursday – Saturday Noon-6 pm
St. Paul-born, Minneapolis-based McKnight artist Mark Ostapchuk enlivens our bleak winter palette with his new solo show at Mill District cooperative gallery Form + Content. Ostapchuk's works are filled with row upon row of colorful shapes; the title of the show rightly evokes the paste and construction paper love tokens of our youth. He creates his small, childlike pastel paintings by applying numerous layers, making patterned arrangements of amorphous organic forms. -Susan Woehrle
Click HERE for More Information
SATURDAY, JANUARY 3
Book Fair
@ SooLocal
3506 Nicollet Ave S
Minneapolis
10 am-4 pm / All Ages / Free
This Saturday's Book Fair, curated by Samantha Johns, promises to be both book fair and installation piece. Books by dozens of local artists will be for sale and will certainly make perfect belated holiday gifts (for others, or just for yourself). The event, held at SooLocal, will also include plenty of coffee and orange slices, so you can chug your hot drink to warm you up, then immediately bite into a juicy orange slice and pretend that you're sunning yourself on a tropical beach. This is the perfect indoor activity for a cold January afternoon, and after you've loaded up on books, you can always head next door to Pat's Tap or across the street to Hola Arepa to eat and drink those cold winter blues away. It's what Minnesotans do best. -Beth Hammarlund
Click HERE for the Facebook Event Page
SATURDAY, JANUARY 3
The Ventures Cover Band feat. Nona Marie Invie
@ Icehouse
2528 Nicollet Ave S
Minneapolis
11 am / All ages / Free
Musically-inclined brunch-goers can get their soul-influenced fill at this special brunch show. Dark, Dark, Dark and Roniia singer Nona Marie Invie, who has previously collaborated with all-lady choir Anonymous Choir, will be belting out soulful, romantic tunes alongside the Ventures Cover Band, which covers music from influential 1960s surf-rockers the Ventures (Recall "Wipeout" or the Hawaii Five-O theme? That's them!), the best-selling instrumental band of all time. -Alicia Neubauer 
Click HERE for More Information
SATURDAY, JANUARY 3
Manic Planet w/ The Misanthropes, The Lazy Kids, and Daniel
@ Acadia
329 Cedar Ave
Minneapolis
9:30 pm / 21+ / Free
We're not sure Acadia knows what they're in for this Saturday. They're about to witness a group of local bands looking for a raucous good time and room to groove. Leading off the bill for the night will be the homegrown Minneapolis spirit of Manic Planet, followed by jazz-tinged experimental rockers the Misanthropes and folky psych rockers the Lazy Kids. Closing down Acadia will be Daniel, a project that combines the cosmic sounds of Bowie with the gritty, down-to-earth feel of the Stones and the intimate live energy of the Kinks. If you're still hurting from New Year's Eve, set yourself straight, come on down and dance it off. This will be a rock 'n roll spectacle fit only for the historic West Bank. -Anthony Iverson
Click HERE for the Facebook invite.
SATURDAY, JANUARY 3
The Annual Blowout feat. Hammerhead, The Blind Shake, and Waveless
@ Turf Club
1601 University Ave
St Paul
9 pm / 21 +/ $10
As many options as there are in the cities for entertainment over New Year's Eve, there will always be folks that would just rather hunker down bunker-style and wait for amateur hour to pass them over. This show presents a moment for these fokls to emerge from their homes in post-apocalyptic vigor and bring in the new year with the three solid sets of noise and rhythm. AmRep alumni Hammerhead join The Blind Shake to shout out a battle cry of survival over a guitar driven wall of sound. Waveless offer reflection in the ruins, the ghosts of the past, the seconds lost forever in the passing of the year. Probably not the best place to go if you are still nursing a NYE hangover, though. -Todd Wardrope
Click HERE for More Information
SATURDAY, JANUARY 3
CLAPS w/ Strange Relations and Pale Spectre
@ Seward Cafe
2129 E Franklin Ave
Minneapolis
10 pm / All Ages / Free
You've probably already heard us wax poetic about the awesome CLAPS, one of Guilt-Ridden Pop's best bands. Their dark, electronic sound is lifted straight out of 1985 in the best of all possible ways; with insistent bass lines and delightfully intoned vocals intact. It's the very definition of "darkwave" and it's straight-up sexy. Strange Relations is a far more guitar-based thing, but really really promising — their singles belie a love of melody and love of angular jangle and a far more energetic deal than your average shoegazers — it's more Lush than Slowdive, in other words. And while Pale Spectre hasn't recorded a single damn thing, they feature members of Gloss, which is enough to sell us. -Jon Hunt
Click HERE for the Facebook Event Page
SATURDAY, JANUARY 3
Led Zeppelin 2
@ Varsity Theater
1308 13th St SE
Minneapolis
9 pm / 18+ / $15-45
Tight pants, that long and greasy hair, Robert Plant's screechy croon — Led Zeppelin 2 nails the image, sound and essence of the original group down to the last fine detail. The heavy guitar sound pioneered by Jimmy Page coupled with Plant's introspective lyrical storytelling is what brought Zeppelin to the height of rock 'n roll, even if it was after Rolling Stone and Lester Bangs ripped their first few albums apart. Led Zeppelin 2 embodies this tried spirit that was and is Led Zeppelin, and they do it in a way that brings the term "cover band" to a completely different meaning. Come let loose and get the Led out. -Anthony Iverson
Click HERE for Tickets and More Information
SATURDAY, JANUARY 3
The Person and The People w/ Brian Just Band and Silver Streak
@ Amsterdam Bar & Hall
6 W 6th St
St Paul
10 pm / 21+ / Free
I really, really like the sound of The Person and The People's new album What a Drag. It reminds me a lot of Teenage Fanclub's Bandwagonesque, and that's saying something, considering what an ear-pleasing stone pop blast that album was. Back story: The Person and the People is (are? the pronouns really baffle me) four folks from St. Paul, they're produced by Knol Tate (whose talent we've mentioned before in these very pages) and they seem to be really in love with the sound of power pop (both the '70s variety and the '90s variety a la early-pre-suck-Weezer and the aforementioned Fanclub, not to mention a touch of the Posies), which is so not a bad thing considering where it takes 'em — into interesting territory filled with tremendous melodies, gorgeous harmonies and tons of über-appealing guitar jangle. -Jon Hunt
Click HERE for Tickets and More Information
Click HERE to read our full review of The Person And The People's What a Drag
SATURDAY, JANUARY 3
DJ Terry Mullan w/ ESP Woody McBride, Hotdish DJs & DJ Fresko
@ First Ave Mainroom
701 1st Ave N
Minneapolis
9 pm / 18+ / $10
Minneapolis welcomes Chicago house music pioneer DJ Terry Mullan when he comes through for a New Year celebration on Saturday night! DJ Terry Mullan has been touring nonstop and performed DJ sets on some of the world's biggest stages such as Starscape and Coachella. This isn't his first visit to the Twin Cities, but First Avenue's Mainroom is the perfect way to host a house music legend rolling through our town.  Locals DJ ESP Woody McBride and Hotdish DJ's Nate Laurence & J. Matthews will be joining DJ Terry Mullan on the bill. Consider this show if you're a fan of house music and looking for one last party to end your holiday break! -Gigi Berry
Click HERE for Tickets and More Information
SATURDAY, DECEMBER 3
DEQUEXATRON: A Rap Dance Party
@ First Avenue – The Record Room
701 1st Ave N
Minneapolis
10 pm / 18+ / $5
Thestand4rd is back from their short sold out tour and already are lining up shows with their local comrades to share the momentum. Bobby Raps, Taylor Madrigal, and friends are set to take over the Record Room at First Ave. With Audio Perm presenting this rap dance party, there's no telling who will come to feature, but one thing is for certain, these kids will pack the house. -Preston Rogosheske
Click HERE for the Tickets and More Information
SUNDAY, JANUARY 4
Downton Abbey Season 5 Premiere Viewing Party
@ Riverview Theater
3800 42nd Ave S
Minneapolis
7 pm doors, 7:30 pm costume contest, 8 pm Screening / $5 Suggested Donation
January has arrived, which means that most of the Twin Cities is staying inside to catch up on their television viewing. Thankfully TPT has provided a reason to get out of the house and catch up on one of your favorite shows all at the same time; a massive viewing party of the Season 5 premiere of Downton Abbey at the Riverview Theater. Complete with costume contest and surprises, the event is anchored by the screening of the season premiere which will hopefully answer the questions Season 4 left dangling: What happened to Edith's baby? Who is Mary dating? Is Rose still being a saucy little flapper? Will Bates and Anna catch a break? Will Isobel fall in love? Will the Dowager Countess have some perfectly timed quip? (That's an easy question – of course she will!) These and hopefully other questions will be answered tonight! -Todd O'Dowd
Click HERE for More Information
Click HERE for our coverage of Downton Abbey
SUNDAY, JANUARY 4
c.Kostra w/Cruel Love and Aaron and the Sea
@ Icehouse
2528 Nicollet Ave S
Minneapolis
10 pm / 21+ / $5
I can't even tell you how much I loved Ryan Olcott's last group, the awesome 12 Rods: their cool math-rock (yeah, I'm gonna call it math-rock, unapologetically, and without a hint of disdain, because it was) deserved more than it got (cult fame, local renown, etc.) and Olcott's songwriting and frontmanism was straight-up great. So he's back, now, as c.Kostra, playing "faze-gaze." I dunno what that means, but I will say that the sound sample I heard was super heavy on the vocoder and the disco groove a la Daft Punk and their awesome disco forbear—and the bass pops like a motherfucker and you can dance to it—and boy, can you. Dunno where the "gaze" comes in, but if it's all this awesome, I'm in. -Jon Hunt